Judith Collins elected National Leader; Gerry Brownlee Deputy; No 'wholesale' policy changes expected; Focus on solidifying the base; Collins won't let the PM get away with any 'nonsense'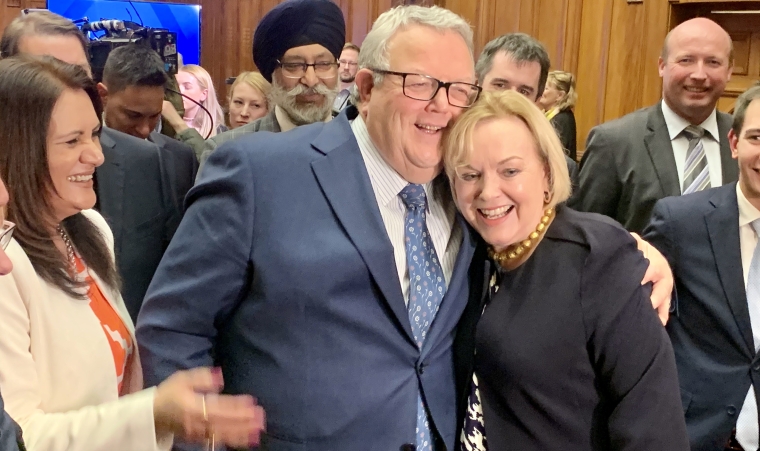 Judith Collins has been elected National Party Leader, following Todd Muller's shock resignation from the role on Tuesday morning.
Gerry Brownlee has been elected Deputy. 
The National Party caucus took about two hours to make the decision on Tuesday evening. Thereafter, members of the caucus stood alongside Collins and Brownlee as they addressed media.
"Third time lucky," Collins said, referring to the other leadership bids she's made.
She said Paul Goldsmith would remain National's finance spokesperson, but couldn't confirm whether Michael Woodhouse would remain health spokesperson. 
"I don't see major shifts at all in the policies we have," she said, stressing there wouldn't be "wholesale" policy changes.
Collins said the caucus decision not to work with New Zealand First still stood. 
"I think we need to be very focussed on just sticking to focussing on our party vote, and understanding there are other players coming into politics at this time as well," she said.
Solidifying the base 
While Muller, and his former deputy Nikki Kaye in particular, were well-placed to target centrist voters, Collins said: "I think it is important that we send some very strong messages out to our base voters, who have been, obviously, a bit discombobulated with the last day or so. They need to know that we're absolutely back on track and we will be taking the fight to the Government."
Asked whether she would adopt the same approach Muller said he would - to not be in "opposition for opposition's sake", Collins responded: "I think it's important that we give credit where it's due, but at the same time there is no chance at all that I'm going to let Prime Minister Jacinda Ardern get away with any nonsense when it comes to our economy and doing her job. I will hold her to account."
Collins described herself as a "provincial Aucklander", saying her strengths were her toughness, experience and ability to make decisions.
'Collectively crush the other lot'
She said seeing results would unify her party.
"I am hoping the National Party will collectively crush the other lot," she said.
"This is a team game for us. You can't win it without the team…We are best fitted to actually look after the people of New Zealand. This is all about the people."
Collins earlier said in a statement: "My focus as leader will be helping rebuild our communities and dealing with the economic and jobs crisis by getting Kiwis back to work.
"Only National has the experience and skills to get us through this. We are a strong team and I look forwarding to forming the next Government."
Role took a 'heavy toll' on Muller
Muller stood down as leader after only 53 days in the job. He said in a statement: "The role has taken a heavy toll on me personally, and on my family, and this has become untenable from a health perspective."
The news was broken to his caucus via teleconference on Tuesday morning, although Collins said she was told on Monday night. Muller wasn't on the call.
The Bay of Plenty MP faced an uphill battle during his time at the helm of the party, trying to unite its caucus.
Paula Bennett, who was ousted as deputy leader, told a comedian she would be resigning from politics at the September 19 election, before she told Muller.
Muller was criticised for bending the truth last week, when he said personal details of Covid-19 patients were only given to National MP Hamish Walker, by former National president Michelle Boag, when in fact he knew they were also given to the party's health spokesperson, Michael Woodhouse.
Muller tried to cauterise the problem, by pushing Walker (who leaked the information to media), to resign. However, for days he denied others in the party may have had the information too, and didn't take the matter to the Privacy Commission nor Ministry of Health.
Prior to that, Muller made headlines for having a white front bench and displaying a MAGA hat in his office.
National was undergoing a process of re-shaping its policies under Muller's leadership and in light of Covid-19. It was due to announce a major infrastructure policy on Tuesday.