National's border policy: Testing before entering NZ, compulsory contact tracing of arrivals and border staff, use of Bluetooth, a new agency to oversee the Covid response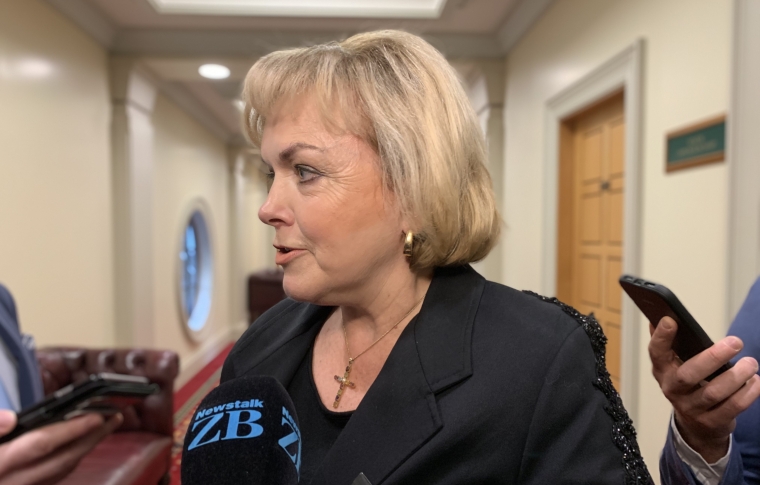 The National Party is pledging to "inject some steel" into the country's border control systems by requiring people to present a negative Covid-19 test before boarding a plane to come to New Zealand.
Once they arrive, it wants to require "compulsory use of contact tracing technology".
National also wants it to be compulsory for those working at managed isolation facilities and points of entry into the country, as well as health staff treating and testing patients, to use contact tracing "technologies currently available". At present, this is the Covid tracer app.
However, National wants contact tracing technology to be Bluetooth-enabled. It is committing to exploring options, including the "CovidCard", which is a Bluetooth-enabled lanyard. 
A half an hour before National's border policy was unveiled, the Government announced it would test the CovidCard with staff at a managed isolation facility, "with a view to a wider roll out in the coming months".
The card is also being trialled by up to 300 people in Rotorua. 
Centralising the response 
Importantly, National wants a "Border Protection Agency" to be established to have overall control of the response when dealing with an outbreak.
The Agency would report to a government minister and be empowered to make orders to ensure compliance with the policies it sets.
The likes of the Ministry of Health would continue to manage the health response, but the Agency would have oversight of policies and procedures.
The idea would be for the agency to "enhance" the current all-of-government response, which involves a number of agencies working together. It would reflect the way Civil Defence operates in an emergency.
National would get the Border Protection Agency up and running within its first 100 days of taking office.
New Zealand First on Wednesday announced its policy to likewise create an overarching agency - "NZ Border Force". However New Zealand First wants the military much more involved. The "Force" would combine functions of the Defence Force, Customs and Immigration. 
Its call followed the Government announcing Helen Clark's former adviser, who recently completed a major review of New Zealand's health system, Heather Simpson, would head up a new group to oversee testing at the border. 
Testing, testing, testing
National is also committing to widening the availability of testing throughout the country, and making sure there are readily deployable mobile testing stations.
It wants to "implement a target for test waiting times of no longer than 60 minutes for a test".
The party wants to require regular testing of aged-care workers, and ensure there are opportunities for testing within retirement homes.
International students not a priority 
National's border policy doesn't address international students. National's former deputy leader, Nikki Kaye, had campaigned on allowing universities to take care of isolating students on arrival, rather than the Government.
However National Party Leader Judith Collins wouldn't on Wednesday commit to this position. 
More broadly speaking, she didn't say she wanted to keep the virus out of New Zealand. Rather she said she wanted to "keep the virus at bay and allow our economy to thrive".
"The current ad-hoc system of managing Covid-19 at our border - putting various agencies in charge of different facets - has led to a disorderly and confused response, putting the health and livelihoods of five million New Zealanders at risk," she said.
"More than 1.6 million Aucklanders are locked down right now because the Government dropped the ball on testing, tracing and managing people in isolation. It's not good enough."
See National's border policy in full here.
Govt announces plans to bolster security at facilities 
Housing Minister Megan Woods, in her Thursday morning announcement, also said the Government planned to invest around $6 million in installing systems at managed isolation and quarantine facilities that would sound an alarm if residents tried to leave. 
Woods is proposing to add the following security enhancements where feasible:
Thermal CCTV (night and day vision) around the perimeter with geo-fenced alarming. This technology would create an alarm when people move within a defined area;
CCTV in public and exercise areas to monitor distance breaches;
CCTV in accommodation corridors to monitor any breaches between rooms;
Security Control Room/Desk,
Audible alarms on fire exits
Electronic access systems to restrict or track movement around a facility.
Woods assured increased surveillance would only be in public areas, not in people's rooms.  
NZ First's army camp solution
Coming back to New Zealand First, its proposal is to turn at least one existing military facility into a quarantine facility.
It on Wednesday suggested camps at Waiouru, Manawatu and Christchurch were options. 
Defence Force personnel would be posted on long-term operational rotations, which would minimise movement in/out of quarantine facilities.
Extra temporary and/or longer-term infrastructure, like prefabricated buildings and other facilities would be built. 
New Zealand First suggested this would be much cheaper than using hotels, and if people tried to escape, they'd be in more remote locations, and thus less at risk of spreading Covid-19.
It suggested the facilities be run and operated by the Defence Force with the help of Police.