Labour campaigns on introducing new top income tax rate of 39% for income over $180k; Rules out introducing new taxes or making further increases in the next term of government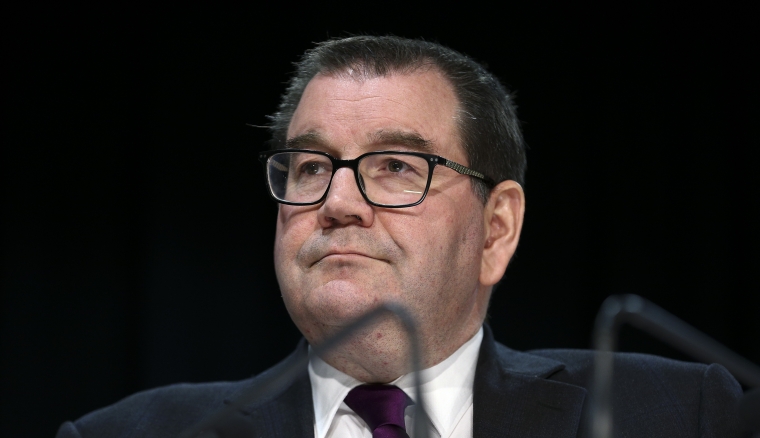 Labour is pledging to introduce a new top income tax rate of 39% for income over $180,000, if re-elected into government.
This would be an increase from 33% currently applied to income over $70,000. 
The purpose of the change would be to generate revenue to pay for the Covid-19 recovery and "keep a lid on debt".
The new bracket is forecast to generate $550 million of revenue a year.
It's expected to affect 2% of New Zealanders.
Labour is also pledging to continue working with the OECD to find a solution to the issue of multi-national corporations not paying "their share" of tax.
The party stressed, "Today's announcement is the full extent of Labour's revenue policy for the 2020 election."
Labour's finance spokesperson Grant Robertson said: "Labour will not implement any new taxes or make any further increases to income tax next term. We have already committed to not raising fuel taxes in the Government transport plan that covers the next term."
He said the new rate would see an individual earning $200,000 a year pay an extra $23 a week. Here's a further breakdown of what the tax change would mean: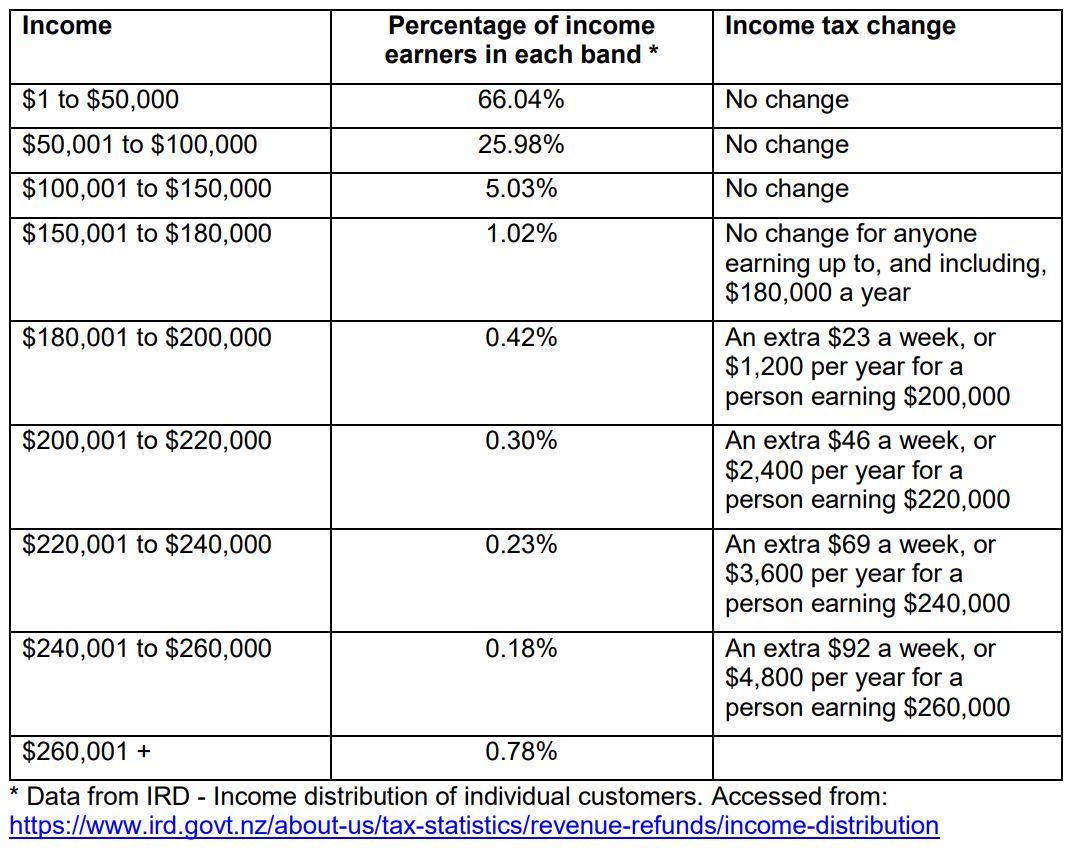 Stability, certainty, balance
Pressed in a media conference on why Labour wasn't being bolder by targeting income earned from assets, proposing a higher rate than 39%, or a lower threshold than $180,000, Robertson stressed his focus was on providing "certainty", "stability" and striking the right "balance".
"I'm a realist and I'm a pragmatist and we are in the middle of a one in 100-year shock to our economy," Robertson said.
"What is needed right now is certainty and stability. For 98% of New Zealanders there is no change in this policy. That is important to me.
"We will continue to work on the issues that New Zealanders care about. That is reducing inequality, getting more houses built."
Could the Greens' wealth tax still slip through?
Asked whether he would rule out further tax changes, such as those advocated for by the Green Party, should Labour need its support to form a government, Robertson said: "This is the policy that Labour is campaigning on and we will only implement the changes that are in this policy."
The Green Party is campaigning on taxing income over $100,000 at 37%, and income over $150,000 at 42%. It also wants to tax debt free wealth over $1 million at 1%.
National jumped at the opportunity to scaremonger.
Its finance spokesperson Paul Goldsmith said: "Robertson wouldn't say if his tax policy is a bottom line in any coalition negotiations with the Greens, leaving the door wide open for other tax increases…
"This is just the beginning. Labour will eventually widen the net and come after middle income earners."
Meanwhile Green Party co-leaders James Shaw and Marama Davidson said: "What is being proposed by Labour is long overdue, but it is tinkering that won't address the long-term challenges facing Aotearoa. It shows the importance of having the Greens around the table of the next Government.
"New Zealand has increasing poverty and inequality. This is now getting worse, because the Covid-19 response is increasing the wealth of those who own property and shares, whilst the median income of working New Zealanders is falling."
Proposed change still low by international standards
Selling its policy, Labour said: "New Zealand's top tax rate will still be in the bottom third within the OECD - a group of 36 advanced economies - and will be lower than many of the countries we compare ourselves to, including Australia.
"For example, Australia has a top income tax rate of 47% for income above A$180,000. Australia also has a 39% tax rate for income above A$90,000 (both rates include Australia's 2% Medicare levy)."
The Tax Working Group, in its final report delivered in early 2019, noted: "Many submissions called for increasing top personal tax rates in order to enable policies that would make a material reduction in income inequality through the personal tax system.
"As such increases are precluded by the Group's Terms of Reference the Group did not undertake an analysis of the options (and their effectiveness)."
Income tax brackets won't be adjusted for inflation
Robertson said Labour didn't do any modelling around bracket creep.
Meanwhile National wants to adjust income tax brackets according to inflation. The idea is to prevent taxpayers from moving into higher tax brackets when their incomes aren't keeping up with rising living costs. 
This is how income is currently taxed:
Any income up to $14,000: 10.5%
Extra income over $14,000 and up to $48,000: 17.5%
Extra income over $48,000 and up to $70,000: 30%
Extra income over $70,000: 33%
Union disappointed Labour didn't focus on wealth and assets
The Public Service Association released this statement in response to Labour's policy:
The Public Service Association says Labour's announcement of a new 39% tax rate on income over $180,000 is a step in the right direction that makes more funding possible for healthcare, education and income support for struggling New Zealanders.

The union notes, however, that the proposed tax increase will cover only those taxed under PAYE. This excludes many of the wealthiest New Zealanders, who often report personal incomes well below $180,000.

"We're pleased to see Labour policies that can help shift New Zealand in a more equal direction, and we know PSA members will be happy to see more money available for essential public and community services," says PSA National Secretary Glenn Barclay.

In 1998 Finance Minister Michael Cullen introduced a 39% tax rate on income over $60,000 a year.

John Key's National Government later introduced tax cuts for the wealthy in 2008 and 2010, reducing the top rate to 33% on income over $70,000 a year.

The PSA is disappointed to see no consideration of a tax focused on the wealth and assets of the super-rich.

"While we welcome this policy, it's important to be realistic about it as well. Even factoring in inflation, this policy still represents only a partial rollback of National's tax cuts for the rich," says Mr Barclay.

"We think politicians need to propose bolder policies to deal with rampant inequality and ensure New Zealand's social safety net is fully funded and resourced. It's a shame Labour isn't yet prepared to reverse all the harmful tax policies of the past, but it's still good to see proposals for positive change."
Taxing multi-nationals
Turning to the second part of Labour's tax policy, Robertson said: "Labour will continue to work to get an international agreement that will see a comprehensive regime for multinational corporations to pay their fair share. But we also need to be prepared to put in place our own rules to ensure fairness, if that agreement is not possible.
"We will be prepared to implement a Digital Services Tax (DST). Current projections from IRD estimate a DST will raise between $30 million and $80 million of revenue a year.
"A DST would be very narrowly targeted and would not apply to sales of goods or services, but rather to digital platforms which depend on a base of users for income from advertising or data."