Election 2020: Updates on the results, commentary, thrills and spills of the evening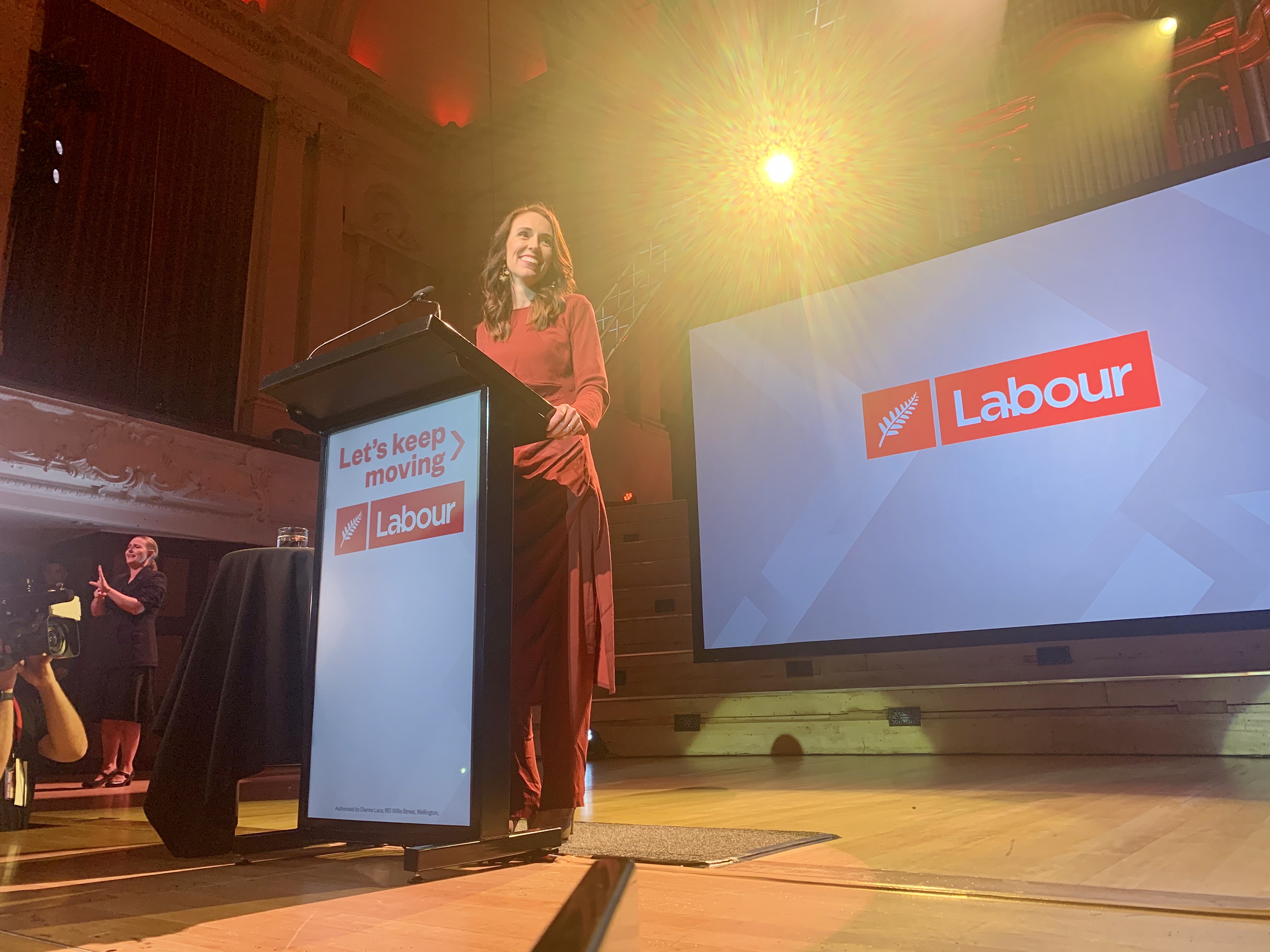 Good evening everyone. Happy election night! Tune in for live updates throughout the evening. 
---
11:59pm: I'm signing off. Parliament will look very different in this term of government. There will be a number of very disappointed, jobless National MPs, and a whole lot of fresh ACT and Labour faces, who will be put to the test. 
In coming days, all eyes will be on any arrangements Labour makes with the Greens and fallout within National.
Looking further ahead, it'll be interesting to see how progressive Labour is without NZ First in the picture, and what, if anything, it uses its political capital on. Delivery would have to be a focus to ensure the country does in fact "keep moving". 
Thanks for tuning in. Goodnight! 
11:39pm: 96.9% of the vote in now:
11:35pm: Coming back to Ardern's speech, she made a nod to voters who switched from National to Labour: "To those amongst you, who may not have supported Labour before - and the results tell me there were a few of you - to you, to you I say thank you. We will not take your support for granted."
Ardern called for unity: "We are too small to lose sight of other people's perspective. Elections aren't always great at bringing people together. But they also don't have to tear one another apart. And in times of crisis, I believe New Zealand has shown that."
She said New Zealand would build back "better and stronger" from Covid-19.
"This is our opportunity to build an economy that works for everyone; to keep creating decent jobs; to upskill and train our people; to protect our environment and address our climate challenges; to take on poverty and inequality; to turn all the uncertainty and hard times into cause for hope and optimism. It's an opportunity we have already grabbed and a plan we have laid out."
Ardern referenced Labour's plan, which is "already in action and already working" around investing in infrastructure, public houses and renewable energy.
11:16pm: Asked whether Kelvin Davis would be Deputy Prime Minister, Ardern said: "He is our Deputy Leader of the Labour Party and I have no intention of changing that."
11.13pm: Asked by media about whether Labour would make arrangements with the Greens, Ardern said tonight's result gives Labour a "strong and clear mandate" to lead a government. She used the word "mandate" a few times. Ardern said she would take stock before making arrangements around the formation of the government.
10:44pm: 88.6% of votes counted:
10:34pm: Huge energy at Labour HQ. Jacinda Ardern says it's clear Labour will lead the Government for the next three years. She said Labour has a mandate to "accelerate" the Covid-19 response and recovery.
"We will govern as we campaigned," Ardern said, claiming victory.
10:26pm: Labour Deputy Kelvin Davis going a bit far mocking National in his speech at Labour HQ. Crowd hanging out to see Jacinda Ardern. 
10:07pm: Judith Collins has called Jacinda Ardern to congratulate her on the result. She conceded National would be a "robust" Opposition.
Collins apologised to National MPs who didn't plan to leave Parliament. She said it was time for the party to "review", "reflect" and "change". She said the party had to be strong, disciplined and more connected. "We will be back", Collins said.
10:02pm: An emotional Judith Collins speaking now… Jacinda Ardern due to arrive at Labour HQ soon. 
9:52pm: National's Mark Mitchell, who's been touted someone interested in gunning for the party's leadership, told RNZ he wasn't thinking about, or discussing, running. He said replacing Simon Bridges as leader was a bad move. When asked whether he had confidence in Judith Collins, he said he didn't blame her for the poor results seen so far. He said it would've been tough for anyone, but didn't specifically say he had confidence in Collins.
9:39pm: 57.8% of votes counted. Not only is National losing party votes, but it's dropping electorates. 
9:20pm: Labour's Grant Robertson, speaking at a Labour event in Wellington, eased back on some of the language he'd been using on the campaign trail around being "balanced" and providing "stability", and said Labour was focused on long-term issues like inequality and productivity. A very slight change of tone reflecting the shift away from campaign mode, in which he was gunning not only for swing voters, but Key/English fans. 
9:08pm: National's Gerry Brownlee looks set to lose the seat of Ilam, which he's had since 1996. He's 2529 votes behind Labour's Sarah Pallett, who has 12,090 votes. 44.1% of votes have been counted in this electorate. Brownlee, who has also led National's election campaign, told TVNZ he could've spent more time in his electorate.
8:59pm: Greens' co-leader Marama Davidson has congratulated Labour for a "win". Those at Greens HQ look elated, according to TV footage. The Greens are on 8.1%. 39.4% of votes have been counted. 
8:54pm: The race is tight in New Plymouth, with National's incumbent Jonathan Young 2231 votes behind Labour newcomer Glen Bennett. Young was National's energy spokesperson while the Coalition Government banned new offshore oil and gas exploration. New Plymouth is of course also a dairy farming electorate.
8:46pm: Labour's Grant Robertson told RNZ he and Jacinda Ardern were "cautiously optimistic". He noted there was some policy crossover between Labour and the Greens, but wouldn't give away what type of arrangement Labour might make with the Greens. He said Labour was looking for the "strongest possible mandate". 
8:42pm: NZ First's Shane Jones told RNZ reporter Jo Moir there was a "galactic halo" around Jacinda Ardern. He said politics was "dynamic" and you have to be prepared to watch the ebb and flow of the political tide.
8:36pm: Tukituki in the Hawke's Bay also going red. Labour's Anna Lorck is ahead of National incumbent Lawrence Yule, 7847 versus 6026. Labour is also ahead in the party vote in this electorate. 36.5% of votes have been counted here.
8:30pm: Labour currently has 46 MPs. The way things are looking at the moment, it'll be able to bring in another 20. National has 54. It would lose 21 seats, including 18 electorate seats. A lot of jobs lost and gained.
8:21pm: Another seat turning red - Wairarapa. Labour's Kieran McAnulty is comfortably ahead of National's Mike Butterick with 14,963 votes versus 9486. 42.7% of votes have been counted in this electorate. People in Wairarapa are party voting Labour too with 50.2%.
8:08pm: The race is tight in Hutt South. National incumbent, Chris Bishop, is 121 votes behind Labour's Ginny Anderson. 15.2% of the votes have been counted in this electorate. Bishop is doing ok given only 21.1% of the party vote in the electorate has gone to National thus far.
7:54pm: ACT leader David Seymour is riding high. Speaking to those at the ACT Party headquarters, he said: "The policy setting New Zealand has today are not sustainable." ACT is at 7.7%, meaning it would get 10 seats in Parliament.
7:52pm: Stuff reporter Henry Cooke has tweeted: "National Party President Peter Goodfellow just told me the party 'probably' can't' win the election."
7:47pm: Things not looking good for NZ First. It's at 2.3% (with 15.1% of votes counted). Shane Jones is in third place in the Northland electorate with 1182 votes. 7.8% of votes have been counted in this electorate. National's Matt King is comfortably ahead with 5081. 
7:42pm: National incumbent, Nick Smith, is behind Labour's Rachel Boyack in the Nelson electorate. 44.8% of votes have been counted here. Boyack has 12,768 and Smith 9868.
7:35pm: 9.2% of votes counted - Labour very comfortably ahead. 
7:32pm: Former Air NZ CEO and National's Botany candidate Christopher Luxon is comfortably ahead with 12.8% of votes counted in this electorate. He has 5533 votes versus Labour's Naisi Chen with 3285.
7:25pm: The Greens' Chloe Swarbrick is leading the charge in the hotly-contested Auckland Central electorate thus far with 684 votes. Labour's Helen White follows her with 511 votes. National's Emma Mellow has 395 votes.
7:10pm: 1% of the results are in:
7.00pm: To kick things off - the latest data from the Electoral Commission shows 1.98 million people had voted by the end of Friday. That's 57% of those who had enrolled. We can expect to see the results of this sizable portion of votes roll in shortly.