Grant Robertson says he has brought forward a scheduled meeting with Adrian Orr ahead of the RBNZ releasing its Monetary Policy Statement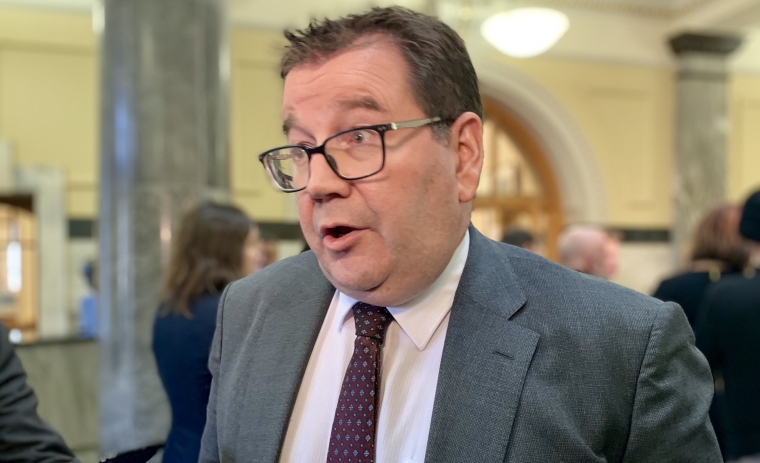 Finance Minister Grant Robertson says he has brought forward a scheduled meeting with Reserve Bank (RBNZ) Governor Adrian Orr, ahead of the Bank's Monetary Policy Statement being released on November 11. 
Robertson will meet with Orr on Monday November 9, after he's officially sworn in as Finance Minister on Friday.
Robertson's office told interest.co.nz the meeting was always going to take place early next week.
The conversation started when interest.co.nz asked Robertson whether he wanted the RBNZ to reinstate loan-to-value ratio (LVR) restrictions.
Robertson responded: "I'll have more to say about monetary policy and other matters shortly. I intend to meet with the Reserve Bank Governor within the next few days."
Asked by another journalist, in the same line of questioning, whether the meeting was scheduled, he said it had been brought forward.
Asked why, Robertson said: "I think it's important to get that conversation happening quickly. Again, it's about building on the relationship that we had during Covid-19.
"We respect the independence of the Reserve Bank, but clearly monetary and fiscal policy through Covid-19 continue to have to work together."
Robertson met with Orr and the Secretary to the Treasury Caralee McLiesh two days before the RBNZ released its last Monetary Policy Statement on August 12. His also had a quick phone call with Orr a couple of hours before the statement was made public.
Robertson has to indemnify the RBNZ for its $100 billion quantitative easing or Large-Scale Asset Purchase Programme.
Robertson wouldn't be drawn on what he wanted to talk to Orr about.
The Monetary Policy Committee is expected to outline what the Bank's new Funding for Lending Programme, aimed at lowering interest rates, will look like.
RBNZ observers will also be watching for an indication of whether the RBNZ will cut the Official Cash Rate (OCR) into negative territory as early as February, and they'll be interested in any commentary around the size and pace of the quantitative easing programme.
The RBNZ will likely comment on LVRs in the press conference following the release of the statement. But this matter will be addressed in the next Financial Stability Report, out on November 25.
Asked whether he believed sky-rocketing house prices were becoming untenable, Robertson said: "I'm always concerned about financial stability in New Zealand, and that's the role of the Bank.
"They have independence in monetary policy. But I'm keen to be talking to the Governor and make sure that in, what is a rapidly evolving environment, that we continue to have the close the communication we've had through Covid-19. It's important to note that Covid-19 from an economic perspective is far from over…
"While the New Zealand economy is doing well in the short-term, in the medium to long-term, those global challenges are going to have an impact on New Zealand.
"We have a very important job to do, to lead New Zealand through its recovery and rebuild in a balanced way. Part of that is a relationship with the Reserve Bank."
Jenée Tibshraeny's opinion
One could draw all sorts of conclusions from Robertson saying he's bringing forward a scheduled meeting with Orr ahead of the market-sensitive, quarterly Monetary Policy Statement being published.
The most likely reason he decided to mention this was politics.
He probably wanted to be seen to be taking a keen interest in the RBNZ's work, particularly as unemployment is set to rise and the RBNZ's monetary policy and removal of LVR restrictions are causing house prices to shoot up and worsen inequality.
But Robertson's comment about having "more to say about monetary policy and other matters shortly" was a bit curious.
It could lead one to draw a more dramatic, but unlikely, conclusion that Robertson is trying to influence the way the RBNZ does monetary policy or treats its financial stability mandate.
The Government is responsible for writing the law that gives the RBNZ its powers. It isn't supposed to interfere with its decision-making.
It would be an enormous scandal if Robertson tried to sway the RBNZ - particularly days before the release of its Monetary Policy Statement.
It's safest we note this interesting exchange, but put it down to Robertson uncharacteristically mincing his words in an attempt to tell the public he's engaged and proactive.