Inland Revenue raises 'significant' concerns over people using trusts to avoid the new 39% income tax rate; Suggests the trustee rate be hiked; Grant Robertson open to the idea
Inland Revenue advised the government to couple the introduction of a new top income tax bracket with an increase in the tax rate on trustee income.
Inland Revenue, in a regulatory impact statement, flagged concerns over those earning more than $180,000 a year using trusts to avoid paying the new rate of 39%.
It recommended the 33% trustee rate be aligned with the 39% rate, to take effect from April 1.
Robertson open to increasing trustee rate
While the government hasn't changed the trustee rate, Revenue Minister David Parker on Tuesday told a few journalists he would monitor whether trusts were used to avoid paying the new rate.
"If that behaviour becomes apparent, then we'll move to increase the trust rate to avoid that being used as an avoidance loophole," Parker said.
Asked by National's shadow treasurer Andrew Bayly, in the House on Wednesday, whether he agreed with Parker and would consider hiking the tax rate on trustee income, Finance Minister Grant Robertson said: "If we see evidence that trusts are being misused then yes we would consider that."
Ahead of the October election, Labour said: "We are not going to increase the trust rate because there are legitimate reasons for people to use trusts.
"But if we see exploitation of the trust system then we will move to crack down on those people who are exploiting it."
Inland Revenue makes case for consistency
Inland Revenue maintained a hiked trustee rate would see the government collect an additional $1.5 billion over the forecast period to 2024/25.
It forecast a higher income tax rate on its own would generate $2.2 billion by 2024/25 - less than the $550 million a year estimated in Labour's 2020 election manifesto.
Inland Revenue said the "unintended integrity impacts" resulting from the top income tax rate being higher than the trustee rate were "significant".
It noted companies and portfolio investment entities (PIEs), which have a 28% tax rate, would also continue to be potential vehicles for getting around the 39% rate.
But lifting the trustee rate would "leave taxpayers with significantly fewer avenues for tax-driven restructuring (and would eliminate the easiest way to sidestep the rate)", it said.
Inland Revenue recognised hiking the trustee rate might impact some lower-income beneficiaries.
"There are ways to mitigate this, such as distributing income to beneficiaries on lower rates as beneficiary income (so it is taxed at their marginal rates) rather than accumulating it in the trust," it said. 
"However, these will have their own costs and may not always be feasible."
Inland Revenue didn't recommend lifting the top PIE rate.
It said: "This was set due to a concern that, unless the top PIE rate matched the company rate (28%), taxpayers would use unit trusts (unit trusts are taxed at the company rate) and avoid dividend taxation at their personal rate by having the managers of the unit trusts buy back their units.
"Buy-back arrangements like this are not treated as dividends and the taxpayer's profit from the buyback is usually a non-taxable capital gain."
Inland Revenue went on to explain: "Even with a top marginal tax rate of 39%, the gap between the company tax rate and the top personal rate of 11 percentage points would be smaller than the gap in most OECD countries.
"However, New Zealand is particularly vulnerable to a gap between the company tax rate and the top personal marginal tax rate because of the absence of a general tax on capital gains.
"There are already existing concerns arising from the differences between entity and personal rates in the current system. The bunching of self-employed people at the current tax thresholds in Figure 2 suggests that structures are being used by taxpayers to avoid the current top personal rate: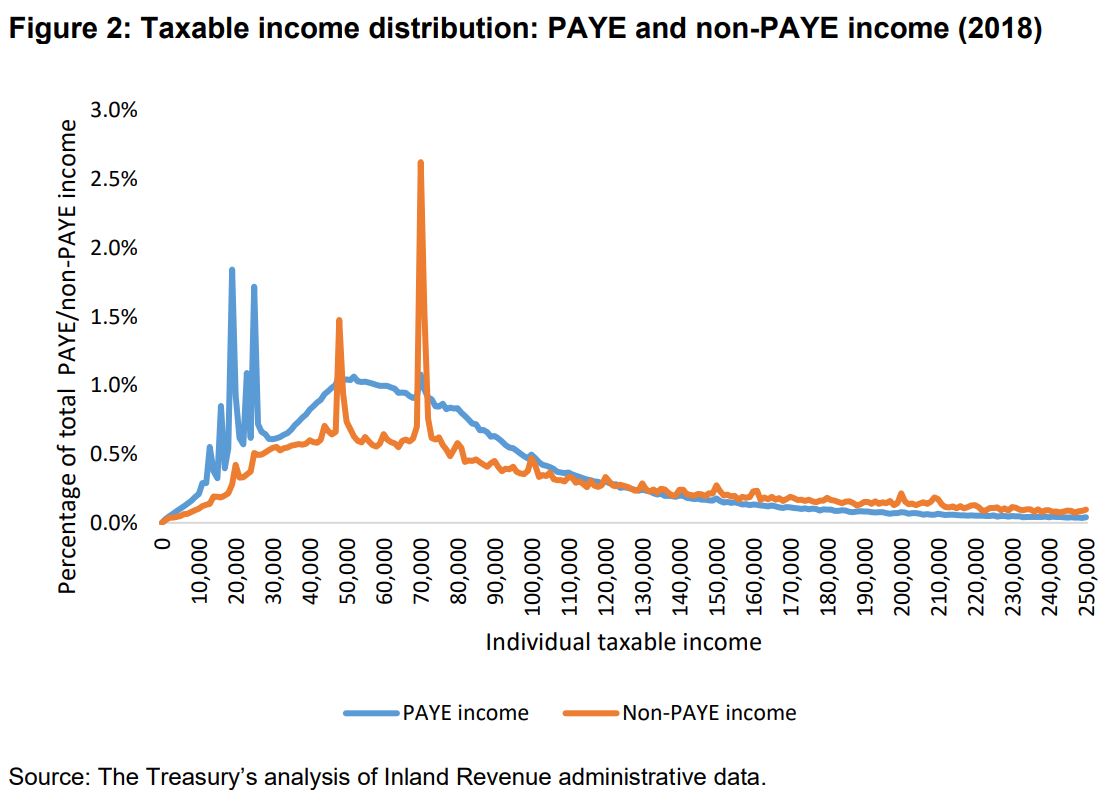 "Inland Revenue considers that a higher top personal rate will increase integrity pressures. Evidence to support that expectation comes from the increased avoidance of the top personal tax rate that occurred in response to the increase in the top personal rate in 2000…
"The bunching of self-employed people at the new threshold after 2000 shows that there was substantial movement by the self-employed to avoid the higher top personal rate."