Commerce & Consumer Affairs Minister David Clark happy to leave serious allegations about NZ company Vivier, stretching over years, to MBIE's complaints process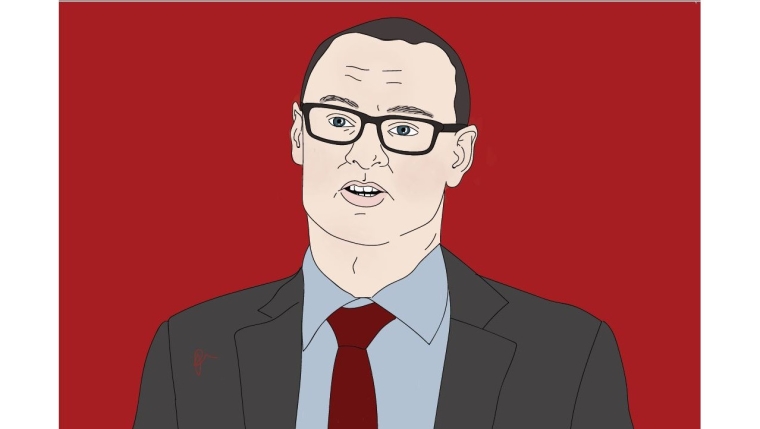 Commerce and Consumer Affairs Minister David Clark appears unperturbed by allegations a convicted British fraudster pulls the strings behind a deposit taking New Zealand company that's unregulated and has courted the wrath of regulators and customers overseas.
The company is Vivier and Company Ltd and the convicted British fraudster is Ian Andrews, formerly Ian Leaf.
Andrews was convicted by HM Revenue & Customs of a complex £76 million fraud in 2005. He was first linked to Vivier and Company by Irish journalist Conor Ryan in 2015 in his reporting about an Irish sub-prime mortgage lender named Vivier Mortgages. 
Earlier this month interest.co.nz reported on a dispute between Vivier and Company and a NZ foreign trust, the FKC Private Trust, which invested $4 million with Vivier in 2019. No interest has been paid and the trustee now wants the $4 million returned.
A significant volume of Vivier and Company email correspondence seen by interest.co.nz shows Andrews appearing to play a significant role in the day-to-day operations of the company.  Andrews, however, says he has "no role within Vivier." And in terms of the correspondence, Andrews says he won't comment on speculation.
Vivier and Company, which was removed from NZ's Financial Service Providers' Register at the Financial Markets Authority's behest six years ago, remains a registered NZ company and has continued peddling its services and its New Zealandness despite a scant presence in, or links to, NZ apart from proxy directors and shareholders here, which for a time included a golf pro.
In late 2019 Germany's Federal Financial Supervisory Authority, BaFin, issued a warning about Vivier, noting the firm was not permitted to conduct banking business in Germany. Interest.co.nz has also heard from people in Spain claiming to have been ripped off by Vivier.
In a series of tweets in response to interest.co.nz's recent story Ryan, an investigative reporter at Irish state broadcaster RTE, comments that Vivier's associated company in Ireland "is still getting heard in Irish courts trying to take people's homes for subprime debt."
"Just for context, on March 23 this year there was another case listed in an Irish circuit court where this entity was seeking to repossess a couple's home. There are consequences to white collar crap," Ryan wrote. (See Ryan's tweets in full at the foot of this article).
Interest.co.nz asked Clark whether the ongoing Vivier situation was acceptable, with the Financial Markets Authority effectively washing its hands of the company, and the Ministry of Business, Innovation & Employment's Companies Office largely focused on statutory company registration rules. Additionally we asked whether the Vivier scenario is the sort of look Clark, as Minister, and the Government, are comfortable with for NZ companies, NZ's international reputation and the reputation of NZ's financial services industry?
On behalf of Clark a spokesman had the following to say.
"If the relevant financial services were provided in New Zealand, a number of requirements are in place to protect against misuse of client funds which I understand is being alleged here. These include requirements in relation to the keeping of client money, the fair dealing requirements of the Financial Markets Conduct Act, and anti-money laundering and countering the financing of terrorism requirements, along with the requirement to register on the Financial Service Providers' Register."  
"Where a New Zealand registered company is operating overseas, it will be subject to the laws of that jurisdiction," Clark said.
"I understand the Registrar of Companies can only remove a New Zealand company from the Companies Register if a statutory ground for removal is met. the Ministry of Business, Innovation & Employment's Integrity and Enforcement Team carries out investigations on behalf the Registrar of Companies, and as Minister I have no role in actions that they take. However, I am advised that should further information regarding non-compliance with the Companies Act become available the matter will be reviewed in accordance with MBIE's Integrity and Enforcement policy guidelines."
"I encourage anyone with a complaint, or information relevant to the Registrar's consideration of potential removal actions, to follow the Integrity and Enforcement Team's complaints process," Clark added.
In February this year an MBIE spokeswoman told interest.co.nz the Integrity and Enforcement Team had concluded an investigation into alleged links between Andrews and Vivier.
"There was insufficient evidence to reach the threshold for prosecution," the MBIE spokeswoman said. "Should further information regarding non-compliance with the Companies Act become available, the matter will be reviewed in accordance with the Integrity and Enforcement Team's enforcement policy guidelines."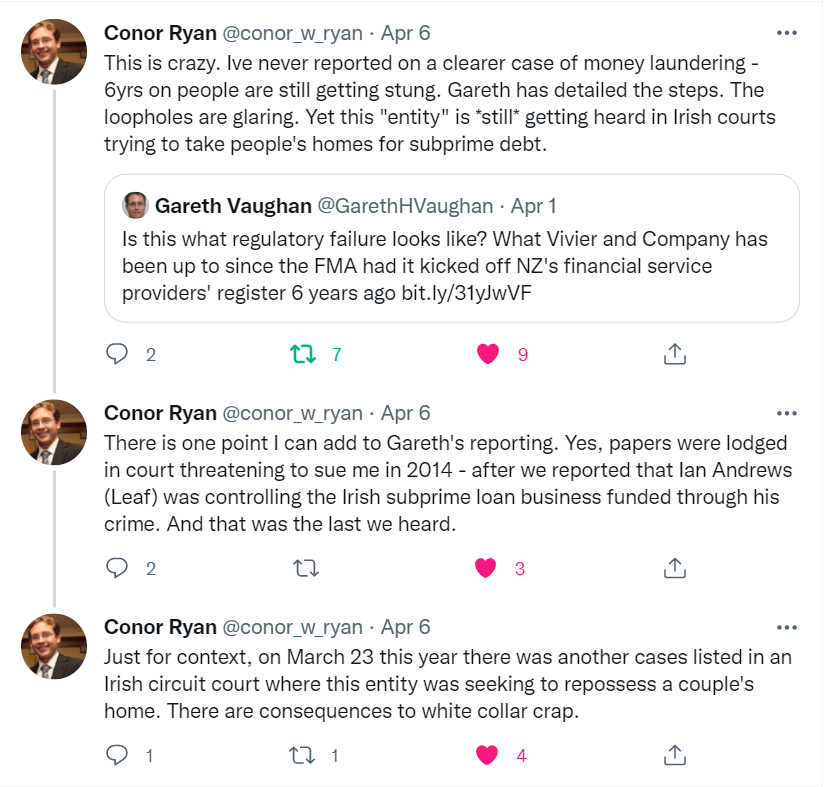 *This article was first published in our email for paying subscribers. See here for more details and how to subscribe.