Second lowest June year level of building consents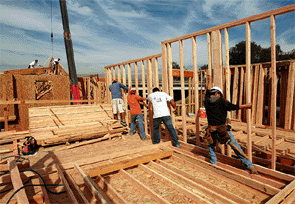 House building increased 3.5% in June on a seasonally adjusted basis, Statistics New Zealand says, following a 9.5% fall in May.
Consents were issued for 1,373 new dwellings including 57 apartments in June. 
For the June 2010 year, 15,384 new housing units, excluding apartments, were authorised. Although that's a 25% rise versus the June 2009 year, it's the second lowest annual June year total since Statistics New Zealand began its series in 1991. The June 2009 year was the lowest.
"In the June 2010 year, 783 new apartment units were authorised, which is the lowest since 1994," Statistics New Zealand's business statistics manager Louise Holmes-Oliver said.
The monthly trend for the number of new housing units authorised, excluding apartments, has been increasing since early 2009, but the level remains 31% down on the June 2007 peak.
ASB economist Jane Turner said the Reserve Bank had noted a weaker net migration outlook in yesterday's Official Cash Rate announcement. It was likely therefore to have incorporated a weaker outlook for housing construction in recent forecasts.  
"Indeed, in light of the slightly softer growth outlook the Reserve Bank noted that the pace and extent of future policy tightening is likely to be more gradual than expected.  Nonetheless, the New Zealand economy is still on track for a modestly paced recovery. In contrast to previous cycles, this recovery is set to be export led, while the household sector (including the residential construction industry) is likely to remain relatively subdued."
Meanwhile, Statistics New Zealand said the value of dwelling alterations and additions was NZ$109 million in June, the highest monthly figure since the series began in January 1991.
The value of residential building consents was NZ$508 million, 32% higher than June 2009.
The value of non-residential building consents was down 26% for the month of June - versus June 2009 -  to NZ$228 million. The biggest falls came in education buildings down NZ$39 million, storage buildings down NZ$32 million and offices and administration buildings, down NZ$25 million.
The largest increase was for shops, restaurants, and taverns, which increased NZ$13 million.