English: Risks building for NZ economy due to EU crisis, Aussie jitters and US stalemate; 'Demand for exports could fall, funding lines at risk'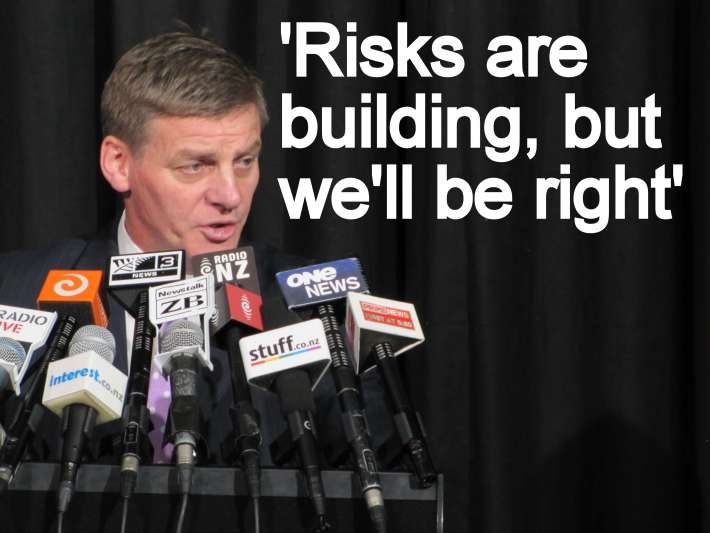 By Alex Tarrant
Risks are building for New Zealand's economy as the sovereign debt crisis in Europe worsens, with stronger than expected domestic economic growth in the short-term at risk from what is shaping up to be a weaker outlook over the medium-term, Finance Minister Bill English says.
Bigger than expected economic challenges in Australia could mean demand for New Zealand exports will come off, while jitters in global financial markets were a risk for the government and banks here due to their reliance on access to international funding lines, English said.
The government was working to keep its own net debt below 30% of GDP, while trying to enact policies that would not put upward pressure on interest rates, English said. This, along with the possible economic slowdown, could mean interest rates stayed at their current low levels for longer.
The latest news from Europe is that larger nations like Germany are preparing to let Greece default on its government debt, after hundreds of billions of dollars were spent on bailout packages to try and stop just that. See more here in Bernard Hickey's 90 seconds at 9am.
Concerns around the fiscal strength of Italy, Spain, Portugal and Ireland continue to linger and grow, while anger grows in Germany and France where voters are growing more and more disenchanted with political leaders and their response to the Eurozone's economic woes.
'Concerned, but it's not too serious'
Speaking to media in Parliament buildings after Question Time on Tuesday, English said what was happening in Europe had been building up for some time because they had not been able to find a solution to problems created by enormous debt and a single currency.
"For New Zealand, our vulnerability is that the financial markets where we're borrowing could be disrupted," English said.
"We're in better shape now to handle that than we were three years ago, so while we're concerned about it, we don't see disruption there as a really serious threat," he said.
Aussie worries
New Zealand's largest trading partner Australia had economic challenges "more than we probably expected 12 months ago." Europe wasn't looking too flash, while the US was struggling to recover from the global financial crisis.
"That means that demand for our products is probably likely to be less than we expected just six months ago," English said.
"So we face a couple of risks: One is the risk of disruption in financial markets where we borrow, and the other is the risk of less demand for our products," he said.
In terms of Treasury's budget forecasts released in May, the mix was different in terms of economic performance over the medium-term.
"I think the shorter-term economic performance has been a bit better than it was probably expected in the budget – there's more new jobs and more growth in the domestic economy than we thought just six months ago," English said.
"But looking two or three years out, maybe there'll be a bit less growth. But we'll get some indication of that from the Reserve Bank this week, when they'll publish a set of forecasts, and then Treasury in the pre-election update," he said.
'News just getting worse'
Earlier in Question Time in Parliament, English noted the news coming out of Europe continued to get worse.
"There are ongoing worries that a number of countries, starting with Greece, may be forced to default on their government debt. The resulting losses would affect the soundness of European banks and possibly send Europe back into recession," English told the House.
"Europe still accounts for 13% of our merchandise exports, so any economic weakness in Europe is not good news for New Zealand. There's also the possibility that the financial markets in which the New Zealand government and New Zealand banks borrow could be disrupted at times," English said.
'Interest rates lower for longer'
Since 2008, the government had sought to reduce New Zealand's vulnerability to the markets in which it borrowed, with the Reserve Bank ensuring banks were more sound than they were back then, English said.
"The government has also worked to sure up its own position at the same time as dealing with the recession, by aiming to keep net debt below 30% [of GDP], to do what it can to keep interest rates low, to continue to protect the most vulnerable, but also begin the task of making our export sector as competitive as possible so that regardless of what happens in Europe, New Zealand can continue to increase jobs and incomes," English said.
Households had benefitted through job growth and low interest rates for mortgages, which had almost halved over the last three years from about 11% to 6%, he said.
"That is worth around NZ$200 per week, or NZ$10,000 per year to a borrower with a typical mortgage. On current trends, we should be able to keep lower interest rates for longer."
(Updates with further comments from English, 'interest rates lower for longer').