Former 'acting CEOs' at ANZ NZ and Westpac NZ team up at the Co-operative Bank, which would've been 'very reluctant' not to have appointed a New Zealander as CEO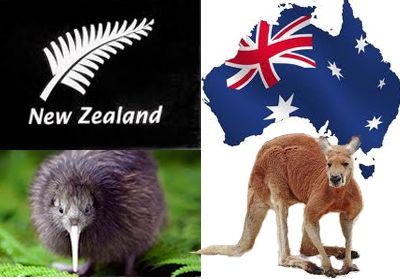 This article was first published in our email for paid subscribers this morning. See here for more details and to subscribe.
By Gareth Vaughan
The Co-operative Bank's new chairman and chief executive have one obvious thing in common. They both had stints as acting CEO at one of the local subsidiaries of the Australian banks before permanent Australian CEOs were appointed.
However, neither was prepared to take the bait when asked whether they thought there was a preference at the big banks for Aussie CEOs, although chairman Steven Fyfe was quick to say the Co-operative Bank board would've been "very reluctant" to appoint a non-new Zealander as its CEO.
The Co-operative Bank yesterday named Bruce McLachlan, who had nine months as acting Westpac NZ CEO in 2008-09, as its new CEO replacing Girol Karacaoglu who left for a role at the Treasury in February. And Fyfe, Co-operative Bank's chairman after replacing David Gascoigne on April 1, is the former deputy CEO of ANZ NZ and had a brief stint as acting CEO in 2010. Previously PSIS, the Co-operative Bank obtained banking registration from the Reserve Bank last October.
McLachlan said he couldn't believe Aussies were favoured over Kiwis at the helm of the local subsidiaries of the big Australian banks.
"The way I rationalise it is boards are (made up of) intelligent people and have the organisation's interests at heart. They will choose the best person they see for the role. I don't believe that it's a New Zealander or Australian thing," said McLachlan.
"I have always given the boards the benefit of the doubt that they're doing the right thing by the business. I think that's the only way you can look at it. I think in New Zealand you can get a little bit precious about these things."
And Fyfe said: "I don't think New Zealanders are counted out. It's just that the major banks look for candidates from around the world."
Only one Aussie on a big bank helm across the ditch too
Fyfe also pointed to the fact that National Australia Bank CEO Cameron Clyne is the only Australian CEO of the big four Australian banks with Brit Mike Smith heading up ANZ, South African Gail Kelly at Westpac, and New Zealander Ian Narev CEO at Commonwealth Bank of Australia (CBA) after replacing fellow Kiwi Ralph Norris.
At the New Zealand subsidiaries, CBA's ASB is currently the only one with a New Zealander at the top in Barbara Chapman.
Nonetheless, Fyfe said the Co-operative Bank, which undertook a search for Karacaoglu's replacement through executive recruitment firm Korn/Ferry, had been very keen to hire a Kiwi as its new CEO.
"From our perspective we were hopeful we would attract a New Zealander. We'd have been very reluctant not to have appointed a New Zealander to our bank because living in New Zealand and understanding New Zealanders is absolutely vital to communicating our offer to more New Zealanders. We're very delighted to have a New Zealander as our CEO."
Meanwhile, McLachlan suggested that in the past Australians wouldn't have even considered coming to New Zealand, whereas now being CEO of a bank in New Zealand is "a good career option."
Fyfe retired as deputy chief executive of ANZ NZ in February 2011 following a 29-year career at the National Bank and ANZ NZ from 2004. He served as acting CEO briefly in September 2010 when Jenny Fagg stepped down to undergo treatment for cancer. The ANZ Group ultimately appointed David Hisco, previously its Australian commercial managing director and CEO of ANZ's New Zealand subsidiary UDC Finance from 1998 to 2000, to replace fellow Australian Fagg permanently.
McLachlan had a nine month stint as acting CEO of Westpac NZ (before returning to the role of consumer general manager) after the departure of Australian Brad Cooper to be the Westpac Group's chief transformation officer, and before the appointment of another Australian, George Frazis. In April Frazis returned to Australia to become CEO of Westpac's St George Bank. He was replaced by another Australian, Peter Clare. However, Clare, whose partner is a New Zealander, has indicated an interest to staff in staying in the job beyond the usual two to three years.
Andrew Thorburn has been BNZ's managing director and CEO since October 2008. Although an Australian, he has lived for a total of 17 years in New Zealand through roles at BNZ, ASB and Marac.