Two year fixed mortgage rates now higher than variable home loans for the first time since May 2012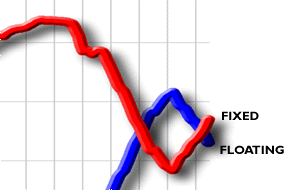 Today, two year wholesale swaps have hit 3.50%, their highest level since August 2011.
This may well flow through to homeowners with mortgages.
The fast switching by home loan borrowers over the past year to fixed rate loans from floating has been gathering pace, driving swap market demand and generating this rise.
Reserve Bank data shows that, during July, fixed-term mortgages grew by $3.5 billion, or 4%, to $100.3 billion, and floating, or variable, mortgages fell by $2.9 billion, or 3.4%, to $85.6 billion. This saw the total value fixed rise to 54% of the total from 52.2% at the end of June, the fastest monthly switching pace to date.
However, the enthusiasm may change.
Carded two year fixed mortgage rates have now risen above carded floating mortgage rates. The gap had been narrowing since May, but this week has seen the breaching.
What will this mean?
The steepening of the rate curve (that is, longer rates are rising faster than shorter) in the retail mortgage market has driven borrowers to shorter fixed term deals. The two year product has always been a favourite term, but banks are featuring their one year rates presently, and the shortening drive is on.
Wholesale markets - in the long run at least - price the cost of money based on longer term expectations. US money markets drive these, and there are clear expectations that rates will move higher at some point. Even the central banks - the US Fed in particular - won't be immune. Local markets expect an early 2014 rise in the RBNZ's OCR, although it has to be observed these market expectations have been relentlessly pushed back over the past few years.
Borrowers need to make their own assessments on rate-rise risks.
Fixing eliminates the risk of coming rises; staying floating keeps the risk alive.
Now that two year fixed rates are basically the same as variable rates, the issue will centre on your view of future rate trends.
Or you can chase the lower-priced fixed rates into shorter terms (18 mths, one year, even six month fixed).
But market moves will probably catch you out sooner rather than later.
Higher future two year mortgage rates are likely. We may be at a point where this is your last opportunity to fixed for two years at "low rates".