New Zealand records its highest net monthly migration gain in over 10 years, according to Statistics New Zealand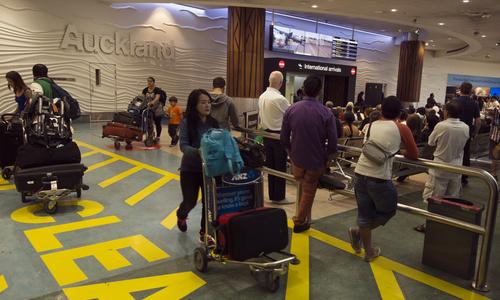 Soaring rates of net immigration in New Zealand might pose a risk of 'reigniting' the housing market and putting pressure on inflation, according to an economist.
Deutsche Bank NZ chief economist Darren Gibbs said the Reserve Bank's estimates of New Zealand's growth in net migration this year were now likely to prove "too conservative".
Statistics New Zealand said there was a seasonally adjusted net gain (more arrivals than departures) of 3500 migrants in February 2014, which was the highest monthly gain since April 2003 when there were also around 3500.
On a non-seasonally-adjusted basis the actual net gain of migrants in February was 5777, which is the highest actual monthly figure since February 2003. In terms of the composition of that figure, there was a net loss of 1015 New Zealand citizens in the month and a net gain of 6792 non-New Zealand citizens.
The big rise in net migration that's occurring - and strengthening - is due mainly to fewer Kiwis leaving, particularly for Australia, but also due to more people arriving too.
For the year to February there was a net gain of migrants of just under 30,000.
If you take the last three months-worth of seasonally-adjusted figures, however, the net rate of inbound migration is currently running at an annualised 38,000, which is getting close to all-time highs. That annualised figure has been rising in recent months. In each of the past three months the seasonally-adjusted number of net migrants has been higher than the month before.
The highest net inflow ever recorded was 42,500 in the May 2003 year. The highest net outflow was 43,600 in the July 1979 year. Over the last 20 years (December 1994–2013 years), New Zealand's annual net inflow of migrants has averaged 11,700. 
The rising numbers of migrants, with a large proportion of them settling in Auckland, are seen as likely putting more pressure on the housing market.
Deutsche Bank's Gibbs said based on the annualised rate of increase of 38,000 in the past three months this would be sufficient to drive 0.8% annual population growth even before growth through natural increase.
"It is worth recalling that the [Reserve Bank's] March MPS [Monetary Policy Statement] projections assumed that annual net migrant inflows peak in Q3 this year at just under 30,000.
"Even if we were to assume that migrant inflows have peaked in February it seems likely that the RBNZ's assumption will prove too conservative.
"Stronger-than-expected migrant flows risk reigniting the housing market and thus remain a key source of upside risk to the RBNZ's growth and domestic inflation forecasts," Gibbs said.
ASB economist Daniel Smith said strong net migration inflows would likely continue while the NZ economy and labour market outperform Australia.
"Additional workers will help meet strong demand in the Canterbury construction sector, but stronger population growth overall is likely to add to domestic demand and exacerbate housing market pressures," he said.
"Indeed, strong inwards migration has seemingly been one of the reasons for the [Reserve Bank] adopting an increasingly hawkish stance over the last year or so.
Forecasts may need raising
"If migration continues at the pace seen in February (or even strengthens further) over the rest of the year, both us [ASB] and the RBNZ would need to revise up our migration forecasts slightly.
"Strong inwards migration will continue to add to domestic demand and housing market pressures, and is one of the reasons why interest rates will rise over the next couple of years. We continue to expect the OCR will rise by 25bps in April, July and December this year, with another 100bps of hikes over 2015 taking the OCR to a peak of 4.5%."
The seasonally adjusted net loss of 600 migrants to Australia in February 2014 was below the average net loss of 1000 over the last six months. This average was well down from the recent high of 3700 recorded in September 2011.
In the February 2014 year, migrant arrivals numbered 96,900, and migrant departures numbered 67,800, resulting in a net gain of 29,000 migrants. This compares with a net migration gain of 1200 in the February 2013 year. The latest net gain was the highest annual gain since the February 2004 year (30,100).
In the latest year, New Zealand had a net loss of 15,000 migrants to Australia, well down from 36,700 a year earlier. Net gains were recorded from most other countries, led by China (6100), India, and the United Kingdom (each 5800).
Chinese migrants exceed those from UK
The net gain of migrants from China has surpassed that from the United Kingdom for the first time in a decade, Stats NZ said.
The net gain of migrants from China was higher than the United Kingdom's from the March 1996 year to the January 2004 year.
"In the latest year, migrants arriving from China were a more diverse group than in 2004, when the net gain was driven by international student arrivals. Compared with 10 years ago, the February 2014 year had a smaller proportion of Chinese migrants in the 15–24-year age group, and a larger percentage of Chinese migrants in the 50-years-and-older age group."
In the year, nine of New Zealand's 16 regions had net gains of migrants, led by Auckland (13,700), Canterbury (5100), Otago (600), and Wellington (400). The biggest net gains, by occupation, were professionals for Auckland and Wellington, technicians and trades workers for Canterbury, and community and personal service workers for Otago.