Brownlee forced to give up Civil Aviation responsibilities during Inquiry into his 'running late for a plane' airport security breach; Gareth Morgan launches water campaign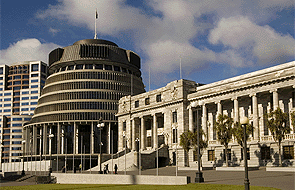 By Bernard Hickey
With 57 days left until the September 20 election, here's my daily round-up of political news from in and around Wellington on Friday July 25, including news of a Civil Aviation Authority investigation into Transport Minister Gerry Brownlee's airport security breach.
Also, John Key has confirmed that Brownlee will give up his responsibilities for the CAA during the investigation.
Brownlee, who is the Transport Minister and responsible for aviation security, told reporters before Parliamentary question time on Thursday he was running late for a plane and had asked a guard to go through a restricted door and had been waved through.
He said he was to blame for breaching security and did not want the guard to get into trouble. John Key said he was disappointed, but declined the offer.
The tone on both sides of the house was more jovial (see the quote of the day below). Labour MPs chortled along with questions about whether Brownlee really was running. The twittersphere lit up with jokes at Brownlee's expense, including Toby Manhire's gem about Gerry's "Door of National Significance."
This belied the seriousness of the situation, given anyone else breaching airport security would be in serious trouble, not to mention being accused of a 'Don't you know who I am' attitude.
Brownlee was asked by reporters just before question time if he was guilty of arrogance. "I guess that's what you could put on it. All I can say is that I didn't think about it. I made a stupid error and I deeply regret that," he said in reply. Moments later he was making light of it in the house, albeit with Labour acquiescence.
John Armstrong said in its NZ Herald column this morning that Key should have accepted Brownlee's resignation offer, at least from the position of Transport Minister while the CAA Inquiry was being held. Late last night Brownlee gave up responsibility for the CAA for the duration of the inquiry.
Water debate
In news of interest to those following the water quality/dairy conversion debate, Gareth Morgan was on Campbell Live last night launching a campaign to improve water quality in rivers.
The Morgan Foundation's 'My River: leave my river alone' campaign released a 19 page report from 16 scientists on theGovernment's National Policy Statement for Freshwater Management released earlier this month.
I'll keep updating this through the day.
See all my previous election diaries here.
See the index for Interest.co.nz's special election policy comparison pages here.