Former ACT leader and MP John Banks convicted of filing false electoral returns; Labour reject National's claim NZ$16.25/hr wage would cost over 6,000 jobs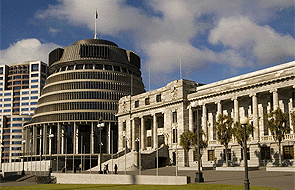 By Bernard Hickey
With just over seven weeks left until the September 20 election, here's my daily round-up of political news from in and around Wellington on Friday August 1, including comments from Conservative Leader Colin Craig and New Zealand First Leader Winston that they opposed the sale of the 13,800 ha Lochinver Station near Taupo to Shanghai Pengxin, which also bought the near-by Crafar Farms.
The Overseas Investment Office (OIO) confirmed an application had been lodged to buy approval the purchase of Lochinver, but it would not disclose the bidder's name. Shanghai Pengxin confirmed later on Friday afternoon it had agreed to buy Lochiver and had applied to the OIO for approval.
Shanghai Pengxin bought the near-by Crafar farms, triggering an intense debate around foreign ownership of land. Lochinver has been valued at NZ$70 million and has been owned for more than 50 years by the Stevenson family.
Craig made the comments in a speech to Grey Power in Hastings today, various media reported, saying his Conservative Party opposed sale of land to foreign interests.
"We can do business without selling our soul," Craig was reported as saying by Stuff and TVNZ.
National "waved through the Crafar farms deal against our national interests and doubtless will do the same with Lochinver Station," Craig said.
"We will be changing the criteria of the Overseas Investment Office so that our country is not sold up. It's time to take down the 'For Sale' sign on New Zealand," he said.
"The PM needs to realise that New Zealanders can't buy land in China because the Chinese aren't naive enough to sell it. It's time to get commercially smart; land is a truly scarce resource, and the future prosperity and wellbeing of New Zealanders should not be for sale."
Pengxin International CEO Gary Romano told Interest.co.nz Pengxin planned to further invest in Lochinver environmental sustainability and health and safety. It planned to further convert to dairy only a "modest" part of the station that were next to neighbouring former Crafar farms. Shanghai Pengxin, which is ultimately owned by billionaire Jiang Zhaobai, was also the 74% owner of a company that bought Synlait Farms in Canterbury earlier this year.
Romano said the combined interests of Shanhai Pengxin owned about 10 million kgs per year of dairy production, which was sold to Fonterra, Miraka and Synlait. Romano said Pengxin had no plans to change the 20 management and staff of the station.
Winston chimes in
New Zealand First Leader Winston Peters said the sale "puts the spotlight again on National's agenda of 'going, going, gone'."
"They just don't care – they're letting anyone and everyone buy our houses, land and businesses. New Zealand First warned just a week ago that under National almost a million hectares had passed through the Overseas Investment Office in less than six years. They hide the sales for as long as they can - that's why there is no register of foreign ownerships of New Zealand land. New Zealand First has legislation ready to go but the government is not supporting it," Peters said.
"They are hiding the details from the New Zealand public. If the true facts were revealed Kiwis would be outraged at the extent they have been dispossessed in their own country."
NSA bugging Southern Cross Cable?
The New Zealand Herald reported from a US travel expenses disclosure that a US National Security Administration official visited a GCSB base in Blenheim last year to talk about setting up a "Special Source Operations" site in New Zealand, which are bugging operations to collect information from cables. The GCSB would not say if the SSO had been set up on any cables.
The document which reveals the spying was a General Accounting Office travel disclosure, in which NSA staff declare any travel costs not funded by the US taxpayer.
In declaring a $271 payment for "transportation, lodging and meals", the NSA revealed it had sent an engineer to Blenheim for two nights to "participate in technical discussions regarding GCSB future SSO site".

The papers give no indication as to whether the tools are being offered to NZ's GCSB or whether they would be operated by NSA staff working in NZ.
Green Co Leader Russel Norman called on Prime Minister John Key to say what type of data collection operation had been set up by the NSA and whether all emails, internet communications and phone calls on the Southern Cross Cable.
"Key's integrity is in question. He has given New Zealanders' multiple assurances that their data is safe. Now it looks like he may have approved total interception through this SSO site," Norman said.
"Setting up a site capable of collecting data from New Zealand's fibre-optic cable is a major policy decision. John Key, as the Minister responsible, must have authorised this," he said.
A spokeswoman for Key denied in a statement that the cable was being bugged.
"We can categorically state that there is no such programme operating in New Zealand, and any claims that there is are utterly wrong," she said, adding there was no intention to introduce such a programme.
She said there was no mass surveillance of New Zealanders "and we do not use our partners to circumvent the law."
Banks avoids jail
Meanwhile, former ACT Party Leader and MP John Banks has been formally convicted in the Auckland High Court of filing false electoral returns.
He was sentenced to two months of home detention for four nights a week and 100 hours of community work.
He had previously been found guilty, but it had been expected his lawyers would ask for a discharge without conviction, but his lawyers told the court this morning they would not request a discharge.
Banks told reporters outside the court he would appeal the conviction using "watertight" evidence not presented in his trial.
Job losses?
Elsewhere, Labour's Labour Spokesman Andrew Little rejected Employment Minister Simon Bridges' argument that Labour's plan to lift the minimum wage by 14% to NZ$16.25/hour by April next year would cost more than 6,000 jobs.
Little said the claim about job losses was not supported by the New Zealand experience under Labour from 1999 to 2008, when unemployment was hit fresh lows despite a 70% rise in the minimum wage. It was also not supported by US research, he said.
"Recent research by the US Department of Labour found that a review of 64 studies on minimum wage increases found no discernible effect on employment, and a UK Low Pay Commission study confirmed minimum wages boosts workers' pay and doesn't harm employment," Little said.
"We have a problem with a growing number of working poor and it is imperative we lift incomes," he said.
Adjournment debate
The parties have yet to formally launch their campaigns, but the adjournment of Parliament on Thursday cleared the decks for the electioneering to start in earnest. The hoardings are up in most towns and cities (and are already being defaced in many imaginative ways) and the election is now just over seven weeks away.
Apart from John Key (who instead visited a school in Pukerua Bay), the party leaders gave their final adjournment debate addresses in a generally jovial 'end-of-term' mood after a frantic couple of days of law-making reminiscent of last-minute shopping on Christmas Eve.
Labour MPs visibly lifted early in the debate when word filtered through of a surprisingly strong Roy Morgan Poll result for Labour.
The poll found support for National slumping 5% to 46%, its lowest level since May. The landline and mobile phone poll of 818 voters from July 14-27 found support for Labour rose 6.5% to 30%, while support for the GreenParty fell 3% to 12%.
New Zealand First support fell 1% to 5%, while Internet-Mana rose 1% to 2.5%. Conservative support was unchanged at 1%. The poll found 6.5% would not name a party.
If this poll result was replicated on September 20, Winston Peters would decide the colour of the Government. It reinforces what both major party leaders are saying -- that the result will be closer than many think and that National's support is a percent or two lower than it was going into the 2011 election, which it only just won with the support of Maori, United Future and ACT.
Quips galore
Bill English started the adjournment debate with a vote of thanks for National MPs in provincial seats that he said used to be marginal or Labour seats and would win again in the election.
"The reason they are going to win is pretty simple: there are more new jobs, their economies are growing, crime is going down, educational achievement is going up, and the communities are getting better as the economy gets stronger," English said in summing up the Government's pitch for re-election.
"I want to thank our Prime Minister," he said of the absent John Key. "I know it is a luxury in this House, but we have a leader we support."
David Cunliffe agreed with Bill English in giving credit to New Zealanders for the economy's recovery after the Global Financial Crisis and the Canterbury Earthquakes, but with a twist, in his own pitch for election.
"It is to New Zealanders that we owe the credit for surviving the Canterbury earthquakes and the global financial crisis," Cunliffe said.
"We all know that milk and disaster is not an economic strategy. What New Zealanders are waking up to is the sad realisation that actually there is nothing there; there is no plan," he said.
"This is a Government that goes from day to day, muddling through in the name of political pragmatism, which is actually just reinforcing privilege. If New Zealanders want a fairer, better, more decent society, that is going to require change."
Labour formally launches its campaign on Sunday August 10, while National's launch is in Auckland on Sunday August 24.
(Updated with John Banks' conviction, details of sentence and plan to appeal, Colin Craig and Winston Peters opposing Shanghai Pengxin's purchase of Lochinver, reports of NSA looking at bugging the Souther Cross Cable, Key's denial, comments from Pengxin's Gary Romano)
See all my previous election diaries here.
See the index for Interest.co.nz's special election policy comparison pages here.