Key says Labour and NZ First inconsistent in opposing sale of Lochinver to Shanghai Pengxin; Labour says would ban almost all land sales to foreigners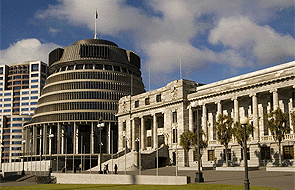 By Bernard Hickey
With 46 days until the September 20 election, here's my daily round-up of political news from in and around Wellington on Tuesday August 5, including Prime Minister John Key's accusation that Labour and New Zealand First were inconsistent opponents of the sale of Lochinver Station to Shanghai Pengxin and Labour Finance Spokesman David Parker's pledge that a Labour Government would ban sales of land to overseas buyers in almost all cases.
Key was questioned about the sale of Lochinver to Shanghai Pengxin at his post-cabinet news conference, including whether National would block the sale after the election to win the support of New Zealand First Leader Winston Peters, who said over the weekend a ban on such sales was a bottom line in any such government-forming talks.
Key said it would be difficult for the Government to block the bid, which was now subject to an Overseas Investment Office process under Overseas Investment Act, which was tightened in 2010 to include tests that require any overseas buyer to demonstrate wider economic benefits.
"I don't think you can just say: we don't like you because you're from China or we don't like you because we need to stitch up a political deal with another party," Key said.
"You actually have to have a reason in law. There's a cover-all provision in the Act, which gives ministers some flexibility," he said. "But, we as a government try to be both predictable and consistent and I think that's really important when it comes to foreign investors. They actually underpin hundreds of thousands of jobs."
Key criticised the opposition of Labour and New Zealand First to the deal, given they supported the 2007 approval of a sale to an overseas buyer of the 6,500 ha Poronui Station that neighbours Lochinver Station.
"The opposition parties, particularly Labour and New Zealand First, could answer the question: 'If it was OK back in 2007, why is it not OK for the station that's right next door today?'," he said, adding that the National Government had approved land sales to foreign buyers at half the rate of the previous Labour Government.
The March 2007 announcement by then Finance Minister Michael Cullen and Land Information Minister David Parker noted that the sale was from one overseas owner to another, and included the transfer of river-beds for the Mohaka and Taharua rivers to the Crown, and a guarantee of legal access to rivers to the public.
Key also pointed to a lack of opposition when US movie director James Cameron bought land in the Wairarapa.
"I didn't see the Opposition parties screaming from the rooftops that James Cameron shouldn't be welcomed to New Zealand and shouldn't be able to buy those properties," he said.
'Don't spook foreign capital'
Key also said politicians should be careful in an election campaign not to discourage foreign investors.
"We've all got to be a little bit careful in an election period that we don't lose sight of the fact New Zealand imports a fair bit of capital and needs it," he said.
He said politicians should be thoughtful about suggesting bans, given the complications around land ownership under other assets such as warehouses.
"This thing is a minefield when you start getting into defining all of this stuff."
He said Lochinver was a big station, but only a relatively small percentage of New Zealand's land mass had been sold to overseas owners. He pointed to a Sunday Star Times article that suggested the amount was less than 1% of New Zealand's land mass.
"If there was a really serious run on New Zealand land, that would be unacceptable to most New Zealanders. If we were the Government, we would act to try and slow that down. We've been allowing sales of land at a much slower rate than Labour ever did in the last five or six years of their Government," Key said.
He was then asked what levels of buying would suggest a 'run'.
"It would be where we got to a level where people intuitively felt it was extremely frequent event which was challenging New Zealand's ownership of its underlying land," he said.
National register?
Key also downplayed a suggestion from Federated Farmers that the Government create a register of foreign land ownership.
He said a register already effectively existed because overseas buyers had to apply to the OIO for parcels over 4.5 ha, although he also noted that overseas owners selling to local owners did not have to declare the sale.
"The bottom line is I don't think anyone could claim at the moment that we have an amount that is making New Zealanders tenants in their own land, but it's one of those things that you constantly monitor," he said.
"Overall, that number is very low, and overall New Zealand has tended to benefit from it," pointing to the ownership by Julian Robertson of golf resorts at Kauri Cliffs in Northland and at Cape Kidnappers in the Hawkes Bay.
Labour would ban almost all sales
Labour Finance Spokesman David Parker said sales of land to overseas owners would be banned by a Labour Government in "all but the rarest of cases."
"New Zealanders are sick of seeing their farms and homes sold to overseas buyers with the profits and opportunities going offshore. No overseas person has the right to buy our land," he said.
"Changing who owns what already exists does nothing to increase New Zealand's output. It just sells off New Zealand's profit stream and kills off the Kiwi dream of owning our farms and homes," he said.
"Labour will reverse the current approach so that overseas buyers of rural land will have to prove they will create more jobs and exports than any New Zealand investor. We will also limit the discretion of the minister to ignore recommendations from the Overseas Investment Office. Labour will also restrict sales of residential homes to any non-residents unless they intend to move here, helping to keep the Kiwi home ownership dream alive, especially for young New Zealanders currently locked out of the housing market."
See all my previous election diaries here.
See the index for Interest.co.nz's special election policy comparison pages here.