Consumer lender Avanti Finance expands in home loan market with funding from Westpac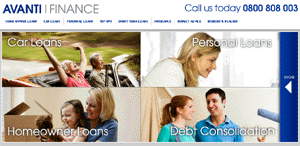 Consumer, car, dealer and property lender Avanti Finance is expanding in the home loan market with funding from Westpac.
Avanti has secured two lending facilities from Westpac worth a combined $220 million. A $120 million four-year facility will be used to acquire  "higher risk" asset backed retail loans, and the second loan facility, a $100 million five-year one, is for "prime" residential mortgages, credit rating agency Standard & Poor's says.
"We believe Avanti will substantially increase its asset base, by growing its existing business and its new first residential mortgage portfolio," S&P says.
Avanti managing director and owner Glenn Hawkins told interest.co.nz the company has already been offering first and second mortgage bridging loans and saw an opportunity to expand. Although banks are going at it hammer and tongs in the home loan market, Hawkins said he was confident there was a niche for Avanti.
"We've been doing it on an interest only basis since before the GFC (global financial crisis) and we didn't melt away over the GFC," said Hawkins.
"We saw a little bit of demand as people got to the end of their interest only terms that they liked the style from our side of it, the way we managed their accounts, and they just wanted to hang around rather than get refinanced," said Hawkins.
The move comes as Avanti replaces ANZ, its bank financier of 18 years, with Westpac. Avanti's most recent publicly available financial results show a $40 million loan facility from ANZ.
Hawkins said Avanti was yet to finalise its home loan interest rates but they would be more "bank like." Hawkins said high loan-to-value ratio (LVR) residential mortgage lending wasn't necessary an area Avanti would target. Given it's not a bank, Avanti isn't subject to the Reserve Bank's high LVR "speed limits."
Avanti's home lending will include prime loans, an element of sub-prime, the "traditional Bluestone, Liberty type" part of the market, and some loans for the self employed, Hawkins said. The Westpac funding deal means Avanti can widen its interest rate range for borrowers.
"When we go to a dealer or a mortgage broker we can say 'our rate range is 6.95% through to 20 something (%) instead of just 15.95% through to 20 something (%)," said Hawkins.
S&P has affirmed its long-term and short-term credit ratings on Avanti at BB and B, respectively, and revised its outlook to positive from stable. See credit ratings explained here.
"The revised outlook reflects Avanti's strategy of diversifying into new, lower-risk prime residential mortgages and expanding its existing business with the support of already embedded funding facilities provided by Westpac," S&P says.
"We believe the new initiatives should improve business stability, and that it is supportive of a higher rating if the finance company's financial profile, particularly its credit metrics and capital level, are maintained," says S&P.
Avanti is no longer a non-bank deposit taker having repaid all its debentures in March. These stood at $24.7 million in the company's latest available annual results. However, Avanti has retained its bigger, and long standing investors through capital notes.
"We only ever had 65 depositors. So we kept 20 of them that have been with us for more than 10 odd years and they're all the bigger ones anyway, and we repaid the other 45," said Hawkins. "We never want to be completely reliant on a bank, that's why we've kept them (depositors) in place so we've got a little bit of adaptability."
As of March 31 2013, Avanti had drawn down $29.2 million of its ANZ loan. Net profit for the year to March 31, 2013 was $8.4 million, with total assets at $92.4 million and total liabilities of $56.9 million.
This story was first published in our email for paying subscribers. See here for more details and how to subscribe.