Labour exempts Australians from ban on foreigners buying land; Harre defends Internet-Mana's f*** you John Key video; Govt agrees to leave Rena on seabed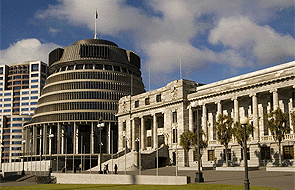 By Bernard Hickey
With six weeks to go until the September 20 election, here's my daily round-up of political news from in and around Wellington on Friday August 8, including David Cunliffe saying a Labour Government would not have to pay compensation to Shanghai Pengxin if it blocked the sale of Lochinver Station.
Cunliffe rejected John Key's comments the Government faced legal action if Labour prejudged the OIO decision on any sale of Lochinver.
"It is not a liability on the crown to pay compensation if a sale is declined," Cunliffe said on the campaign trail.
He questioned Lochinver owner Stevenson's argument that it would recycle Shanghai Pengxin's capital into its Drury South project.
"Those 8000 jobs could also apply equally if a New Zealand interest purchased the land," he said.
He also clarified that any ban on overseas buying of land would not apply to Australians, who qualify under CER. He wasn't sure of this in a Radio New Zealand interview on Thursday.
Craig lawyers up
Meanwhile, Conservative Party Leader Colin Craig injuncted TV3 in the High Court to ensure he was included in a minor party leaders debate on TV3's The Nation tomorrow morning.
The Nation originally said it only wanted to included the leaders of Mana, Maori, United Future, ACT and New Zealand First in the debate because they had been in Parliament for at least three years.
"I'm hopeful we will reach some sort of satisfactory resolution, but if we don't we are actually working on an injunction proceeding and I'm sure that would be our last recourse if we had to go there," Craig was quoted as saying on Stuff.
"If ACT can be included, given they're a party with no MPs in Parliament, far, far weaker polling than we've got, it seems very strange that we're not included," he said.
Late on Friday afternoon, NewstalkZB reported Craig had been granted an interim injunction, but that TV3 had decided not to hold the debate at all. The Nation itself clarified that it had decided to go ahead with the debate, but including Craig.
'Internet-Mana defends video'
Internet-Mana released a video on Youtube showing Kim Dotcom riling up an audience at a party meeting in Christchurch last week.
"Are you ready for a revolution? Are you ready to take down the Government? Are you ready to extradite John Key?," he says in the video.
The crowd then appeared to respond "F*** John Key", although there was debate online from those present at the meeting about whether the chants had broken out earlier without Dotcom's prompts.
Laila Harre defended the video, saying youth had a right to express their feelings.
Key said he would not dignify the video with a comment, except to say it would "confirm what a lot of New Zealanders think of the guy."
John Key was more fortcoming on Internet Mana generaly.
"They are literally the billionaire poverty party. It doesn't make any sense at any level and this is just another demonstration of where they're at odds."
'RMA reforms coming'
Elsewhere, Nick Smith gave an address to the Environmental Defence Society that laid out National's 'Bluegreen' principles and foreshadowed National's planned reforms to the Resource Management Act, which he said would be released closer to September 20.
He announced officials from the Ministry for the Environment, the Ministry for Primary Industries, the Department of Conservation, the Ministry of Business, Innovation and Employment, Land Information New Zealand and Local Government New Zealand would look at biodiversity offsetting.
'Leave Rena on seabed'
Meanwhile, the Government released its submission into the hearing of the Rena owner's consent application to leave the wreck on the Astrolabe reef.
The Government opposed leaving the bow section of the Rena on the top surface of the reef at shallow depths, but said it would not oppose leaving wreckage below 30 metres.
"We consider that the environmental impacts on leaving the sections below 30m could be managed through a tighter set of consent and monitoring conditions," Attorney General Chris Finlayson said.
"Our submission includes recommendations to improve the monitoring and consent conditions in order to ensure the long term effects of what remains of the wreck are appropriately managed."

"The submission strikes a balance between concerns about the wreck remaining on the reef, and the risks (including health and safety for workers at that depth and the risk of damage to the reef) and cost of full wreck removal of the lower sections in deeper water," he said.
(Updated with Colin Craig threatening legal action to ensure he's included on a minor party leaders debate on TV3's The Nation; Injunction successful after TV3 relents)
I'll keep updating this diary throughout the day.
See all my previous election diaries here.
See the index for Interest.co.nz's special election policy comparison pages here.