Cunliffe offers free doctors visits and prescriptions to over 65s; NZ First offers NZ$1,000 per baby KiwiSaver; Peters' jokes fall flat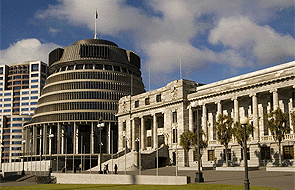 By Bernard Hickey
With under six weeks to go until the September 20 election, here's my daily round-up of political news on Monday August 10, including Labour Leader David Cunliffe appealing for pensioners' votes with a promise of free doctors' visits and prescriptions, and Winston Peters offering KiwiSaver for babies.
David Cunliffe launched Labour's campaign on Sunday at the Viaduct Events centre in downtown Auckland in a speech titled 'Ready to Win' .
He made a direct pitch to the elderly and young parents with a promise to make doctors visits and prescriptions free for anyone over the age of 65 and under the age of 13.
The free visits and prescriptions would also be available to pregnant women already entitled to free primary care, along with free dental visits. Here's Labour's full policy document. Labour costed the policy at NZ$280 million a year.
Cunliffe painted a bleak picture of another three years under National.
"Our rivers will be dirty. What's left of our assets will be sold. And so will vast tracts of our land. We will be tenants in our own country," he said.
'Spray and walk away'
Elsewhere, Winston Peters launched New Zealand First's campaign at the Kelston Community Hall in West Auckland with a speech "in pursuit of economic nationalism."
He attacked the Australian ownership of banks, media companies, insurers and manufacturers.
"Much of the criticism that will come our way will not be the result of independent comment or analysis, but from the fourth estate wanting to shape and direct the political affairs of the nation to suit their owners," he said.
Peters announced New Zealand First would extend KiwiSaver to newborns and allow funds to be withdrawn for tertiary fees. The Government would provide a NZ$1,000 kickstart and the policy would cost about NZ$60 million.
But it was some slightly risque comments Peters made off the script of the speech that made the headlines. He said John Key's claim that Labour had also approved farm sales did not justify National's policy.
"Just because your predecessor did it too does not make your actions sensible. As they say in Beijing, two Wongs don't make a white," he said. He later accused journalists of having a humour bypass when they asked about the comment.
"It's called humour. I know that in Beijing they think it's funny, and so do I," he said. Peters also later referred to John Key as "Mr Spray and Walk Away," in a comment about the Government's approach to migrants receiving superannuation under the parents of migrants category.
Colin Craig legal action
The election campaign is in full swing now.
The weekend began early on Friday with Conservative Leader Colin Craig taking legal action to force his way onto The Nation's debate for minor party leaders on Saturday morning in Auckland. The injunction was successful and for a brief moment it appeared the show would be cancelled altogether. But TV3 relented and built another podium in the studio for Craig.
Brook Sabin judged Winston Peters the strongest performer and said Colin Craig was "missing a spark plug."
Winston Peters made a point of not attacking Metiria Turei .
Epsom was the focus on the debate on TVNZ's Q+A , where there wasdebate between the candidates . A Colmar Brunton survey of Epsom voters found 45% said they would vote for ACT's David Seymour and 31% would vote for National's Paul Goldsmith, but only after the 28% unaware of John Key's direction to National voters to vote for Seymour were told of the deal.
The current (pre-deal information) support levels had Goldsmith at 44% and Seymour at 32%. The poll also found surprisingly high party support for Green. It found party vote support in Epsom for National at 60%, Green at 16%, Labour at 14%, NZ First at 3%, ACT at 3%, Conservative at 2%, Internet Mana at 2% and Maori at 1%.
School zoning in Epsom
Goldsmith said on Q+A he was campaigning for the party vote only in Epsom. Seymour said ACT favoured removing school zoning (a very touchy subject in Epsom), but it would be the last restriction ACT removed from schools after improving them all first.
"Secondly, we have to consider the property rights of people who have bought into school zones with the expectation of sending their kids to a given school," he said, adding removing zoning was not a priority for ACT and pointing to his involvement in a campaign to block any changes to the zoning in One Tree Hill.
I'll keep updating this diary throughout the day.
See all my previous election diaries here.
See the index for Interest.co.nz's special election policy comparison pages here.