Bill English says corporate farmers such as Shanghai Pengxin won't last in low returns farming business; Campaign gets ugly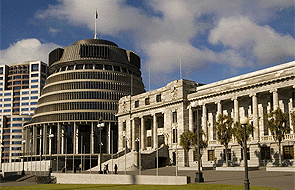 By Bernard Hickey
With 39 days to go until the September 20 election, here's my daily round-up of political news on Tuesday August 11, including Bill English's comment that Shanghai Pengxin is unlikely to stick around in New Zealand because asset returns on farming here were too low in the long run for corporate owners. 
Bill English told a group of business people in Hamilton last week that his personal view was that corporate farmers such as Shanghai Pengxin would eventually leave the farming business because it was a "low return on assets" business better suited to family ownership.
"My own personal view is in the long run - this applies to Kiwi as well as offshore - corporate farming entities don't survive," he was quoted as saying by Stuff.
"And I know that sort of runs against the trend, but I've seen the cycle two or three times," he said
"We've seen Tasman come and go, New Zealand Dairy Farms come and go, the Hubbard empire come and go, Solid Energy's empire has just been sold off without anyone noticing but the locals in the last few months," he said.
"These guys [Pengxin], as much as they might not be saying it, they'll come and go. The owner-operator works. The Waikato's testament to it."
'Not a good excuse'
Labour Leader David Cunliffe was quoted as saying this was an insufficient excuse for approving land sales to overseas buyers.
"Second issue is it's not a very good way to treat international investors to say, 'You're welcome here because we know you're going to go bust'," Cunliffe was quoted as saying.
He said there had been a shift to corporate farming and repeated the need for a Capital Gains Tax.
"An issue to be considered is whether the tax structure is currently a push factor there; the lack of a capital gains tax means in the dairy industry a lot of people have been buying up the farm down the road and offsetting the interest costs of that borrowing against the cash income that they would otherwise have to declare," he said.
New schools for Auckland
Auckland-based Associate Education Minister Nikki Kaye and Prime Minister John Key announced on a visit to Ponsonby Primary School the Government planned to spend at least NZ$350 million over the next four years building nine new schools and 130 new classrooms for existing schools in the Auckland region.
Kaye said as many as eight existing schools would require redevelopment. The funds would come from a mix of the Future Investment Fund (comprising asset sale proceeds), existing baseline funding and public/private partnerships.
"We will deal with major redevelopments at Western Springs College in Western Springs, Southern Cross Campus (second stage) in Māngere East, and Sherwood Primary in Browns Bay as first cabs off the rank if we are returned to Government at the election," Kaye said.
The Government planned to build  four schools in the North Auckland area, three schools in South Auckland, and two schools in West Auckland.
Green plan for Christchurch
Canterbury list MP Eugenie Sage announced the Green Party's Christchurch policy, including plans to spend NZ$462 million establishing a single transport authority called Canterbury Transport with better public transport and safe cycling, putting a new stadium on hold and reducing pressure to sell Council assets, holding elections for ECan in 2015, and removing CERA's emergency powers.
Elsewhere, Cunliffe visited Palmerston North with local list MP Iain Lees Galloway.
They said a Labour Government would consider a local proposal to build an inland port in Palmerston North, which could be funded from Labour's NZ$200 million regional development fund.
Showdown in Kumeu
The campaign action overnight was at the Kumeu Baptist Church where John Key faced off against Laila Harre, Hone Harawira and a bunch of other local candidates in a locally organised 'debate' for the Helensville electorate.
It was clearly the biggest show in town with 50 people being locked out of the church hall packed with 300 others. But the reports and twitter streams from the meeting suggested it was something of a fizzer with the 'debating' rules forbidding candidates from mentioning each other or other parties.
John Key was reportedly the closest to being thrown out for referring to other party candidates, but the fireworks predicted by some failed to eventuate in an otherwise orderly meeting.
However, the campaign trail was anything but orderly yesterday.
Shylock comment deleted
Labour's Rangitata Candidate Steven Gibson called John Key "Shonky Johnkey Shylock" in a facebook post, but then deleted the post, apologised and said he was not aware of the comment's anti-semitic connotations. David Cunliffe said the comments showed "extremely poor judgement" and Gibson was on his "last chance."
Key dismissed the comment in his post-cabinet news conference.
"It's hardly 'Vote Positive', but again, we'll be letting that go through the keeper as well," he said.
Money cards for young
Elsewhere, Social Development Minister Paula Bennett and Key announced National would extend payment cards, money management, and intensive guidance to all teen parents and many 18 and 19 year old beneficiaries.
The cards cannot be used to buy alcohol or cigarettes and the teens can have NZ$50 a week "pocket money", after rent and utility bills are paid directly to suppliers.
National introduced its Youth Service approach in 2012 for 16 and 17 year olds and teen parents up to 18. The Q&A issued with the announcement said the measure would see between 2,000 and 3,000 of the currently 5,700 18 and 19 year old beneficiaries put into the scheme, with a further 1,200 19 year old sole parents moved onto the scheme.
It would cost NZ$10 million to NZ$15 million per year, based on an average cost of NZ$2,500 for each young person referred to the Youth Service, and including extra weekly bonus payments for completing budgeting and parenting courses.
Bennett pointed to the Government's measure of the long term liability of people on benefits being NZ$76 billion, with 70% of that coming from those who went onto a benefit as a teenager.
"So us investing more in them earlier and putting that sort of wrap-around support around them will undoubtedly mean they can live the sort of fulfilled and aspirational life that this government stands for," Bennett told Key's weekly post-cabinet news conference.
Sue Moroney said the "keep 'em poor" cards were no substitute for apprenticeships, which Labour would provide under its KickStart policy.
'Shameful and disappointing'
In another sign of an ugly campaign, Human Rights Commissioner Susan Devoy criticised Winston Peters' 'two wongs don't make a right' comment as "disappointing and shameful."
"Winston Peters needs to know he's not funny. His outdated rhetoric belongs in New Zealand's past: it has no place in New Zealand's future," Devoy said.
Meanwhile, Laila Harre threatened legal action for defamation against John Key for his comments on TVNZ's Breakfast on Monday that a video of a burning effigy of Key was put online by Internet-Mana.
Key laughed off the threat in his post-cabinet news conference.
The campaign has gotten surprisingly ugly, surprisingly quickly. The defacement of billboards seems more widespread than previous elections this early in the campaign.
(Updated with Government announcement of more schools for Auckland, Labour's consideration of an inland port in Palmerston North and a Green plan for Christchurch)
I'll keep updating this diary throughout the day.
See all my previous election diaries here.
See the index for Interest.co.nz's special election policy comparison pages here.