Judith Collins resigns after revelation of Slater email saying she was "gunning for Feeley"; Collins denies campaigning to oust SFO Director; Key says Collins had to go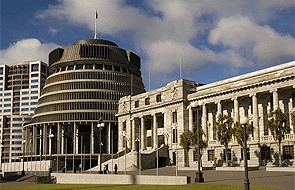 By Bernard Hickey
With three weeks to go until the September 20 election, here's my daily round-up of political news on Saturday August 30, including Prime Minister John Key's announcement he had accepted Judith Collins' resignation as Justice Minister after he received a copy of a 2011 email from Cameron Slater saying Collins was "gunning" for Serious Fraud Office Director Adam Feeley.
Collins later appeared in Auckland and read a statement denying she had pressured Feeley to leave and said she had been subject to a two year-long smear campaign. 
Collins said Feeley had been an excellent head of the SFO and had remained on after Collins moved to another portfolio, and that the State Services Commissioner had investigated and not found any untoward behaviour.
She refused to take questions. Feeley resigned in 2012 three years into a five year term and is now CEO of the Queenstown Lakes District Council.
"The election should be focused on the issues that matter such as law and order, health, education and the economy and I do not want this matter to be a distraction for the Prime Minister or the National Party during the campaign," she said
"This has been an extremely distressing and disappointing time," she said, adding she could not control what others said about her or that others (referring to Cameron Slater) might leverage off her name.
Key appeared before reporters in Parliament to announce Collins' resignation.
"The relationship between a Minister and their Chief Executive is vital, and goes right to the heart of a trusted, effective government," he said, adding the email raised questions about her judgement.
"This new information suggests Ms Collins may have been engaged in discussions with a blogger in 2011 aimed at undermining the then Director of the Serious Fraud Office. Ms Collins was the Minister responsible for the SFO at the time," Key said.
His office took the unusual step of publishing the email.
'Gunning for Feeley'
The email from Slater to "Mark" and PR man Carrick Graham refer to an orchestrated campaign to bring down Feeley, involving Slater, Cathy Odgers (Cactus Kate) and Graham briefing journalists.
Here is the released portion of the email in full (key portion bolded):
Ok guys here is an update on the state of play on Adam Feeley.

Today is the 4th straight day of headlines and additional revelations about Adam Feeley
I am maintaining daily communications with Jared Savage at the Herald and he is passing information directly to me that the Herald can't run and so are feeding me to run on the blog. in the meantime I also have additional information flowing in via my tipline. That information will be drip fed into the media or via my blog.

Cathy can outline her contact with Fran O'Sullivan separately. Basically though the Herald and other media are now picking up our lines that this situation is like "Caesar's Wife" where the SFO must be beyond reproach. If he nicked a bottle of wine what else has he nicked or hidden from receivers and liquidators?

So far the Herald has been running NBR to publish on Friday. Cathy will be chatting with Jock Anderson and I will cover Matt Nippert.

Our (Cathy's) nickname for Feeley (Five Fingers Feeley) has stuck. journalists ringing me actually use to describe Feeley now in phone conversations.

I also spoke at length with the Minister responsible today (Judith Collins). She is gunning for Feeley. Any information that we can provide her on his background is appreciated. I have outlined for her a coming blog post about the massive staff turnover and she has added that to the review of the State Services Commissioner. She is using the review of these events to go on a trawl looking for anything else. It is my opinion that Feeley's position is untenable.

I have also arranged with Matthew Hooton for iPredict (https://www.ipredict.co.nz) the prediction markets to have a new stock released so people can invest on the probability of Adam Feeley getting the sack before Christmas or leaving.
Key said he had spoken to Collins about the matters raised in the email.
"Ms Collins accepts these are serious allegations and that resigning as a Minister is the honourable step to take in these circumstances," Key said.
At the short news conference, Key said Collins had a different version of events, but it was not tenable for him to ignore it as Prime Minister.
"It's not tenable for her to carry on as minister until these issues are resolved," he said.
"This fits in to the category of a very serious statement. The statement could be completely wrong, it could completely misrepresent the situation. But I can't let that rest unresolved," he said.
'Not in Cabinet after election'
Key said that if National was re-elected Collins would not be re-appointed to cabinet, at least not for some time.
"She won't be in cabinet, it doesn't mean she can't be at some point in the future, but that would rely on her clearing herself of these allegations," he said.
Key rejected suggestions he should have sacked her earlier over controversies around her dinner in China with Oravida directors and a customs official, or the revelations in the 'Dirty Politics' book over her releasing an official's name to Slater.
He said he would have accepted her resignation over the latest email regardless of the other events, although he acknowledged the accumulation of issues.
"She may need to take a little time to reflect as well. There's been one or two slips in recent times," he said.
Key said a copy of the email had been sent to his Chief of Staff Wayne Eagleson on Friday and he had considered it overnight, before talking to Collins and then accepting her resignation.
Slater comments
Slater said Collins had been taken down by 1,000 cuts by a "sustained campaign by the left," adding "they know the danger she poses."
"As Judith and I are friends, I am gutted for her,'' he wrote on his blog.
Later he talked to journalists outside his townhouse in Flat Bush.
TVNZ reported he read a statement saying: "Judith Collins has now been taken down by death by a thousand cuts."
He said he had embellished his comments and "talking up a big game," about his conversation with Collins in the email, although he did not deny he wrote or sent the email. He described himself as a victim and that
"If Judith Collins was gunning for someone she'd have got them," he said.
"Embellish is a good word. It's better than lie isn't it?."
Slater was then asked what he would do about Collins' resignation. He said: "I always give back double" and "Judith always gives back double."
Slater told NewstalkZB that Collins was an innocent party in the matter and was the "victim of a criminal conspiracy by a criminal hacker."
"That's me talking big. So what?," he said.
He said his only regret was using Gmail.
Slater later said he would be reporting the Prime Minister to the Privacy Commissioner for releasing the email and that Key would a "temporary Prime Minister."
FMA next? More to come?
Meanwhile, Stuff reported that the Sunday Star Times had been due to publish an article tomorrow from the emails.
"They detail a covert public relations campaign including attacks on the credibility of the SFO and Financial Markets Authority," Hamish Rutherford and Kelly Dennett wrote in Stuff.
Elsewhere, Hooten said he expected a Facebook conversation between Judith Collins and Cameron Slater to be released by 'Whaledump' on Sunday.
3News' Patrick Gower suggested that the Mark referred to in the email was Mark Hotchin of Hanover Finance, who was subject to investigations by SFO at the time. Carrick Graham was a spokesman for Hotchin at the time.
'Hacked for being a 'pr**k'
Elsewhere, 'Dirty Politics' author Nicky Hager told a Christchurch book festival audience why the hacker now known as 'Whaledump' on Twitter and also referred to elsewhere as 'Rawshark' hacked into Cameron Slater's accounts.
''I know him [the hacker] well now, and I trust him,'' he said. ''His motivation was that Cameron Slater was a bastard and we'll do him over," Hager said, adding he had taken weeks to convince the hacker not to simply release the documents on the Internet.
''The reason he attacked him was he thought he was a pr**k,' Hager said.
(Updated with more detail on email and Hager's comments on why Whaledump hacked Slater, more comments from Slater about 'embellishing' his conversation with Collins, Hotchin link)
I'll update this regularly through the day.
See all my previous election diaries here.
See the index for Interest.co.nz's special election policy comparison pages here.