Emails show Hanover Finance's Mark Hotchin appeared to fund Slater-led campaign against SFO's Adam Feeley; Links brought down Collins; SSC concerned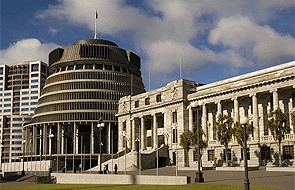 By Bernard Hickey
With less than three weeks to go until the September 20 election, here's my daily round-up of political news on Sunday August 30, including the publication of emails showing Hanover Finance boss Mark Hotchin appeared to fund an orchestrated attack on Serious Fraud Office director Adam Feeley by Cameron Slater, Cathy Odgers and Carrick Graham.
Fairfax's Sunday Star Times reported from emails obtained directly from the hacker behind 'Dirty Politics' that Hotchin and his PR man Carrick Graham funded the campaign.
"In one email, Odgers said: "Remind him [Hotchin] he pays cam n I to f--- w FMA so he can focus on important things"," the newspaper reported.
Fairfax also suggested Odgers herself may have been involved in providing a copy of the 'smoking gun' email to Prime Minister John Key's office on Friday, which led to the resignation of Justice Minister Judith Collins on Saturday. The email said Slater had spoken to Collins and that she was "gunning for Feeley."
"Knowing Fairfax was investigating the hacked emails, it is believed Odgers (known by the blog name Cactus Kate) went through her own emails and found some that could be seen as implicating Collins. This correspondence then found its way to a Beehive staffer on Friday," it reported.
"I take it you found the smoking gun," Odgers was quoted as saying in an email to Fairfax, shortly before Collins resigned.
Fairfax reported that it did not have the incriminating email and the hacker known as Rawshark said yesterday he did not have it either.  "But Fairfax did have a large tranche of emails that inform an in-depth investigation revealing Hotchin's apparent backing for the smear campaign," it said, publishing excerpts raw on Stuff.
The excerpts also show Graham emailing Mark Hotchin and Kerry Finnigan with plans to campaign in public against the Financial Markets Authority (FMA).
Elsewhere, the New Zealand Herald also reported directly from emails showing the campaign supported by Hotchin also targeted Auckland property developer Tony Gapes and shareholder activist Bruce Sheppard. Hotchin feared Gapes, a former friend of Hotchin, would testify against him, while Hotchin was engaged in a defamation action against Sheppard, the NZ Herald reported.
Gapes told the Herald was shocked to find out about the campaign.
"A lot of it is all falling into place now," Gapes was quoted as saying.
"It was obvious I was someone Hotchin was worried about when he was being investigated by the SFO," said Gapes.
The Herald also reported that Cathy Odgers was no longer a consultant for Hong Kong-based tax planner Jeeves Group, "by mutual consent."
'Some Karma going on here'
Fairfax reported Feeley as saying he had been aware of the campaign against him by Slater and Odgers.
"I questioned their motivation. I knew that what they were saying, most of it, was at best totally wrong and, at worst, total lies," Feeley said.
Feeley saw some justice in the affair being exposed: "Maybe there's some karma going on here."
State Services Commissioner concerned
State Services Commissioner Iain Rennie issued a statement on Sunday saying he was concerned about "any activity that undermines, or has the potential to undermine, the trust and confidence in the public service to impartially serve the interests of the government and New Zealanders."
"It is important that Chief Executives and Ministers mutually support each other to carry out their respective roles, in order to work together to serve the best interests of New Zealand and New Zealanders," Rennie said.
"I am therefore extremely concerned by an allegation that a minister has associated with third parties to discuss influencing my assessment of a public service chief executive. If true, this would be wholly unacceptable," he said.
"Any campaign to undermine my confidence in Adam Feeley's performance was entirely ineffective and unsuccessful. The Commission has reviewed its documentation and sought the recollections of staff responsible for the SFO portfolio at the time in coming to this view. Any campaign to undermine my confidence in Adam Feeley's performance was entirely ineffective and unsuccessful."
Rennie said Collins had raised the issue of Feeley and the consumption of champagne with Rennie, which he said was appropriate.
"He was a strongly performing Chief Executive through his tenure for his work in transforming the SFO and vigorously pursuing criminal conduct in respect of finance company collapses. I would be very happy to consider Mr Feeley's return to the Public Service in the future," he said.
Cunliffe comments
Labour Leader David Cunliffe called for a full Commission of Inquiry into connections between National ministers and Cameron Slater. He said the State Services Commission must order Ministerial Services to stop any computer files being deleted.
"All documents in the Justice Minister's office need to be immediately secured. Judith Collins' closest advisors have lost their jobs and should surrender their cell phones and lap tops," Cunliffe said.
"We must clean up politics in New Zealand. As your Prime Minister I won't stand for dirty politics. We will clean up the system based on any recommendations that come out of the Commission of Inquiry," he said.

"The 17,000 Kiwis who lost their savings in the collapse of Hanover Finance will be shocked at the alleged connection to Mark Hotchin. John Key's Government is rotten to the core and must be changed."
English says inquiry needed
Finance Minister Bill English told TVNZ's Q+A the claim that Hotchin was behind a smear campaign "seemed bizarre," and the comments in Slater's emails had not been proven, which was why the Prime Minister had initiated an inquiry.
He said an Inquiry was needed to protect confidence in New Zealand's financial regulators. He was asked if the revelations had shown the FMA and SFO had been compromised.
"Whatever the campaign might had set out to achieve we have a high level of confidence in the Serious Fraud Office and the Financial Markets Authority and I think what's just as important is the market and the investors now have a high level of confidence in those organisations," he said.
"I think confidence in New Zealand's financial markets is good and growing and that's because it's all been re-regulated.  This is very much a relic of the past, the finance company failures and all the pressures that went with that. It looks awful and that's why it has to be dealt with," English said.
Labour's Finance spokesperson David Parker said Labour wanted a full Inquiry chaired by a High Court Judge with judicial independence.
"They need wide ranging powers, and they need to see how far this goes through government.  It now appears that the Hager book was the tip of the iceberg, not everything," Parker said.
"This is absolutely unprecedented in New Zealand.  The Minister of Justice asserted to be undermining one of the arms of justice.  This is very serious.  The Prime Minister's office having been involved in earlier abuses of the Official Information Act.  The Prime Minister misrepresenting advice from the Cabinet Office, that he said cleared Judith Collins when she was tied up in that Oravida business where she had a plain conflict of interest in China.  This goes to the heart of government.  I'm sure this never happened when Bill English was in charge.  This is about ethics not rules," he said.
Green comment
Green Co-Leader Metiria Turei said the allegations appeared to show National was looking out for its finance company mates rather than everyday New Zealanders.
"The tens of thousands of New Zealanders who lost their savings in the finance company collapses will be shocked at allegations that one of John Key's senior Ministers was "gunning" for the head of the Serious Fraud Office who were holding those companies to account," Turei said.
"Backing winners and giving preferential treatment to individuals, if true, erodes our democracy and business confidence," she said, adding the Greens would hold a Royal Commission of Inquiry.
(Updated with David Cunliffe's call for a full Commission of Inquiry, comments from Bill English and David Parker)
I'll update this regularly through the day.
See all my previous election diaries here.
See the index for Interest.co.nz's special election policy comparison pages here.