Labour formally lays complaint with Police calling for urgent Inquiry into Collins allegations; Winston says full Inquiry a bottom line; Mana-Internet squabble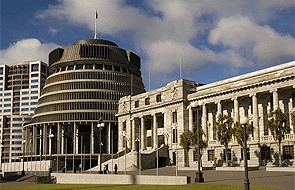 By Bernard Hickey
With less than three weeks to go until the September 20 election, here's my daily round-up of political news on Tuesday September 2, including Labour Deputy Leader David Parker's formal laying of a complaint with Police calling for an urgent inquiry into allegations against Judith Collins that she perverted the course of justice.
Prime Minister John Key released some of the details of a ministerial inquiry early on Tuesday afternoon.
He said the independent inquiry by a retired judge or QC would investigage "allegations that Ms Collins undermined the then Director of the Serious Fraud Office, Adam Feeley, during her time as Minister of Police with responsibility for the Serious Fraud Office."
He said he expected the inquiry would take some weeks to complete its work and would be likely to report back after the election.
"The matters to be investigated in relation to Ms Collins are serious, and I believe it is important the inquiry have sufficient time to conduct a thorough review of those matters before reporting back," he said, adding the terms of reference would be discussed with the person running it before it was finalised and announced "in the coming days."
Key's office said the Inquiry would be held under the Inquiries Act 2013 and would have the same powers as a Royal Commission of Inquiry or a Public Inquiry, "including powers to obtain information from any person, order disclosure of evidence to a person participating in the inquiry, take evidence on oath or affirmation, and summon witnesses."
The difference is that a Royal Commision is appointed by the Governor-General (on the advice of Ministers) and reports to the Governor-General and its report must be presented to the House of Representatives.  A Government Inquiry is appointed by and reports to one or more Ministers. Any such Inquiry may be postponed or suspended if a Police inquiry is launched and continuing it would prejudice the Police inquiry.
Labour lays complaint
Parker, who is Labour's Shadow Attorney General, sent a letter to Police Commissioner Mike Bush on Monday titled: "Conspiring to defeat the Course of Justice and other matters"
"You will be aware of allegations against the former Minister of Justice Hon Judith Collins, Cameron Slater, Carrick Graham and others concerning: Undermining of the Serious Fraud Office, Undermining of the Financial Markets Authority, Undermining of the head of the SFO, Intimidation of witnesses, including Mr Gapes, in relation to the SFO and FMA investigation into the affairs of the Hanover Group of companies and their directors," Parker said in the letter.
"You will also be aware of allegations against the former Minister of Justice, Cameron Slater, and others concerning: Use of personal information regarding Simon Pleasants to incite threats In respect of the Minister, the corrupt use of personal information regarding Simon Pleasants to obtain an advantage (section 105A of the Crimes Act) and use of that information (section 105B of the Crimes Act)," Parker said.
"You will also be aware of allegations against Jason Ede, Cameron Slater, Aaron Bhatnagar, and others concerning: accessing the Labour Party computer system in breach of section 249 and 252 of the Crimes Act  The use of dynamic (ie changing) email and computer addresses to avoid detection," he said. 
"These are serious matters that go to the heart of administration of justice in New Zealand and public confidence in democracy and the rule of law. would ask that you urgently investigate these matters. I am concerned that there is evidence, including computer records that urgently need to be secured and preserved. In making this request, I am aware that you exercise your role independently, and that these decisions are yours to make."
Full Inquiry a bottom line
Meanwhile, New Zealand First Leader Winston Peters told Morning Report a full Royal Commission of Inquiry into 'Dirty Politics' would be a bottom line in any government-forming negotiations.
"It doesn't matter what parties we are talking to after the election on this matter we want a proper respectable Commission of Inquiry, with the appropriate commissioner and the appropriate terms of reference - and that is a bottom line," Peters said.
"An inquiry should get at the truth and the personnel and the terms of reference are critical for that to happen. Anything short of that will be deeply condemned by the public because the truth will have been denied them," he said.
John Key yesterday ruled out a full Royal Commission of Inquiry yesterday and said any Government inquiry would be focused on the actions of Judith Collins in relation to her then SFO Director Adam Feeley, and nothing more. However, he said anyone wanting to lay a complaint with the Police was welcome to do so.
Green plan for NZ$18/hr minimum wage
Elsewhere, in policy news, the Green Party announced it would lift the minimum wage to NZ$18 an hour by 2017 and introduce a Living Wage (currently around NZ$18.80/hr) for core Government workers.
It would also legislate to create a minimum four weeks pay for redundancies and require companies to report on the gap between the top an bottom pay rates in their companies.
It released its full policy on work, including lifting the minimum wage to NZ$15/hour by December 2014 from NZ$14.25/hour now. It would then increase it by NZ$1 an hour each April 1 until it reached NZ$18 an hour by 2017.
"Under National, wages are not enough for many workers and their families to cover the basics and they are not enough to raise kids out of poverty," said Green Party Co-leader Metiria Turei.
"In contrast to National the Green Party is committed to make work pay, and to be a real pathway out of poverty. Our minimum wage policy will raise pay packets for half a million New Zealanders in our first term. 
The Green Party also pledged to allocate NZ$70 million a year to amend abatement rates to Working for Families so parents who work could keep more of what they earn.
Green forecast the higher minimum wage would increase tax revenues by NZ$1.949 billion over the next four years, but would cost the Government NZ$1.107 billion over four years in higher wage costs. The living wage change would cost NZ$70 million extra over the four years. This would create a net benefit for the Government of NZ$762 million in total over the four year forecast period.
Labour's policy is to increase the minimum wage by NZ$2/hour to NZ$16.25/hour within its first year in Government, before eventually returning the minimum wage to two thirds of the average wage by the end of its second term.
Key vs Hooton
Yesterday, Prime Minister John Key also rejected as "absolutely not true" suggestions from National Party-aligned PR man Matthew Hooton in his Radio NZ Nine to Noon commentary slot that the PM's office interfered with Hooten's firm trying to do work for CERA, in breach of the State Sector Act.
"They're absolutely nonsense," Key said, adding he had checked with his chief of staff Wayne Eagleson. Hooton has previously called for Eagleson's sacking. Key went on to say he didn't want to go into "what Matthew is going through."
Hooton issued a statement in response: "I am very disappointed the prime minister has chosen not to get himself properly briefed on this matter before making disparaging comments about me to the parliamentary press gallery," he said.
Hooton later said on Twitter that he believed Key's press conference comment was a reference to his recent decision to quit drinking, which he had mentioned on his Facebook page.
Collins messaging Slater
The Herald reported on an online conversation between Judith Collins and Cameron Slater in 2011 about the Urewera raids and whether a Police video might be leaked to Slater. The conversation is not directly incriminating for Collins and she denied over Twitter ever having such a conversation with Slater on Facebook. She said it was forgery and she would lay a Police complaint.
Meanwhile, Mana candidate Georgina Beyer was reported by TV3 as criticising Internet Party founder Kim Dotcom 's motives and Mana Leader Hone Harawira 's control of Mana.
"His reason for becoming involved in New Zealand politics in the way he has is one of retribution against people who he feels have slighted him," Beyer said of Doctcom.
"When I start seeing the leader starting to forfeit some of his long-held beliefs for the sake of political expediency I begin to worry," she said of Harawira.
One Maori MP
Maori TV reported a poll showing Te Ururoa Flavell was likely to win Waiariki for Maori, given he had 50% support, while Mana's Annette Sykes was on 21% and Labour's Rawiri Waititi was on 17%.
(Updated with Green policy of lifting minimum wage to NZ$18/hour by 2017, more detail from Key on the Inquiry into Collins' interactions with Feeley)
I'll update this regularly through the day.
See all my previous election diaries here.
See the index for Interest.co.nz's special election policy comparison pages here.