Cunliffe fails to win TV3 leaders debate; stumbles with accusation on National tax cut plan; Winston edging closer to National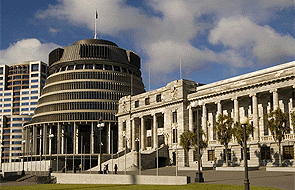 By Bernard Hickey
With 9 days to go until the September 20 election, here's my daily round-up of political news on Thursday September 10, including the latest from TVNZ's Colmar Brunton poll and the verdicts of the TV3 Leaders' debate.
TVNZ published its now-weekly Colmar Brunton poll result showing National down 4% to 46% in a poll of 1,001 voters from September 6 to 10. Labour fell 1% to a record-low 25% and Green rose 1% to a record-high 14% in this poll.
New Zealand First was unchaged at 7%, while Conservative rose 1% to 4%. Internet Mana fell 1% to 1% and Maori rose 1% to 1%. ACT also rose 1% to 1%, although the margin of error on the poll was 3.1% at the 95th percentile. The poll found 12% of eligible voters were undecided, up from 7% the previous week.
If this poll result was repeated on election night, National would need the support of ACT, United Future and Maori to only just retain power. In theory, Labour/Green/New Zealand First could just win power if it was able to count on the support of Maori and Internet Mana.
Last night's TV3 Leaders debate was one of David Cunliffe's last chances to score a win over John Key and peg back National's 25 point lead in the polls.
Cunliffe put up another more combative performance, but failed to clearly beat Key, according to most of the verdicts.
The Labour leader tried to reverse Key's 'gotcha' moment from The Press leaders debate last week by saying Key had incorrectly inflated his own tax cuts. Key said earlier this week the tax cuts would deliver families up to NZ$1,500 per year. Cunliffe said in the debate this would cost NZ$3.4 billion, not the NZ$1.5 billion claimed by National.
But after the debate Cunliffe backtracked, saying he had got his claim wrong and the tax cuts were going to cost NZ$2.4 billion, not the NZ$3.4 billion he said in the debate.
"I meant NZ$2.4 billion," he told reporters afterwards.
Fairfax's Tracy Watkins wrote Key had probably won because he had delivered the line that was most likely to stick: that Labour's Capital Gains Tax was a dog.
In the New Zealand Herald , Fran O'Sullivan and Audrey Youngdeclared Cunliffe the winner, arguing Key's line about New Zealand being "on the cusp of something special", instead "sounds like empty claptrap.John Armstrong wrote Key was rock solid and won, while Toby Manhire viewed it as a draw.
KiwiSaver option
Russel Norman formally announced a Green Government would offer a publicly-run KiwiSaver option to reduce management fees.
"The fund can be managed by the Guardians of the $26 billion New Zealand Superannuation Fund while Kiwibank or the Inland Revenue Department can provide the front-end management of individual KiwiSaver accounts," Norman said.
Kingmaker not so Royal
Winston Peters told Kathryn Ryan on Radio NZ's Nine to Noonprogramme yesterday that he was now happy with the more limited inquiry set up by John Key into Judith Collins and Cameron Slater, appearing to backtrack on his calls last week for a full Royal Commission.
The comments suggest Peters is already shifting into post-election negotiating mode, given polls appear to show him assured of getting over the 5% threshold.
Conservative near 5%
TV3's Reid Research poll published last night showed National solid and Labour failing to make much ground. Conservative, meanwhile, was close to the 5% threshold.
Support for National rose 0.3% to 46.7%, while Labour rose 0.2% to 26.1% and Green rose 0.4% to 13%. Conservative was up 0.5% to 4.7% and New Zealand First rose 0.1% to 5.9%. InternetMana was unchanged at 1.7%, while Maori was down 0.7% at 1.3%, ACT was down 0.3% at 0.3% and United Future was unchanged at 0.1%.
The poll taken from September 2 to 8 had a 3.1% margin of error.
Green electric car plan
Meanwhile, Green Co-Leader Russel Norman and Energy Spokesman Gareth Hughes released the Party's Energy policy, including the reiteration of its target for 100% renewable energy generation by 2030 and reducing household power bills by NZ$300/year per year through launching New Zealand Power.
A Green Government spending NZ$10 million to roll out electric car refuelling stations and NZ$10 million on cash-back payments to electric car buyers at a rate of NZ$1,000 each to the first 10,000 buyers of new electric cars.
A Green Government would also replace the Crown limousine fleet with electric cars.
(Updated with Green energy policy)
See all my previous election diaries here.
See the index for Interest.co.nz's special election policy comparison pages here.