Labour proposes new Sovereign Wealth Fund in 'NZ Inc' policy including KiwiShare for power SOEs; Key rejects 'henchman's' GCSB claim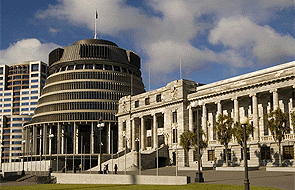 By Bernard Hickey
With 6 days to go until the September 20 election, here's my daily round-up of political news on Sunday September 14, with Labour proposing to create a new Sovereign Wealth Fund and Prime Minister John Key rejecting claims by journalist Glenn Greenwald that the GCSB was involved in mass surveillance of New Zealanders.
Greenwald, who is in New Zealand for Monday's 'Big Reveal' on the Government with Kim Dotcom, told TV3's The Nation on Saturday that Key's assurances that the GCSB was not engaged in mass surveillance of meta-data was not true.
"What I can tell you is that the statement that the GCSB made to New Zealand citizens last year — 'We do not engage in mass surveillance of New Zealanders' — is one that is not truthful," Green said.
The Government engaged in "extraordinary amounts of analysis of metadata – meaning who's talking to whom for how long, where they are when they speak – on a massive, indiscriminate scale, not just internationally but of New Zealanders as well," he said, adding New Zealand was part the Five Eyes alliance and also had access to the NSA's XKeyScore system.
Key has previously said he would resign if it was ever proved that the GCSB engaged in mass surveillance.
Key told reporters the GCSB had looked at wider surveillance after cyber attacks on New Zealand companies in 2011 and 2012, but had decided against the business case because it was too invasive.
He said he would provide documentary proof that the Government decided against such wide surveillance.
"What ended up actually happening though was in about September of 2012, obviously there was the shake-up of GCSB, I brought in Rebecca Kitteridge, I started saying to the agency look, firstly your law needs to change, secondly your institution needs to strengthen, and thirdly I'm a little uncomfortable with where you're sorting to go," Key said on TVNZ's Q+A.
"I think you're actually arguing this far too broadly.  Even though a lot of New Zealanders might like it, because it's really a Norton anti-virus at a very high level," he said.
"This is the point around the politics of all this.  He's had these documents for well over a year or so, so he's miraculously turning up 5 days before, 6 days before an election to try and bamboozle people, and try and make all of these claims which don't stack up.  But he's only seen one bit you see, he's hacked in, he's seen all of this information, he said 'aha gotcha,' and of course what he doesn't realise is none of that ever happened.  So I'll be able to produce the document that says here's rescinding the asking of the business case, here's the document that actually shows what's taken place," Key said.
Earlier, he told reporters Greenwald was a "henchman" of Kim Dotcom and being paid to appear in New Zealand. Greenwald denied being paid, saying he had donated his fee to charity.
"I'm probably not going to jump in front of what information he's got," Key told reporters on the campaign trail on Saturday.
"It's up to the henchman to go and deliver that information I suppose, but mark my words, he's wrong. I'm right and I'll prove I'm right."
Key went on to call Edward Snowden a hacker. Greenwald won a Pullitzer Prize this year for his reporting for the Guardian on the information disclosed by Snowden.
Labour's NZ Inc plan
Meanwhile on Sunday, Labour Leader David Cunliffe announced a Labour Government would implement a "New Zealand Inc" policy, including a new 'NZ Inc' Sovereign Wealth Fund to buy strategic assets in New Zealand's interests and introduce a 'KiwiShare' for all State Owned Enterprises (SOEs) to stop any further Government sell-downs.
The Sovereign Wealth Fund would be managed as a separate fund by the New Zealand Superannuation Fund and be funded through a contribution of NZ$100 million a year from dividends from SOEs. It would also receive any greater-than expected oil and gas royalties. Labour would look to increase oil and gas royalty levels to Australian levels, he said.
The first contribution would be in 2016/17 and follow a review of Crown Commercial Assets. Legislation would be passed in 2014/15 to introduce KiwiShares for all SOEs, Mixed Ownership Model (MOM) companies and Air New Zealand.
"NZ Inc has three aims: to drive sustainable growth, support the transition from fossil fuels to clean technology and enshrine New Zealand ownership of our strategic assets," Cunliffe said.
"New Zealand is to be a world leader in clean technology and this will help power the economy of the future," he said.
"The NZ Inc Sovereign Wealth Fund will look to invest in strategic assets and may choose to buy back shares in already privatised assets if and when that makes commercial sense," he said.
"Labour will review oil and gas revenues to bring them up to a fair level that doesn't exceed Australia's. This will mean New Zealanders get a fair share from their resources and provides more funds for NZ Inc Sovereign Wealth Fund.
Here is the Questions and Answer document for the policy. The fund would be able to buy equity investments inside and outside of New Zealand "where it has impact on New Zealand's value chains."
"New Zealanders want to ensure Kiwi assets are kept in Kiwi hands and new assets are generated to drive wealth for the future. The next Labour Government will use NZ Inc to make that happen."
See all my previous election diaries here.
See the index for Interest.co.nz's special election policy comparison pages here.