Greenwald planning to reveal which friends and foes that NZ spied on; Key again denies mass surveillance; Harawira dismisses tight polls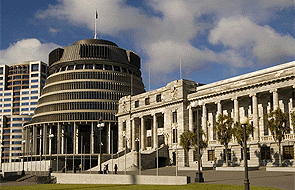 By Bernard Hickey
With 3 days to go until the September 20 election, here's my daily round-up of political news on Wednesday September 17, with news that Glenn Greenwald has alleged New Zealand spied on neighbours and friends, while Hone Harawira has dismissed a poll showing he might lose Te Tai Tokerau and blow Internet-Mana's chances of entering Parliament under MMP's coat-tailing rule.
Also Roy Morgan published its poll of 935 voters from September 1 to 14 showing support for rose 1.5% to National 46.5%, support for Labour fell 2% to 24% and support for the Green Party fell 2.5% to 13.5%.
Support for New Zealand First rose 2% to 8%, its highest level since 2005, while Conservative was unchanged at 3.5%. Support for the Maori Party rose 1% to 1.5%, while ACT fell 0.5% to 0.5% and United Future rose 0.5% to 0.5%.
The Internet-Mana Party alliance was unchanged at 1%. The poll found 5% had yet to decide on which party to vote for.
Spying on allies
The revelations from Glenn Greenwald over spying kept coming.He told Fairfax's Andrea Vance that before October's vote on New Zealand's non-permanent seat on the UN Security Council he would reveal which countries New Zealand had spied on.
"I don't want to give you the reporting before it's ready ... but what I feel comfortable saying is part of the reporting will identify the other nations on which the GCSB spies, either for its own purposes or at the behest of the United States," Greenwald was quoted as saying.
"And that list includes adversary countries that most New Zealanders will probably expect and want the GCSB to be spying on. But then it also includes countries which I think will be very surprising, including Western democracies or neighbouring countries or countries that are deemed allies of New Zealand," he said.
Meanwhile, former GCSB Director Sir Bruce Ferguson (in office 2006-2010) told Kathryn Ryan that GSCB staff were trained on XKEYSCORE, while Key continued to decline to answer questions on whether the GCSB used the tool, which Greenwald and Edward Snowden have alleged is used for mass surveillance.
Key spoke to reporters in Dunedin on Tuesday morning and again denied mass surveillance or that the NSA had a base in New Zealand.
"Absolutely without doubt, New Zealanders are not subject to mass surveillance," Key was quoted as saying. He again called on Greenwald and Snowden to provide more documentary evidence.
Prime Minister John Key told Kathryn Ryan former NSA analyst Edward Snowden may have seen information collected on New Zealanders by the NSA and other agencies, rather than being collected by the GCSB. He said the GCSB did not have the capacity to store mass surveillance.
"He said we were contributing that metadata and that's not true. We're not collecting wholesale information. We don't have the capability for mass surveillance," Key said.
"So it's true there will be New Zealanders there and Americans may have gathered information across a whole lot of reasons, legitimately. It might be for hundreds and hundreds of countries, but what is absolutely also true is that we can't circumvent our law," Key said.
National Welfare reforms
Meanwhile, National's Social Development Minister Paula Bennett announced National's Social Welfare policy, including plans to reduce the number of people on welfare and into work by 25%.
"Jobseekers are in the best position in years to take advantage of New Zealand's economic growth. We'll be supporting them with our investment approach and targeting more resources earlier to those who need the most help," Bennett said.
"We will reduce the total number of people receiving a benefit by 75,000 by 2017, including reducing the total number of young people aged between 16 and 24 on benefit by 40 per cent, or around 21,000 people. Our aim is to bring benefit numbers down from 295,000 to 220,000 people over the next three years," she said.
"These are ambitious targets, but they are realistic and achievable. Since December 2010, nearly 60,000 people have come off welfare, and over the past two years 30,000 children have gone from living in a benefit-dependent home to a working one."
National would offer incentive payments for beneficiaries who stay in work for a set period of time, offering more childcare support by expanding our Flexible Childcare pilot and make first-time Work and Income assessments more comprehensive "so people are directed to the right sort of support from the very start. "
"Our target of a 40 per cent reduction of young people on benefit is a bold one, but 53,000 young people aged between 16 and 24 on welfare is too many for a country with prospects like ours," said Bennett.
National would also look at a trial where iwi administer welfare payments to young people, similar to the Youth Service, help young people get driver's licences, expand the NZ$3,000 to Christchurch scheme to other regions, look at a regional Work Skills scheme to get young people on benefit working in the community.
US owner blocks access to tourism business
New Zealand First Leader Winston Peters accused Tourism Minister John Key of going missing in action when US-owned Coast Range New Zealand blocked access to the Flock Hill Station to High Country Explorer Tours, which employs 16 people.
The Overseas Investment Office approved Coast Range's application for 100% ownership of the lease on the land in the Canterbury High Country, Radio NZ reported.
Peters said Key was a "phoney, talking up New Zealand tourism but on the other hand allowing a foreign investor to shut down a Kiwi tourism business."
"The owners are losing their livelihood despite appeals to the Overseas Investment Commission and their National member of Parliament. The Prime Minister needs to explain why he, as Minister of Tourism, went missing  on this occasion. He might also want to consider an added fact -  South Island tourism has had a massive downturn since the earthquakes," Peters said.
"New Zealand First has been proved right again. The OIO is nothing but a rubber stamp," he said.
"This sale and the eviction proves that  land sales to foreigners are rarely beneficial to New Zealand. They distort the market and New Zealand loses control of our land.  Prices are now beyond the reach of Kiwis. Foreign owners have no ties to New Zealand and consequently do not exhibit the same care and concern for our land and our economy."
Key defended the OIO's decision thus: "With the greatest respect, I think you're losing the plot if you think 16 jobs there can't be measured against all of the other benefits of foreign investment."
Labour MP Clayton Cosgrove criticised Key's stance and his lack of action despite being informed last week.
"That is arrogance of the highest order. The Tourism Minister should not gloat over the loss of a major tourism operation and 16 jobs. He should apologise to High Country Explorer Tours head Rod Bennett and those people set to lose their jobs," Cosgrove said.
"There is no benefit in this sale to New Zealand apart from the seller getting rich and the foreign buyer getting 35,000 acres of Kiwi land."
The Press reported Coast Range co-owner Mark Fraundorfer saying it had not evicted the tourism business and that it had been surprised a commercial dispute had been turned into a foreign ownership issue.
"We haven't locked him out, we haven't evicted him and we haven't trespassed him. We've just said, yes you've a deal as of Monday. So I don't know why this has come into the media now and made us look like some sort of pariah," Fraundorfer said.
The Press reported High Country Tours MD Rod Bennett disputed several asspects of Fraundorfer's account.
"He said he had gone public with his complaint because he was getting nowhere in trying to retain access to the station," The Press said
Winston up  in Preferred PM poll
New Zealand First leader Winston Peters has seen his personal popularity rise to a three year high in a 3News Reid Research poll.
His support as preferred Prime Minister rose to 9.1% from 7.9% a week ago, and up from 3.8% just before the 2011 election.
Cunliffe wants Davis to win, Hone not so sure...
David Cunliffe welcomed polling showing Kelvin Davis close to Hone Harawira in Te Tai Tokerau, saying he wanted to see Davis win. Some had thought Labour might signal to Labour voters at the last minute to help Harawira and Internet-Mana into Parliament. Labour has said it would not include Internet-Mana in any Government, but it remains open to a supply and confidence deal.
Harawira said he was sceptical about the poll.
"You fellas did a poll three years ago when you had it at 41-40 and then the result on the night was 49 to 40. So when I see you have it down as 38 to me and 37 to Kelvin, I'm looking forward to being 45 to 35 on the night," Harawira was quoted as saying.
Elsewhere, the clerk of Parliament rejected Harawira's request for an inquiry into the alleged email, since denied as a fake, about a conversation between Key and a Hollywood executive. The clerk said Parliament was not sitting and an inquiry could not be called.
(Updated with National's welfare reform plans, Winston Peters' criticism of OIO decision on Flock Hill, US owner's response, Key denying mass surveillance, Winston's Preferred PM support up to 9.1%, Roy Morgan poll results)
See all my previous election diaries here.
See the index for Interest.co.nz's special election policy comparison pages here.