National wins outright majority for the first time under MMP; Expected to push through RMA and labour law reforms; Labour in disarray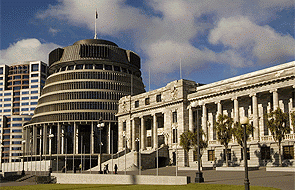 By Bernard Hickey
New Zealanders delivered John Key a third term with not only an increased share of the vote, but the first outright majority for a single party in the MMP era over the weekend.
Here are the final election night results. and the Electoral Commission's results statement.
National won the highest share of the vote since 1951 and Labour's share fell to its lowest level since 1922. Few expected such a complete victory for John Key, who has vowed to seek a fourth term. He also vowed to "hug the centre line" and pledged to talk to his cabinet and caucus about the dangers of becoming arrogant.
"We've hugged the centre ground over the last six years. Obviously there are some things we want to do; RMA (Resource Management Act) reform, employment law reform, but they'd be very much based around what's in the carry over provision ... what we talked about before we left. We're not looking to do radical, different things," Key told Morning Report.
Now attention turns to the make-up of Key's cabinet and plans for economic and other reforms.
Key is expected to have talks with United Future MP Peter Dunne on Monday, while meetings with ACT MP David Seymour and Maori Party Leader Te Ururoa Flavell are expected later in the week. Key has signalled he would like National to have supply and confidence agreements with these minor parties, although National does not technically need them to govern alone.
The extra two National MPs means National can pass legislation on its own, or if necessary with the new ACT MP, David Seymour, who is expected to support both the planned Resource Management Act and employment reforms.
There is a remote chance National could lose a seat after the counting of special votes, although John Key thinks it is more likely that Labour would lose a seat and Green would pick up one.
The ability for National to pass legislation on its own is unprecedented in the post-1996 era of proportional representation, which has always forced the dominant party to form a coalition arrangement or gather support on a case-by-case basis.
RMA reforms
The RMA reforms will be most welcomed by business leaders and investors, particularly given opinion polls before the election suggested National would struggle to form a coalition willing to support the changes.
Polling in the last week of the campaign had National around 46.4%, which would have forced Key to ask for the support of the Winston Peters, who opposed the reforms.
National proposed the reforms last year as a way to speed up resource consenting and increase the emphasis of economic development in the law, which has previously been more focused on environmental protection. Environmental activists accused the Government of trying to water down protections for the environment.
National argued it needed the RMA reforms to speed up consenting of new house building and to speed up development of agricultural production and mining.
Federated Farmers called National's win a clear mandate for RMA reforms. See more here
Employment law reforms
Employers have also welcomed the likely revival of employment law reforms, which had been stalled.
They included allowing employers to pull out of collective bargaining if an agreement could not be found and to pull out of multi-employer collective agreements. New employees would also be allowed to pull out of collective agreements immediately, rather than after 30 days under previous rules. Employees would also be able to negotiate more flexible working arrangements around meal breaks and working hours. Unions have strongly opposed the changes.
The Opposition are in disarray, particularly Labour. David Cunliffe vowed in his election speech to stay on as leader for another three years and said he would welcome a wider vote on the leadership by the Party. Labour's Constitution specifies a vote of confidence must be held by the caucus within 90 days of the election.
Labour in disarray
David Shearer, Grant Robertson and Stuart Nash were widely quoted as potential candidates and have already begun talking about what went wrong for Labour.
The recriminations are also unfolding among the smaller parties.
Kim Dotcom apologised to Hone Harawira for 'poisoning' the campaign with 'Brand Dotcom', while Metiria Turei and Russel Norman said Labour and the Green Party should have agreed to campaign together. Norman said he had also wished Dotcom had not become involved.
Ede resigns
Elsewhere, John Key confirmed that National Party staffer and former Beehive staffer Jason Ede had resigned from his job with National. He was widely cited in 'Dirty Politics' as the 'Black Ops' guy who dealt with Cameron Slater.
"I think after 11 years he's decided, look, the time's come for him to leave," Key told TV3's FirstLine.
"We didn't force him out of the organisation. He genuinely wanted to move on," he said.
"I think he took the revelations in the book, many he would utterly dispute, to heart and personally because some of the book was very much aimed at him."
'Civics lessons required'
Meanwhile, Green Co-Leader Metiria Turei has called for an urgent improvement in civics education to lift enrolment rates and voter turnout.
She said low enrollment rates and a still relatively low turnout showed the Government needed to follow up on recommendations by the Electoral Commission after the 2011 election and a Parliamentary Select Committee that civics education be improved.
The Electoral Commission reported 2.11 million votes were counted on election night and a further 293,130 votes were still to be counted, which represented turnout of 77.04% of those enrolled, up from 74.21% in 2011. However, the numbers enrolled as a percentage of the voting age population was 91.7%, down from 93.4% in 2011.
"It's not ok when around one million New Zealanders don't vote," Turei said, adding that the turnout and enrollment rates were likely to be lowest among the young.
"We must do more to get our young people engaged and excited about their right to vote. Research is clear that your first voting experience influences your voting behaviour for the rest of your life. If you don't vote in your first election, then you're less likely to vote later in life," she said.
"Civics and citizenship education will help to engage our young people in politics, society, and what is going on. The National Government had many opportunities over the last three years to take action to progress civics and citizenship education in our schools, yet little was done."
Tweets of the day:
Michael Fox on Labour's Kelvin Davis commenting on Internet Mana.
"There was a lot of promises, a lot of hope and excitement but it was all steam and no hangi." - @NgatiBird on Internet Mana.
Hugh Laurie
According to the Sunday papers, everyone is to blame. Except for the people who write the Sunday papers, who come out of it well.
Tim Murphy
Cruden on leave of absinthe
Paul Harper
Can't be too hard on Aaron Cruden, let the man celebrate his All Black teammate's election win.
GCSBIntercepts
No Jason Ede isn't coming to work for us. Despite what you may think we do have some standards.
(Updated with Ede resigning and Turei calling for Civics education aimed at the 'missing million.')
See all my previous election diaries here.
See the index for Interest.co.nz's special election policy comparison pages here.