English says council land restrictions worsen poverty; Govt focused on more private sector capital for social housing; Greens call comments "bizarre"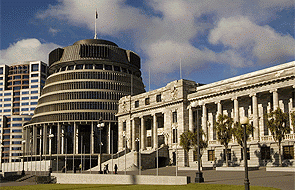 By Bernard Hickey
Finance Minister Bill English has come out swinging at council land restrictions, saying they are the primary cause of housing poverty and preventing improvements in inequality.
Talking about land availability and housing affordability at a news conference to release Budget figures on Tuesday, Bill English accused councils (and Auckland in particular) of worsening poverty and inequality by restricting land supply.
English has made similar comments before about land supply, although the poverty and inequality twist added extra impact.
"The growth in housing costs over time, to the point where you're seeing families spending 50-60% of their income on housing - that's pretty devastating at the low end," English said.
"Councils needs to understand that when they run these policies that restrict the availability of land and the opportunity for lower value housing, they are causing poverty," he said.
"When you look at the historical impact of the growth in housing costs on our households it's clear that the lowest-income households have been the most affected. So our planning processes have probably done more to increase income inequality and poverty in New Zealand than most other policies."
'Bizarre comments'
Green Co-Leader Metiria Turei described English's comments as "bizarre."
"This looks suspiciously like National is using its new found acknowledgement of child poverty as an excuse to rip the guts out of the Resource Management Act," Turei said.
"National has received report after report about child poverty and not one has blamed planning processes. It's not ok to use child poverty as an lever for property developers to make more money," she said.
English also commented on the rise in the Government's net worth to NZ$80.8 billion from NZ$70 billion the previous year, in part because of a NZ$2.1 billion upward revaluation for Housing NZ (NZ$1.8 billion of which was in land revaluations).
"The Government has been the principal, but reluctant, beneficiary of a planning process that we believe needs considerable change," he said.
English also said it would be a "significant challenge" for the Government to reach surplus in 2014/15 as the economy continued to slow.
Private capital for social housing?
English said the Government would need to carefully manage its capital, following up on comments reported on Monday night suggesting up to NZ$5 billion worth of state houses could be sold to finance growth in social housing, although he suggested the capital could come from the private sector.
"One of these capital areas is state housing, where we will work closely with community and private providers to provide housing to New Zealanders most in need," he said in this statement .
"This will allow us to draw on outside capital, rather than this being the sole responsibility of taxpayers."
'Show us the houses'
Labour Housing and Environment Spokesman Phil Twyford said National was not planning to build a single new house.
"A vague promise to transfer state housing to the charity sector might add a veneer of warm-fuzzy to National's brand strategy, but it won't house the thousands of homeless families who are desperate for a roof over their heads," he said.
"National can't bring itself to invest properly in state and social housing. Instead it is kicking the can down the road, and hoping the Salvation Army picks it up."
Local Government agrees, but...
Local Government New Zealand (LGNZ) President Lawrence Yule said he shared the Government's desire to encourage economic growth and help affordable housing come to the market. LGNZ would collaborate with the Government on reforming building industry regulation and consenting.
"There is no silver bullet on the issue of housing affordability.  It is a problem seen internationally in growing cities," Yule said.
"This is a complex issue that needs a mix of interventions to correct it.  Some of that toolkit of solutions sits in the hands of local government such as speeding up consenting, which we are working with central government on, but other factors such as the cost of building supplies and materials are out of our hands," he said.
Yule said housing costs in Auckland and Christchurch were high due to demand from population growth, while other parts had available land but declining populations.
"We need to work together to reduce regional inequalities across all of New Zealand.  The level of pressure on Auckland's housing market would be eased if there were jobs in regions to attract families to relocate to places with more land available at cheaper costs," he said.
Planners disappointed with English
Meanwhile, NZ Planners Institute CEO Susan Houston said she was surprised and disappointed by English's comments, saying they were not supported on any publicly available government report on inequality in New Zealand.
On the contrary, the evidence available suggests that urban planning processes play a negligible part in housing affordability which is now being inextricably linked with inequality," Houston said.
"The regions of New Zealand face quite different pressures. Land availability and housing affordability are not typically problems that face provincial New Zealand and yet poverty is very evident in our provinces," she said.
"Local planning policy is one contributor to housing affordability but certainly not the main one. The relative inability to build at scale, relative high cost of building materials, land banking, tax structure, interest rates, profiteering and sentiment towards residential property as an asset class in general have a huge role in housing affordability."
(Updated with comments from LGNZ's Lawrence Yule, NZ Planners' Institute Susan Houston)
See all my previous election diaries here.
See the index for Interest.co.nz's special election policy comparison pages here.