Key agrees with LGNZ that rates not perfect, but not interested in 'opening floodgates' to new council taxes and spending; suggests they use more debt, delayed rates for pensioners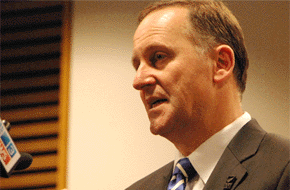 By Bernard Hickey
The Government has slapped down Local Government New Zealand's (LGNZ) suggestion that councils be given the right to raise income taxes or their own forms of GST, saying that could 'open the floodgates' to new council taxing and spending that hard-up ratepayers could not afford.
Key said councils should instead look at their own spending, potentially raise debt or sell assets, and allow pensioners unable to pay rates to defer them to be paid out of their estates when they die.
"We'd be very reluctant," he said when asked about the prospects of Council expenditure and income taxes in his weekly post-cabinet news conference.
"The whole issue of funding councils and whether they look to alternative funding streams is something that's raised time and again. We're happy to have discussions with them, but we're very cognisant of the costs on taxpayers and ratepayers," Key said.
"No one's arguing rates are a perfect system. There are examples of local communities where there's a big influx of costs from tourism perspectives, but not necessarily the ratepayers to pay for that," he said, referring to the Government's decision to allow Stewart Island to apply a levy on visitors.
"But as a general rule, massive increases of costs on ratepayers is not something we're looking towards."
LGNZ issued an 81 page discussion paper from its own funding review yesterday, saying that its 78 councils relied too heavily on property rates that an ageing population could not afford and needed other ways to bridge a looming infrastructure deficit.
Asked about a looming infrastructure funding shortfall, Key said: "They've been funding that infrastructure -- it's not a new issue -- for a very long period of time. They don't as a general rule have excessive levels of debt. They have a range of different assets that they own. There are specific examples like Christchurch where we're working with the Christchurch Council, but that's because of the Christchurch earthquakes."
"Across the board wholesale restructuring and reform of the way local government is funded is not something we have on the agenda at this time," Key said.
'Ageing not that big a problem'
Key did not think the ageing of the population changed the equation much for Councils.
"Councils for a long time have been deploying the capacity for people to fund their rates bill out of their assets, and for it ultimately to be paid for by their estate if they're cash strapped," he said.
Key said he wanted to cautious about adding any new costs onto ratepayers.
"There's a lot of cost coming at them and we want to make sure money isn't being wasted," Key said.
"I don't think anyone has argued that rates is the perfect system, but one concern we really have is we open the floodgates to a whole range of taxes and ways of funding them, then the costs will dramatically go up and services won't necessarily improve, and you could see consumers paying a lot more, so we're just concious of that issue."
'Control your costs first'
Local Government Minister Paula Bennett was also sceptical in this Radio Live interview, saying Councils needed to look at both their expenditure and their revenue.
"They do need to look at their spending and what their priorities are, but I also welcome them looking at how they fund that," she said.
"It's not always about just more money. But I have some sympathy for the older people that are on a real fixed income, and yes in Auckland their house price might have gone up by heaps, and their rates have gone up by heaps, but they don't have much more income to cover that, so I think there is something in looking at how they funded," she said.
Labour Finance Spokesman Grant Robertson was also sceptical about the prospects for any Council expenditure or income taxes, saying the bureucracy around collecting those taxes would be difficult.
3,000 extra social houses
Elsewhere, Bennett was asked how many extra social houses would be built in this three year term of Government.
"We are on track to do just over a 1,000 a year, but we think they can do much better than that," she told Radio Live. "I would say worst case scenario 3,000 new, but we think they can do far better ahead of the review," she said.
Housing New Zealand had been building 500 a year and it was on track to double that.
"We actually think we can do better when you look at some of the developments that we've learnt from that can happen in different areas," she said.