Cheap oil imports outweigh the impact on NZ's trade balance of cheaper dairy exports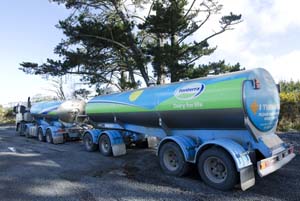 New Zealand's trade balance has reached a surplus for the first time since June last year, with the effect of plunging oil import prices outweighing the effect of low dairy export prices.
Figures released by Statistics New Zealand today show the country recorded a small surplus of $56 million, equivalent to 1.5% of exports, in January.
Exports fell $371 million, or 9.1%, to $3.7 billion, while imports were down $142 million, or 3.8%, to $3.6 billion compared to January 2014.
Results were stronger than forecast by bank economists, who were expecting a small deficit.
"There were no special factors behind the surprise, with both exports and imports slightly more favourable than we expected," Westpac senior economist Michael Gordon says.
Plunging oil prices saw the value of imported crude oil drop 31%, or $115 million, to $254 million.
ASB rural economist Nathan Penny says the value of petroleum imports was the lowest since 2010, and reflects the likes of North Sea oil prices falling by around 20% in New Zealand Dollar terms over January.
Automotive diesel imports were also down $86 million, contributing to a 9.8% fall in the value of imported intermediate goods.
Export values fall despite quantities increasing
On the flip side, milk powder was the main driver behind the 30% fall in milk powder, butter and cheese exports from January 2014 to January 2015.
Their value dropped $485 million or 42%, and the quantity exported fell 3.1%, despite the quantity of dairy products increasing 2.9%.
Milk powder, butter and cheese exports to China fell 74%, with the drop partly offset by increases to other countries like Venezuela.
Statistics New Zealand international statistics manager, Jason Attewell, says, "Although export values fell, we saw record quantities of dairy and meat exports for a January month."

The value of meat exports rose 20%, or $100 million, due to higher prices, and the quantity exported increased slightly by 0.7%. This was the highest ever value and quantity exported for a January month.
Frozen beef led the rise, up 53%, or $93 million. Sheep meat rose 1.8% or $4.9 million.
Altogether, the value of goods exported in January, was the third highest for a January month. Exports in January 2014 were the highest ever, valued at $4.1 billion.
Outlook flat
ASB's Penny say, "Over the first half of 2015, we expect a largely flat trend in the trade balance as lower oil prices balance otherwise growing import values and the last of the falls in dairy export prices.
"Later in 2015, we expect growing import demand, reflecting solid domestic activity, to more than offset recovering diary export prices and lead to wider trade deficits."
BNZ economists say, "Yes, dairy export volumes held up relatively well in January (about flat on a year ago). Nonetheless, this will probably be the last hurrah, before the consequences of the unusually dry weather in the New Year set in.
"Also, it will take some time before the rebound in international dairy prices, since early December, begins to lessen the blow to the export accounts.
"We're also conscious that meat export volumes will only look good over the immediate term because of the dry weather forcing farmers to quit stock sooner, and by more, than usual."