RBNZ leaves OCR at 3.5% as expected, but says may lower rates if demand weakens; removes talk of future hike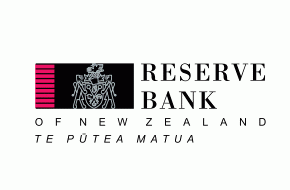 By Bernard Hickey
The Reserve Bank of New Zealand has held its Official Cash Rate at 3.5% as expected, but has adopted an easing bias and removed its previous talk of possible future rate hikes.
"The timing of future adjustments in the OCR will depend on how inflationary pressures evolve in both the non-traded and traded sectors," Reserve Bank Governor Graeme Wheeler said a seven paragraph statement 'in between' full quarterly Monetary Policy Statements.
"It would be appropriate to lower the OCR if demand weakens, and wage and price-setting outcomes settle at levels lower than is consistent with the inflation target," Wheeler said.
In the bank's March quarter MPS, Wheeler took a more neutral stance, saying the bank expected a period of interest rate stability and that "future interest rate adjustments, either up or down, will depend on the emerging flow of economic data."
The bank removed any mention of the potential for higher interest rates and did not repeat the comment about a period of stability. Wheeler's comments were in line with those made in a speech last week by Assistant Governor John McDermott, which was viewed as introducing an easing bias.
The New Zealand dollar fell almost a cent to 76.1 USc after the Reserve Bank's statement, although a cut in the dairy payout forecast for 2014/15 by Fonterra was also a factor. Wholesale interest rates fell around 4 basis points and financial markets now expect 30 basis points of OCR cuts within the next year.
Wheeler said lower fuel prices, the high New Zealand dollar and low global inflation had lowered annual inflation to 0.1% in the March quarter.
"Underlying inflation remains low and is expected to pick up gradually," he said.
"Monetary policy will focus on the medium-term trend in inflation. The Bank expects to keep monetary policy stimulatory, and is not currently considering any increase in interest rates."
Wheeler pointed to uncertain outlooks for the European, Chinese and Australian economies and sharp falls in oil prices.
However, New Zealand's economy continued to grow at an annual rate of around 3% because interest rates were low, net migration was high and construction activity was strong, he said.
Wheeler noted that house price inflation in Auckland was elevated, but made no connection with the outlook for interest rates.
He said in March the bank would not change its interest rate outlook because of the Auckland house price surge, saying the bank would instead use its Macro-Prudential tools to control risks to financial stability.
Focus on high currency, weak dairy
Wheeler was more downbeat about the outlook for demand in his comments about the economy than in March.
"However, lower dairy incomes, lingering effects of the drought, fiscal consolidation, and the high exchange rate are weighing on the outlook for growth," Wheeler said. Elsewhere, he repeated the bank's concerns about an unjustifiably and unsustainably high currency.
"The appreciation in the exchange rate, while our key export prices have been falling, is unwelcome," he added.
Economists react
ANZ Chief Economist Cameron Bagrie said the Reserve Bank had softened its tone as expected and adopted an "easier" bias.
"The Review opened the door to a rate cut. It stopped short of an outright easing bias – in that we suspect the underlying forecasts still maintain a flat OCR profile – but it is certainly an easier bias," Bagrie said, adding the bank's comments about underlying inflation still being expected to pick up showed the bias was 'easier' rather than 'easy'.
"An expected pick-up in inflation is inconsistent with an outright easing bias. So we have the potential for a lower OCR but this is not yet the RBNZ's forecast," he said, adding ANZ still saw an extended period of a stable OCR.
"However, if core inflation remains low (we are watching our Monthly Inflation Gauge closely), in combination with the elevated NZD, dairy sector challenges and an eventual prudential response to housing, a reassessment of current OCR settings would be warranted."
Westpac Chief Economist Dominick Stephens said the Reserve Bank had given its official stamp of approval to the sentiments Assistant Governor John McDermott delivered in a speech last week.
"As the speech explained, the RBNZ has stepped away from its previous neutral stance on the OCR outlook. Instead, the RBNZ has adopted a conditional easing bias. This means that the OCR will remain on hold unless certain conditions are met, in which case it could be cut," Stephens said, adding he saw a 40% chance of two or more cuts over the next year and a 60% chance of no change.
ASB Chief Economist Chief Economist Nick Tuffley said the statement reflected much of what was said by McDermott last wee, but he detected additional nervousness from the Reserve Bank about inflation, "with more focus on tradable sector inflation than seen in the past."
"We see the prospects of an OCR cut this year as more of a 50:50 proposition.  Weak inflation-related data or a strong NZD could push the RBNZ into cutting. More generally, the driver of a cut would be a weaker inflation outlook," Tuffley said.
"The risks of a lower OCR seem larger for the second half of the year, when there is more time for inflation-related data to show any signs that wage- and price-setting behaviour is being affected by the drop in the headline inflation rate," he said. 
"But every OCR announcement from now on should be considered live.  Between now and the June Monetary Policy Statement are key labour market and inflation expectations data.  A rise in the unemployment rate on strong labour supply growth, for example, would signal wage growth is likely to remain subdued for longer. "
BNZ Chief Economist Stephen Toplis said the Reserve Bank had confirmed its easing bias.
"With the RBNZ having an easing bias, we accept that the short-dated yield curve should be inverted," Toplis said.
"However, we believe the likelihood of a cut in June is near zero and that an easing by year-end is far from the done deal the market currently appears to be pricing," he said.
"While we acknowledge the growing risk of a rate reduction, we stick, for now, with our call that rates will not decline."
(Updated with market reaction, economist reaction)