Fonterra now expects milk price of just $4.50 for current season, down from $4.70; dividend forecast unchanged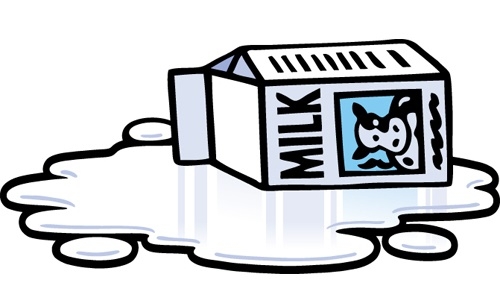 By David Hargreaves
Fonterra's farmers say the cut in forecast milk price to $4.50 from $4.70 per kg of milk solids announced by the dairy giant co-operative will be a "difficult pill" for them to swallow and they are "disappointed" .
Fonterra Shareholders' Council Chairman, Ian Brown said the reduced forecast demonstrated that, as with other industries in New Zealand, Fonterra and its farmers are subject to the volatility of the global economy.
"Moving forward Farmers will be looking to their Co-op to drive value from the milk they produce and take advantage where possible of the low Milk Price environment we are experiencing.
"It's a given that Farmers need to continue be especially prudent with their financial planning and focus on getting their farm businesses in the best possible shape for next season."
A combination of the Reserve Bank officially indicating a move to more of an easing bias on interest rates and the announcement from Fonterra saw the Kiwi dollar drop sharply, from a shade under US77c to about US76.1c.
Fonterra kept its dividend forecast range unchanged at 20-30c a share - though it had dropped this forecast range by 5c only about a month ago.
And Fonterra has again, following on from a month ago, increased its forecast of the amount of milk supply in the current season.
Earlier drought conditions had been expected to trim the output quite markedly this season, but now Fonterra is estimating New Zealand milk production for the current season of 1,607 million kgMS, which is up from a forecast of 1,551 million just last month - and actually now puts the forecast production for this season about 1.5% ahead of last year's figure.
The significant thing about that is that the latest anticipated rise in production forecast comes at a time when global prices are being affected by over-supply.
Based on those updated production figures, the returns for Fonterra farmers alone are looking like being about $6 billion down on last year, when the milk price was $8.40 and the dividend 10c.
After the reduction in the milk price forecast, Fonterra is now forecasting a total cash payout of $4.70 - $4.80 for the current season. At the very start of the season - when global prices were much more buoyant - Fonterra was actually forecasting a milk price of $7.
Labour's finance spokesperson Grant Robertson suggested that the latest update from Fonterra confirmed that "an economic black hole of $7 billion" was opening up that would seriously affect the regions.
"The Government has repeatedly refused calls to help diversify our industries and export markets so that the country and local communities are not hit hard when a commodity price falls," he said.
"National has created an economy of milk and speculating on houses and pretended that it will continue to flourish. But the cracks are showing."
Fonterra's chairman John Wilson said the latest reduction in forecast milk price reflected the "continuing and significant volatility in international dairy commodity prices caused by over-supply in the market".
"We have confidence in the long-term fundamentals of international dairy demand, however the market has not yet rebalanced and GDT prices for products that inform our Farmgate Milk Price have fallen 23 per cent since February."
Wilson said the reduction would "impact" cash flows for our farmers, and they would "need to continue exercising caution with on-farm budgets".  
"Our farmers are already managing very tight cashflows. Although this reduction is not the news that anyone wants, it is important we keep our farmers updated given the significant market uncertainty. 
"Given the reduced Milk Price forecast, we are also lowering the Advance Rate of scheduled monthly payments to our farmers.
"We will continue to keep our farmers updated as the season progresses," Wilson said.
Chief executive Theo Spierings said geopolitical unrest in places such as Russia, the Middle East and North Africa is impacting global dairy demand.
"Remote as they are, events such as the flow of refugees from Libya to Europe come together with factors like lower oil prices to soften dairy demand," Spierings said.