Finance Minister rejects calls for fiscal stimulus in the face of latest dairy slump; says GDP growth softening to 2.0-2.5%, but says automatic stabilisers of lower OCR and NZ$ is best response for now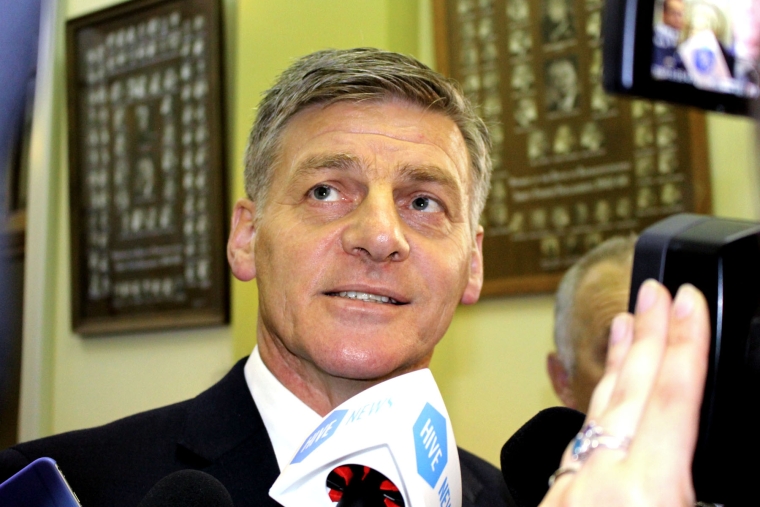 By Bernard Hickey
Finance Minister Bill English has rejected growing calls for fiscal stimulus to soften the economic blow from the collapse in dairy revenues, saying the Government would rely instead on the automatic stabilisers of a lower Official Cash Rate and a lower New Zealand dollar to support growth.
English told reporters in Parliament that GDP had softened towards the 2.0-2.5% level because of the fall in dairy prices, but had not fallen far enough for the Government to justify any sort of Government spending response. He said Treasury was monitoring the situation and would formulate various scenarios and options as part of its usual policy advice process, but the Government was not actively considering any fresh stimulus at the moment.
ANZ Chief Economist Cameron Bagrie has called in recent weeks on the Government to consider a 'Plan B' to bring forward infrastructure spending and Federated Farmers called on Friday for an acceleration of Government infrastructure spending on roads and irrigation projects in the regions.
Elsewhere, Labour Finance Spokesman Grant Robertson also called for the Government to launch new spending on infrastructure and new housing to stimulate the economy.
The comments came as Westpac Chief Economist Dominick Stephens issued a quarterly forecast that unemployment would rise to 6.5% and that the Reserve Bank would have to cut the OCR by a further 100 basis points to 2%.
English downplayed Stephens' forecast, saying it was just one of many forecasts and was significantly more pessimistic than most. He said there was not a risk of recession.
"There's not much doubt that the economy has softened a bit. The impact of the lower dairy prices and a slowdown in Christchurch. They're softening an outlook that was for 3.0% to 3.5% growth and now looks more like 2.0% to 2.5%," he said.
He said the Government was not looking to change its strategy.
"We think the right adjustments are happening. You've seen a drop in the exchange rate and interest rates falling when everyone expected them to be rising. You're getting the right kind of adjustments that are going to both cushion the negative affects of the industries under pressure, but also provide a bit of a boost for the rest of the export sectors that's going to benefit from a weaker New Zealand dollar," he said.
English said it was "possible unemployment could pick up a bit" because of New Zealand's high labour force participation rate, but that the threshold for low growth requiring stimulus was "quite a bit lower than where we are now."
"There's still plenty of room for further adjustment that would have a more direct impact, and that's around further depreciation of the exchange rate, further drops in interest rates. Given our debt objectives, we'd be reluctant to reach for the fiscal lever rapidly when there's other tools there that can have a more direct affect," he said.
"In a situation where unemployment was heading to 6.5% I think you'd see interest rates and exchange rates responding to that in a way that can have a pretty direct affect on businesses."
"The economy is softening a bit. We're on track around sustainable moderate growth of 2 to 2.5% and there's no particular reason to grab other levers that might create other risks just now."
'Dairy a vigorous, confident industry'
He said the Government had not seen any case for Government support for either dairy farmers or Fonterra.
"The issue isn't whether the dairy industry has come to stop because of low prices. It certainly hasn't. It's a vigorous, confident industry. It's an issue of how they finance this year's cash flow. They've got the banks indicating positive and Fonterra offering interest free conditions, which is more than you could expect if you're a retailer."
English said he had spoken with the banks in the past about their support for dairy farmers and Primary Industries Minister Nathan Guy would be talking to banks over the next couple of weeks "just to see where they're up to
"And the Reserve Bank is communicating with them every week, and the indications are they'll be positively supporting an industry they've got confidence in," he said, adding however that no one knew how long the banks would support the sector, "and anyone who does is going to make a lot of money."
Risk of foreign buyers?
Asked about the risk that foreign buyers would scoop up many farms in forced sales, he said: "People are running contradictory arguments over foreign buyers. A few years ago they were saying there's a lot of foreign buyers because the milk price is very high. Now they're saying there's a lot of foreign buyers because the milk price is very low."
"Foreign buyers looking at this industry will be a bit careful now they realise that prices can be volatile and that it's pretty hard to be profitable except in the long run unless you know what you're doing. I don't think it will change the interests of foreign buyers much," he said.
English said the criteria for foreign buyers under the Overseas Investment Act were already tight with 23 different criteria, and a court decision on Crafar Farms had lifted the bar for approval.
"We're not looking at changing the Act, but we'd expect the Overseas Investment Office to meet all the legal criteria," he said.
English said it was a healthy sign that farm prices had yet to drop back given banks' reluctance to force farm sales.
"Maybe they will, but I don't see any scenario where you would see the banks acting in a way that would put broader industry values at risk," he said.
Globaldairytrade suspension?
English said any decisions on Globaldairytrade (GDT) were for Fonterra, adding however it had been created to create more transparency.
"Everyone was happy when it was going up and they're not happy when it's going down," English said.
"The fundamental problem is not the GDT, albeit there seems to be a vigorous argument about it. It's the perfect storm of excess supply. There seems to be more of it and it looks like it's going to take a bit longer to clear," he said.
Robertson wants stimulus
Robertson said the Government needed to stimulate the economy to avoid a significant downturn turning into a recession, and simply allowing the automatic stabilisers of the OCR and the New Zealand dollar to fall was not enough.
"If the Government does not step in and start to stimulate the economy and get alongside businesses then we will head back to recession," he said.
"We need to invest in infrastructure, we need to get Auckland moving, we need to get a programme like KiwiBuild under way to absorb the labour that's leaving the Canterbury rebuild."
Robertson agreed this could force the budget into deficit, although much of any stimulus spending would be capital expenditure, rather than operating expenditure.
"In the end if the economy grinds to a halt, crowing about the surplus doesn't help," he said.
Robertson said it would be difficult for Fonterra to suspend its GDT auction "and we do need a clear price signal in the dairy market."
(Updated with more comments from English and Robertson)