What economists are predicting the RBNZ will do on Thursday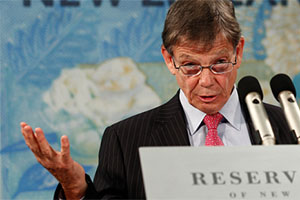 What do you think Reserve Bank Governor Graeme Wheeler will do with the Official Cash Rate (OCR) on Thursday (December 10)?
That's when the Reserve Bank is set to review the OCR and issue its final Monetary Policy Statement for 2015.
The OCR is currently at 2.75%, but inflation is very low, driven down by falling energy costs and the rise of "the second machine age".
Low or falling prices leaves money in household bank accounts, and encourages consumer spending.
We see both in many countries, and we see both in New Zealand as well.
Consumer spending is the fundamental base our economies are built on, and New Zealand will report its third quarter growth on December 17. In the June quarter it was running at +3.0%.
Money markets are a forum where investors place real money on the table anticipating policy rate moves. They do this in part by trading the 90 day bank bill market.
Today, that is sitting at 2.88%, which implies less than a 40% chance of a cut, and receding.
But the professional economists who put their name to their forecasts are almost all in the "he will cut" camp.
Their theme is that the Policy Targets Agreement requires inflation at 2% and we are well below that target.
Therefore, as a legal obligation he must cut, they say.
El Nino, and low dairy prices are also a theme of many commentators, but strong sector performances by tourism and education, and rural sectors like horticulture and forestry, seem to get discounted. Construction and services strength are likewise discounted. And most expect Wheeler will pigeon-hole the asset-bubble distortion that low rates generate in housing and commercial property markets by claiming that is the central and local government's job to fix.
And they also come to this conclusion knowing the RBNZ looks past the headline rate, and is looking at future maintainable core inflation.
Most also note that the NZ dollar is still too high, and that a sharp fall that may come from a rate cut will help add back inflation.
The big question of course is whether the RBNZ governor is convinced that a -0.25% cut to 2.50% will actually make any difference, especially considering the cut from 3.00% on September 10 can arguably said to have had no impact at all.
And whether the US Fed action the following week has entered RBNZ thinking is not clear, but it certainly has not been enough to change the mind of the herd of professionals.
Here is where they stand:
Institution (chief forecaster)
Cut to
2.50%
Hold at
2.75%
 
 
 
ANZ (Cameron Bagrie)
 
ASB (Nick Tuffley)
 
BNZ (Stephen Toplis)
 
HSBC (Paul Bloxham)
 
Kiwibank (Zoe Wallis)
 
Westpac (Dominic Stephens)
 
 
 
 
NZIER (Christina Leung)
 

Harbour Asset Management (Christian Hawkesby)

 
Infometrics (Gareth Kiernan)
 
UBS (Robin Clements)
 
Forsyth Barr (Matt Sturmer)
 
BusinessDesk (Jonathan Underhill)
 
Email us if we need to add others, or if you think our analysis needs updating. Or use the comment section below to record your prediction and reasons.