Labour Finance Spokesman says Dec qtr deflation data making a farce of NZ monetary policy; calls for re-think of pure inflation targeting; repeats call to broaden target to include job creation; HSBC says RBNZ credibility in question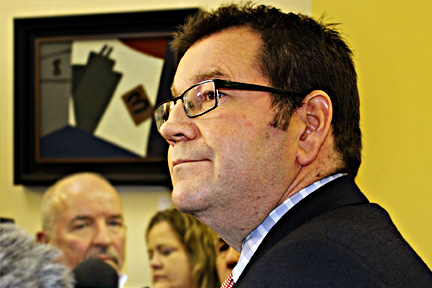 By Bernard Hickey
Labour Finance Spokesman Grant Robertson has launched an aggressive new attack on the monetary policy framework used by the Government and the Reserve Bank, saying it is time for a major rethink after CPI data published yesterday exposed its shortcomings.
Robertson called again for the Reserve Bank to target job creation as well as inflation, pointing to the dual inflation and employment mandates used by the Reserve Bank of Australia and the US Federal Reserve.
His comments came after figures yesterday showed deflation of 0.5% in the December quarter and annual inflation of just 0.1% -- the lowest since 1999. The December quarter CPI result was the fifth consecutive quarter where annual inflation has been below the bottom end of the Reserve Bank's 1-3% target range and inflation has been below the 2% midpoint specified in the current Policy Targets Agreement for more than four years.
"The lowest inflation since last century combined with rising unemployment and turbulent global markets is making a farce of monetary policy," Robertson said.
New Zealand's monetary policy framework, whereby an independent central bank targets inflation using the Official Cash Rate, "is outdated and not fit to handle significant changes in the economy," he said, adding the Reserve Bank was now between a rock and a hard place with historically low inflation but with an "out of control" housing market in Auckland.
"It's time for the Government to not only make a bigger contribution to tackling the housing market. They need to rethink monetary policy," he said.
"The Reserve Bank hasn't hit the 2 per cent midpoint of its inflation target since the current Policy Targets Agreement was signed in 2012 while unemployment has remained stubbornly high."
Robertson said the singular focus on inflation was hurting exporters and preventing businesses from investing in new jobs, particularly when compared with other countries with much lower interest rates.
"It's time to broaden the objectives of the Reserve Bank to make job creation a critical part of its mandate to help deliver economic growth. This isn't revolutionary – it's similar to many reserve banks across the world," he said.
"When you reach 15 quarters outside of the mid-point we do have to ask ourselves what we're doing with monetary policy," Robertson said later in an interview.
"It's a reminder that if we want to re-balance the economy and get a greater focus on reducing unemployment the Reserve Bank has a role to play in that, and it needs a different mandate to do that," he said.
'Change the objectives, and then the PTA'
Labour wanted to change the objectives of the Reserve Bank Act to include a mandate for employment, which would flow through to a different PTA, he said, pointing to the way the Reserve Bank of Australia (RBA) and US Federal Reserve operate monetary policy. This is not a new Labour policy, but the repeated undershoot of inflation has lifted the volume of the debate in recent weeks, with NZIER, BNZ and HSBC also questioning the Reserve Bank's framework in recent weeks.
"The RBA has objectives that talk about employment and the overall health of the economy. It would have to be expressed through the legislation, and then through the specific objectives and the PTA would be negotiated off the back of that," Robertson said.
Questions about which of the inflation and employment targets to prioritise in different situations would have to be worked out in the PTA, he said.
Robertson said the Reserve Bank also needed to meet its existing targets, but there should also be a wider debate about a different monetary policy framework.
"I don't see those two things being mutually exclusive. Yes they should be doing the job they're currently given, but we can certainly have a debate about whether there's a different way of expressing that job," he said.
"Clearly they're not meeting the targets that have been set for them, and that's why we need to have the discussion."
Some have argued that a small amount of deflation or very low inflation is not damaging, if it is driven by supply shocks and is not a demand-driven problem that triggers a deflationary spiral.
"Graeme's argument is that we're entering new territory on this. If that's the case, we need to take another look at the agreement, but for now, clearly they're not meeting the targets that have been set for them," Robertson said.
Robertson pointed to an unemployment rate that was stubbornly high at 6.0% and rising, while deflation would discourage businesses from investing.
"While you could possibly run a small period of time where moderate deflation will be OK, I still don't think over a long period that would be good for the economy and we've got to be doing more to address a stubbornly high unemployment rate," he said.
Should Graeme Wheeler be reappointed?
Asked if Bill English should reappoint Graeme Wheeler for a second five year term as Reserve Bank Governor from 20I7, Robertson said: "I've got a lot of respect for Graeme. His analysis of the economy has been pretty good. There was criticism of increasing the rates in 2014 and I was one of them who questioned that. He's a person with enormous integrity and a very, very solid background in this area. The targets agreement has not been met, but I wouldn't want to bring that down to him personally at this time."
"I'm not close enough to all of the discussions about whether he should or shouldn't reappoint him and ultimately it won't be a decision I'll be involved in, but I've got a lot of respect for Graeme," he added.
Robertson did not mention Labour's Variable Savings Rate policy from the 2014 election in his statement, but repeated previous comments that it was under review.
"That wasn't mentioned today and won't be in the foreseeable future," he said, adding Labour preferred to have a simple policy that gave voters certainty.
'Modulate the flow of migration'
Robertson also pointed to the pressures on unemployment from the recent record high migration, particularly of lower skilled students and those on temporary work visas.
"We think there is scope for modulating the flow of migration coming into the country," he said, noting however that some migration could not be restricted, particularly of New Zealanders returning home, various Pacific Island migration agreements and family reunification.
"Overall migration into New Zealand should be a good thing for the both economy and the diversity of our society. We've just got to make sure we can moderate it at times where it's putting pressure on the economy," he said.
Labour was sceptical about the Government's October 2013 change to allow foreign students to work during term time, which drove a significant part of the migration surge.
"We need to prioritise quality. I'm concerned that people will be coming here to work, rather than to study. We're quite sceptical of that policy and we're looking quite closely at whether that works," Robertson said.
"Is it potentially displacing New Zealand students from work? We don't have any evidence on that. The big increase in the numbers of those students deserves a lot deeper investigation into exactly what courses are they doing."
Labour preferred the Government focused more on encouraging post-graduate students at universities.
"Where people are attracted here because they can work additional hours, that doesn't feel to me the best basis for international education," he said.
HSBC also questions inflation targeting regime
Elsewhere, HSBC Australia and New Zealand Chief Economist Paul Bloxham, who popularised the 'rock star economy' tag for New Zealand in January 2014, cut his forecast for the Official Cash Rate in 2016 to 2.0% from 2.25%, saying further rate cuts were needed to achieve the bank's inflation target, despite financial stability concerns.
Bloxham said New Zealand's inflation targeting regime, which was a world pioneer when introduced in 1990, now faced a critical test with inflation in calendar 2016 set to rise to no more than 0.7%. HSBC had cut its 2016 inflation forecast in half, he said.
"The longer inflation remains below target, the greater the risk that 'inflation expectations' fall, embedding the problem," Bloxham said.
"Constantly missing the inflation target may be a challenge to the RBNZ's credibility over the medium term."
Bloxham said the Reserve Bank's policy targets agreement gave it the scope to look through short term deviations and a short period of disinflation may be a good thing, if it was related to an increase in supply potential rather than a lack of demand.
"However, a prolonged period of low inflation increases the risk that inflation expectations become unanchored and low inflation becomes embedded," he said.
"This could mean persistently lower wages growth, lower neutral interest rates, less ability for the central bank to stimulate the economy, and a greater chance of damaging episodes of outright deflation."
(Updated with comments from interview with Robertson)