RBNZ surprises with 25 bps cut to 2.25%; forecasts one more cut; concerned about falling inflation expectations; says wants NZ$ to fall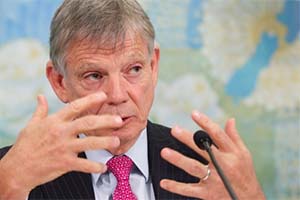 By Bernard Hickey
The Reserve Bank surprised markets and economists today by cutting the Official Cash Rate by 25 basis points to 2.25% and forecasting another cut by the middle of the year.
The New Zealand dollar immediately sank by more than 1 US cent to 66.4 USc and by almost 2 Australian cents to 88.8c after the decision, which only two out of 17 bank economists had predicted. Financial markets had priced in only a 30% chance of a cut today and the surprise move was criticised by some as indicative of poor communications by the bank in a speech on February 3.
ASB Chief Economist Nick Tuffley said he gave the Reserve Bank a bouquet for cutting, but a brickbat for the reversal since the February speech.
"Back then the Governor essentially implied that people forecasting OCR cuts were responding mechanistically to low headline inflation and he heavily emphasised the flexibility of the inflation target," ASB Chief Economist Nick Tuffley said.
"In the 5 weeks since then, the only material shift has been the various inflation expectations measures.  Moreover, the tone of that speech suggested the RBNZ was a long way from contemplating an OCR cut, and will have contributed to the extent of market surprise today," he said.
Citing a weaker global growth and inflation outlook, the Reserve Bank said it was concerned about the risk that falling inflation expectations in New Zealand became a self-fulfilling prophecy that drove future inflation even further below its 1-3% target range.
"Monetary policy will continue to be accommodative," Governor Graeme Wheeler said.
"Further policy easing may be required to ensure that future average inflation settles near the middle of the target range," he said, adding the bank would continue to watch the emerging flow of data.
He later confirmed that the Reserve Bank's forecast for the 90 day bill rate to fall to 2.1% by the June quarter indicated the Reserve Bank was expecting to have to cut the OCR one more time. The timing of the forecasts suggest another cut when the Reserve Bank releases its next Monetary Policy Statement on June 9.
The cut also surprised those who read a speech Wheeler gave in early February, where he said the bank would not make 'mechanistic' cuts to interest rates in response to inflation being below the bank's target range, which was interpreted as making an early rate cut unlikely. Although, since the speech inflation expectations and dairy prices have fallen.
None of the big four banks expected a cut, although Kiwibank and Royal Bank of Canada had forecast a cut. ASB, Westpac and ANZ had forecast 50 basis points of cuts later in the year, while BNZ had expected not cuts. ANZ changed its view to seeing two more cuts to 1.75% by the end of 2016 after the surprise decision.
'Challenges for dairy sector'
Wheeler said the outlook for global growth had weakened since the Reserve Bank's December Monetary Policy Statement due to weaker growth in China and other developed markets.
"This is despite extraordinary monetary accommodation, and further declines in interest rates in several countries. Financial market volatility has increased, reflected in higher credit spreads. Commodity prices remain low," Wheeler said.
He also noted the domestic dairy sector faced challenges, but local economic growth was supported by strong inward migration, tourism, a pipeline of construction activity and low interest rates.
Wheeler pointed directly to the New Zealand dollar being 5% higher on a trade weighted basis than the Reserve Bank forecast in December, "and a decline would be appropriate given the weakness in export prices."
'Auckland house price inflation moderating'
Wheeler also pointed to a moderation of house price inflation Auckland, "but house prices remain at high levels and additional housing supply is needed."
"Housing market pressures have been building in some other regions," he added.
Later in the news conference, Wheeler said the bank was watching the risks that further rate cuts could further inflate house prices in Auckland, but he said the Reserve Bank was not considering any further macro-prudential policy measures (similar to its two rounds of LVR restrictions) 'at this point.'
He also later said Auckland was still not building enough housing. Asked about political pressures on the Auckland Council to stop intensification of housing close to the CBD, he said: "Auckland needs more houses. It's up to Auckland's citizens and their Council to try and work this out."
'Inflation expectation concerns'
Wheeler said the main risks to the Reserve Bank's forecasts were around growth in China, global financial markets, weakness in the dairy sector, a further fall in inflation expectations, continued high net migration and pressures in the housing market.
"While long-run inflation expectations are well-anchored at 2 percent, there has been a material decline in a range of inflation expectations measures," Wheeler said in a departure from previous statements which have not emphasised inflation expectations.
"This is a concern because it increases the risk that the decline in expectations becomes self-fulfilling and subdues future inflation outcomes," he said.
The bank forecast headline inflation would not rise back into the 1-3% band until the December quarter of 2016, having been below 1% for two years. The bank does not expect inflation to reach the mid-point of the range until the March quarter of 2018.
The bank said in its full March quarter Monetary Policy Statement that low headline inflation had contributed to falls in measures of inflation expectations. It included a special Box D (page 28) on inflation expectations to reflect its increased focus on the issue.
"A fall in expectations is concerning, because it will dampen wage and price setting behaviour over the time horizon relevant for monetary policy," it said.
The Reserve Bank included its view that inflation expectations would remain anchored at 2% as one of its key judgements in setting the OCR, alongside modest trading partner growth, net migration adding 3.3% to the working age population and moderate house price inflation.
"If things unfold differently, the bank will revise its projection for monetary policy settings to ensure medium term stability is maintained."
Economist reaction
ANZ Chief Economist Cameron Bagrie called the cut a clear surprise in a note titled 'Action Man', which also included a reference to a 'mechanistic' further cut in the OCR around the middle of the year.
"The recent shift down in inflation expectations does appear to have spooked the RBNZ somewhat," Bagrie said.
Bagrie said he now expected two more rate cuts before the end of 2016.
"Recent pressure on (bank) funding costs is not really a core part of the RBNZ's central track (of one cut today and another down the track), but it was discussed as a scenario (and would involve an OCR well below 2%)," Bagrie said.
"Given recent funding pressures, and our view that more downside risks around the globe will materialise as the year progresses, we expect more than one cut before year end," he said, adding he saw the second cut to 1.75% late in 2016.
Westpac Chief Economist Dominick Stephens said he had wound back an initial prediction in January of a cut today because of Wheeler's February speech.
"Back in January we were actually forecasting that the RBNZ would cut at today's meeting. But then the RBNZ Governor gave a speech cautioning against focussing excessively on headline inflation. The strong language in that speech seemed to pour water on the idea of an imminent OCR cut," Stephens said.
"We became very uncertain about the timing of cuts, but in the end felt it was more likely that the RBNZ would hold off before actually moving. Not so - the Reserve Bank instead chose to move immediately," he said.
First NZ Economics and Strategy Director Chris Green said he expected one more cut at the June 9 meeting with the risks now "clearly skewed" towards a further cut to 1.75% later in the year.
NZIER Senior Economist Christina Leung said the Reserve Bank had proved NZIER wrong by cutting.
"In hindsight we took too much from Governor Wheeler's speech in February that highlighted the many factors besides consumer price inflation, including asset prices, the Reserve Bank is required to take into account under its Policy Targets Agreement," Leung said.
"Our key takeaway from today's decision is the Reserve Bank remains more heavily focussed on headline CPI and inflation expectations than we anticipated. Conversely it appears less concerned with asset prices and financial stability than we expected," she said.
ASB's Tuffley said the sharp decline in inflation expectations had "clearly rattled" the RBNZ and was a key driver for today's move.
"We expect a further cut from the RBNZ, but it is likely to wait for the next suite of key inflation expectations reading before doing so," he said, adding a June cut with the next MPS was most likely, but an April 28 cut was 'live'," he said.
Mortgage rate cuts to follow?
Two year swap rates fell to 2.28% from 2.45% after the OCR decision, suggesting there may be room for banks to lower their two year fixed mortgage rates closer to (or even below) the key 4% mark.
Co-operative Bank cut its floating mortgage rate by the full 25 basis points, but banks had not reacted by late afternoon.
Reserve Bank Governor Graeme Wheeler said in a select committee hearing this afternoon that he expected banks to pass on all the rate cut to floating rate borrowers and most of it to fixed rate borrowers. Reserve Bank Head of Macroprudential Bernard Hodgetts said the impact of higher international funding costs had only been relatiely mild and they were funding most of their lending growth from local deposits. Some bank economists had argued before today's decision that higher funding costs might push up mortgage rates in the absence of a Reserve Bank, suggesting the banks may consider not passing on much of the cut today. See more in my other article today.
Political reaction
Labour Finance Spokesman Grant Robertson said the OCR cut showed the Government needed to step up and support the Reserve Bank with further stimulus.
Today's cut came as a surprise to everyone. Hopefully it will shake the Government from its slumber," Robertson said.
"The domestic risks of serious weaknesses in the dairy sector and pressures in the housing market have been a feature of Reserve Bank announcements for a long time now. The Government hasn't been able to do anything to address this," he said.
Green Finance Spokeswoman Julie Anne Genter welcomed the cut, but said it was overdue.
"For months the Governor has had to keep the Official Cash Rate higher than needed due to the National Government's ongoing failure to address the housing crisis in Auckland," Genter said.
"National needs to be working in tandem with the Reserve Bank by introducing complementary measures that will contain house price inflation instead of leaving it all up to the Reserve Bank to manage," she said, calling for a capital gains tax on property excluding the family home and the building of more affordable homes in walkable neighbourhoods with better public transport.
Federated Farmers President William Rolleston welcomed the rate cut, which farmers had called for.
"It's now up to the banks to pass this cut on to mortgage holders, and we urge them to do so on behalf of all New Zealand farmers," Rolleston said, adding he welcomed the prospect of a further cut.
"Farmers' cash flow is tight at the moment, particularly in the dairy sector, and anything that can ease the pressure on their bottom line will help get as many dairy farmers as possible through the current season," he said.