RBNZ's Wheeler says he expects all of 25 bps cut in OCR to be passed on to floating rates; RBNZ's Hodgetts says impact of foreign funding costs only 'relatively mild' and expects 'bulk' of lower rates to be passed on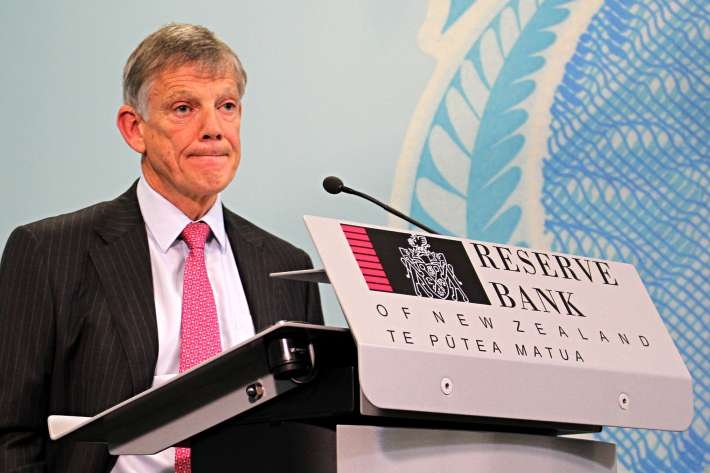 By Bernard Hickey
Reserve Bank Governor Graeme Wheeler has fired a shot across the bows of any banks thinking of pocketing today's surprise rate cut, saying he expected all of the 25 basis point reduction to be passed on to floating rate borrowers and that most of it would be passed on to fixed rate borrowers.
Some banks have suggested that a rise in funding costs for foreign funding might offset some of the impact of any Official Cash Rate, raising the prospect that banks may not pass on all of the rate cut to borrowers to either protect or grow their net interest margins.
Wheeler was asked whether banks should pass all of it on by Labour MP Stuart Nash during the Governor's appearance before the Finance and Expenditure Select Committee.
"I'd expect the floating rates to come down by 25 basis points," Wheeler told the select committee.
Earlier, Reserve Bank Head of Macro-Financial Bernard Hodgetts told the committee that the effects of the rise in foreign funding costs was 'relatively mild' for banks at the moment, given they were currently funding only a small share of new lending from overseas borrowing because of strong local deposit growth.
"Banks are only raising a relatively small share of their funding from overseas at this point in time. They're continuing to see very strong deposit growth. Most of the credit expansion that's going on has been funded through deposits," Hodgetts said.
"If the upturn in international funding costs was to persist, it would start to have more of an impact on banks' funding costs. But at the moment the effect has been relatively mild," he said.
He said he expected the bulk of falls in interest rates to be passed on to borrowers.
Asked by Nash if banks may use the rate cut to bolster their profit margins in the wake of share price falls in Australia, Hodgetts said: "I would expect to see the bulk of it passed on and there's already this morning we see some examples of this," he said.
Wheeler then followed up. "Certainly you'd expect the floating rates to come down 25 basis points, and the fixed will depend on a lot of factors, but one would expect that most of that would be passed on," Wheeler said.
Fixed mortgage rates tend to be more closely aligned to wholesale 'swap' rates. One year swap rates fell 19 basis points today, while two year swaps rates fell 18 basis points and the five year rates fell 43 basis points. See more here from David Chaston.
As of mid-afternoon, only Co-operative Bank had cut its floating rate. See more here from Gareth Vaughan.
'Landlords venturing out from Auckland'
Green Finance Spokeswoman Julie Anne Genter then asked Wheeler if the Reserve Bank's introduction in November of tighter controls on lending to Auckland rental property investors had simply pushed them out to regional markets, which in turn suggested a capital gains tax would be more effective.
In reply, Wheeler pointed to a rise in the portion of Auckland home purchases by investors from 33% to 41% in the two years before the LVR controls were put in place. He said that portion had since fallen to 38% after the introduction of the new controls.
"But have investors basically said: 'look, property price appreciation may be going to slow in Auckland and is there scope for further capital gains elsewhere and higher rental returns?' Has that driven part of the Hamilton market and the Tauranga market? Yes I think it has," Wheeler said.