English says possible bank losses on dairy debt not a threat to financial stability; says Government won't bail out dairy farmers; says competition best way to sort out banks not passing on OCR cuts; Little says 'stiff-arm' the banks on dairy debt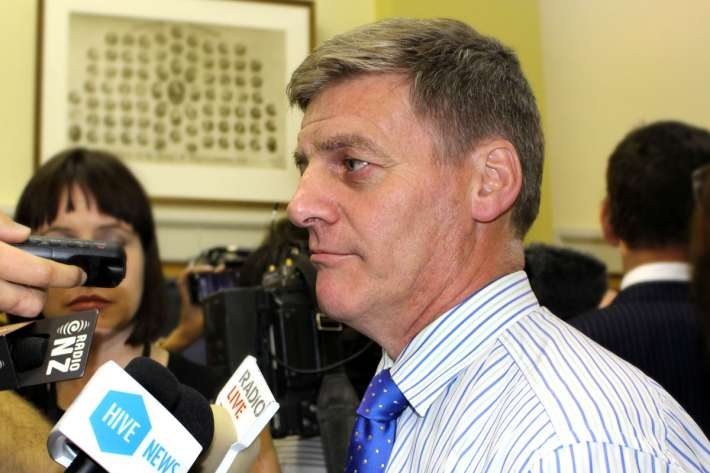 By Bernard Hickey
Finance Minister Bill English has rejected calls for some sort of Government bailout of the dairy industry or the need for a crisis summit.
English said the scale of any losses for banks on the dairy debt was not enough to endanger financial stability and there were already plenty of meetings going on between farmers, bankers and their respective representatives.
"If the Opposition want to support the dairy industry, they should vote for the TPP and the changes in the RMA. That would mean more than some talk-fest," English told TVNZ's Q+A.
"Back in 2008, the government put in place a guarantee when it looked like the whole banking system was at risk, and that's hundreds of billions of dollars. So a few billion of losses for the banks is not a threat to financial stability," he said.
English specifically ruled out a bail out.
"The government has in place a system for dealing with hardship, because you are going to see, for a small number of dairy-farming families, some real distress. But we're certainly not going to be bailing them out," he said.
Many farmers also had stronger balance sheets after the NZ$8.40/kg payout from 2013/14.
"The regime that's in place now means the banks are stronger than they've ever been. They have greater ability to withstand those losses than they've ever had. And the dairy industry's had a pretty good run, and a lot of their balance sheets are in reasonable shape. So, yes, there may be some losses, but I doubt they'd be a threat to the financial stability," Englis said.
Possible size of defaults
On Thursday Reserve Bank Governor Graeme Wheeler cited Reserve Bank research and bank stress tests to suggest that up to 44% of dairy loans would be 'non-performing' and upwards of 10-15% could be in default after three more years of payouts at current levels. Banks have lent almost NZ$40 billion to dairy farmers.
"A lot of the agricultural lending is dairy-related lending but we are talking about, under this stress scenario, something like 10% to 15% of dairy lending being in default," Wheeler told a news conference.
"For the banking sector as a whole: do they have the capital reserves to be able to accommodate that if that ever did eventuate? We believe that they do," Wheeler said. The Reserve Bank has previously forecast that the worst stressed scenario would reduce bank profits by as much as 18%.
Earlier on Monday in a Radio NZ interview, Prime Minister John Key rejected suggestions that up to a quarter of dairy farmers would have to leave their farms.
Asked what banks were telling them, he said banks were saying the bulk of farmers would get through, although there were a "few situations with over-leverage where there are real concerns, but they're working closely with farmers to keep them on the land."
Asked if banks were saying the percentage of farmers to fail was 5%-10%, he said banks were not putting an exact number of it, "the sorts of numbers you are talking about there are the sorts of numbers you hear the industry talking about -- it would vary bank to bank."
"There's certainly going to be some farmers that don't come through unfortunately, and that's true even in better times," he said.
Key said no one had exact figures, but he was hearing reassuring noises from the banks that they could work their way through.
"It's clearly not in their interests or the farmers interests to force everybody off the land. The question is what can the Government do. We can't force dairy prices up. The Reserve Bank has tried to play its part, in part, by lowering the Official Cash Rate. We can do things to reduce on-farm costs or make the viability of farming, and everything from irrigation to TPP supports all that," he said.
Earlier, Labour Leader Andrew Little said the Government needed to ensure banks did not trigger massive mortgagee sales. The banks needed to be "stiff-armed and told we're not going to see, wholesale, farmers pushed off the land."
"We expose more New Zealand farm land to the risk of overseas ownership and I think that is a matter in which there is a national interest the Government should be alert to, and take action on," Little was quoted as saying by Vernon Small.
English unconcerned by banks not passing on OCR
English said he was also not overly concerned that the big banks -- ANZ and Westpac in particular -- had only passed on 10 basis points of Thursday's 25 basis point cut in the Official Cash Rate, saying it was still early and eventually competitive pressures would play a role. He cited the banks' argument about higher foreign funding costs.
"I think it's certainly real, but I also think the competitive pressures will bear in on them eventually," he said. "In the long run, we need profitable, stable banks. This country's benefited from that over the last seven or eight years when a lot of countries have had the opposite problem, and that is banks that weren't profitable. So it's up to the banks to make those decisions and competition's the best way to sort it out," he said.
'It's all about the Unitary Plan'
He also ruled out new demand side measures to control house price inflation.
"We're not considering further demand-side measures. I think that would be a bit of a distraction. We're waiting to see what the last round did – the Reserve Bank restrictions, the change in the tax on high-turnover houses. The focus this year is on getting that Auckland Unitary Plan right because that's going to give an indication to the market looking out five, 10 years," English said.
He said the dairy slump highlighted the risks to the housing market.
"The difference between the two is that with the housing market, New Zealand has a fair bit of control, or longer-run influence, over what happens with it through the way that we regulate supply in our planning system. And that is why some of the decisions that'll be made this year by the Auckland Council are really important, because if they make good decisions, we'll get more," English said.
"The thing that matters about the housing market this year is that Auckland Unitary Plan, and it needs to indicate to all buyers and sellers that there will be sufficient supply coming into Auckland, that prices won't keep rising forever."