Labour Leader questions the skill levels of migrants; suggests work of Chinese chefs could be done by locals; talks of turning down migration tap; Key criticises Labour stance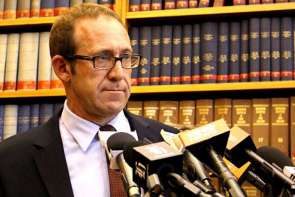 By Bernard Hickey
The migration debate has flared again as a slight shift in Labour's rhetoric blew up into a debate over whether Chinese migrants should be doing work as chefs in Chinese restaurants that locals could be doing.
The spotlight fell on Labour's stance after a seven paragraph report in the Upper Hutt Leader emerged from a trip by Labour Leader Andrew Little to Upper Hutt last week. In it, Little was quoted as saying New Zealand needed to look closely at its migration rules, particularly around skill levels.
He pointed in particular to the hospitality industry where an influx of lower skilled migrants, often students and those on holiday work visas, had affected wages.
"We know that's happening, particularly with a lot of, you might say, ethnic cuisine. So your Chinese, your Indian. A lot of folks come here from overseas to get into the hospitality industry with those particular cooking skills and I think the question is, you know, can we actually source those labour needs internally?," Little was quoted as saying.
His comments around the need to re-assess or tweak migration rules to keep skill levels up were little different to those he has made elsewhere in recent weeks, and in a panel debate on The Nation on Saturday.
In the debate with New Zealand First Leader Winston Peters and Green Co-Leader James Shaw, Little commented on skill levels and the need to tweak settings.
"There is a case to turn down the tap when the pressure is on, and we are a country that has been dependent on bringing in skilled labour from overseas, certainly at the high-skill end," Little said.
"Actually, a large number of those who are coming in, settling here, are in the semi-skills sort of category, which we can actually source that labour internally. So I think there is a case – turn the tap down," he said.
But the introduction of the ethnic cuisine element unleashed a particular type of criticism yesterday that echoed the furore around Phil Twyford's release of data on 'Chinese sounding names' buying homes in Auckland last year.
'No Chop Suey?'
Prime Minister John Key said he couldn't work out where Little was coming from.
"One minute they're saying they don't want people with Chinese-sounding names buying houses, now they're saying they don't want people with Chinese-sounding names making chicken chop suey," Key told reporters before Question Time.
The reporting around these comments in the TV news segments concerned Little enough to issue his own blog post on Labour's site late on Wednesday night to explain himself more fully. He said he was baffled by the reporting and concerned that he may have offended anyone.
One News illustrated its story with a interview with an Indian migrant, Monty Patel, who arrived to work in his brother's dairy 30 years ago and has since built a successful curry and pie business. Patel opposed the reported cap on migrant chefs.
Little said he pointed during his Upper Hutt visit to a clause in the FTA with China that allowed the recruitment of Chinese chefs for Chinese restaurants and that he expected other ethnic communities would be able to recruit chefs.
"I said there was an issue with semi-skilled people being recruited under skills shortages categories, but I doubt whether this related to chefs," he said.
He said Labour's migration policy hadn't changed.
"We need to moderate our intake at times when we are struggling to find jobs and houses for newly arrived folks as well as locals," he said.
'Closer to NZ First'
Little's comments around migration do indicate a change in tone from Labour around migration, bringing it closer to New Zealand First's views. This closer alignment with New Zealand First policies is an element that has not been highlighted much in recent months and could be a factor in any post-election negotiations.
Little has dropped Labour's capital gains tax policy, which brings it into line with New Zealand First, and has kept its policy on banning foreign purchase of existing homes, which is also attractive to Winston Peters. Little's abandonment of Labour's delay in the retirement age has also brought Labour closer to New Zealand First, which may make coalition negotiations easier in the event of a tight election result.
This debate about the skill levels of migrants also has some substance from an economic point of view.
Former Reserve Bank economist and now independent commentator, Michael Reddell, commented in a blog post last year on the skill levels of migrants granted permanent residence, which he based on data supplied from OIA requests to MBIE.
Chefs, registered nurses, retail managers, cafe or restaurant managers and IT support staff made up the five most popular skills categories in 2011/12 and 2012/13. A later post showed the same ranking of skilled migrant categories for 2014/15.