Labour Leader Andrew Little says will release his tax records; calls on John Key to copy David Cameron and release his tax records; Key says no need to as he is 'totally above board'; Little says Shewan review a whitewash; should be done by Judge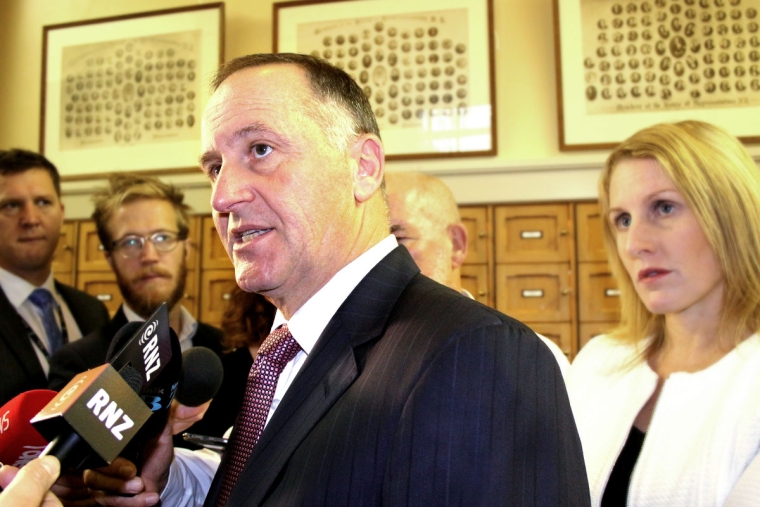 By Bernard Hickey
Prime Minister John Key has rejected a call from Labour Leader Andrew Little for Key to copy UK Prime Minister David Cameron's example of releasing his personal tax records to the public.
Key told reporters he already complied with Parliamentary requirements to disclose his assets and financial interests in the Pecuniary Interests Register.
However, the most recent version of the register also showed Key had a term deposit with Antipodes Trust Group, which is an Auckland law firm specialising in providing foreign trusts.
A spokeswoman for Key said his deposit had been with Key's lawyer Ken Whitney at a previous firm and had transferred across with him when he joined Antipodes with his law partner Ian Ross. She also said the funds were used to pay for any costs associated with Key's family trusts and surplus funds were reinvested with New Zealand banks. Antipodes advertises New Zealand as a politically safe destination with a tax-neutral environment where overseas-based settlors and beneficiaries do not have to pay tax. Whitney told Interest the funds were held in a client trust account and Antipodes had not had any dealings with Mossack Fonseca.
Key said he had always complied with pecuniary register rules.
"But it would have to be a pretty big step I think to move in that regard," Key told reporters when asked about the call for a full release of his tax records.
"It wouldn't solve the issues that people would want. They would ultimately want all sorts other disclosures around trusts and other things, and you could start moving into spouses. We have a pecuniary interests list, we follow that carefully, people have to be judged by what they ultimately do," Key said.
"Even within that, people would then start saying within a blind trust, I don't know what's in it let alone releasing information. Personally, if you want my own view, we as a government have moved transparency along a long way and I think we are in pretty good shape."
Key set up a blind trust, the Aldgate Trust, upon his election.
Key was then asked about an investment in a company called Little Nell in Aspen Colorado, which had not been put into his blind trust and which is listed in the pecuniary interests register. Little Nell is registered in Delaware, which is a noted tax haven with weak disclosure rules.
"It's a property investment. I don't think it has an enormous amount of value these days for other reasons that the property development didn't go that well," Key said.
He confirmed the investment was in a time share in a ski resort and he had made it while working overseas.
Key put many of his investments into a locally domiciled blind trust the day after his election as Prime Minister in 2008 to ensure any decisions he made were not in conflict with his personal investments. He has no say over how the money is invested and said had not seen reports on the returns from the trust for three years.
Little calls for release
Little called on Key to release his full records, given other international investment bankers had been known to use such offshore vehicles and the public was concerned about their use.
"John Key comes out of the finance sector. For a lot of people at senior levels, be it Merrill Lynch or whatever, it's pretty routine for them to take tax minimisation steps. It would be unsurprising if he did that," Little told reporters.
"He is our Prime Minister and is dealing with an issue about tax and the morality of tax. To give New Zealanders an assurance that he is squeaky clean, he should be disclosing his tax records in just the same way that David Cameron has agreed he is going to disclose his," he said.
"I'm in the process of assembling my tax records and I think I can get them back to 2010, and I expect to make them public later today."
Key said he was 100% confident he had not been involved personally in the use of offshore vehicles.
"In a personal capacity, I've never had a foreign trust. I'm quite confident about my tax affairs and I'm quite confident they're above board and beyond reproach," he said.
'White-wash inquiry too narrow and close to industry'
Little criticised the Shewan review into foreign trust disclosure that was announced yesterday as a whitewash because its terms of reference were too narrow and was not being run by a High Court Judge or lawyer.
"The Inquiry set up by the Government yesterday has a very narrow terms of reference. It looks to me like a whitewash. It's not going to get to the fundamental question, which is why do we even have a foreign trust regime in New Zealand?" Little said.
"New Zealanders are very uncomfortable with it and don't want us to be a party to the tax dodging arrangements of the mega-wealthy from other countries," he said.
Little said Shewan was a very respected tax expert, "but this isn't a question for tax experts. It's a question for somebody dis-interested from the tax industry and who can bring both a legal and a moral and a public policy approach to it, which is why anything less than a High Court Judge doing this sort of Inquiry is not doing this justice."
He also called for an open inquiry.
"What they see in the PM is someone who is prepared to defend the tax-dodging by the mega-wealthy from other countries, but his stance on multi-national corporates who have trading revenue here to pay a fair amount of tax, he's been pretty reluctant to do anything about that too," Little said.
"Unless we get on top of us being a party to tax-dodging in other countries, it's hard to say to the multi-nationals that are trading here to say they should pay their fair share of tax as well," he said.
'It has to be an expert'
Key rejected criticism about Shewan being too close to the industry as unwarranted.
"John has spent a lifetime of being an expert around tax and financial matters. He was honoured in the Queen's Birthday or New Year's Honours lists some years ago. He's now lecturing at Victoria University. And, let's be blunt, one thing we know about trust law is that it is very complicated. Ultimately any person you put in there is always going to have had some exposure to tax practice in New Zealand because by definition, if you didn't they wouldn't understand the issues you are dealing with," Key said.
"I think the review will do the job we need it to do, which is to essentially test the proposition that our disclosure rules meet world's best practice. There may well be some recommendations that come out. Generally when you have a review you find one or two that do. I asked officials over the weekend that very question about the number of references (60,000 in the Panama Papers) and the simple point they made was that this spans 40 years, it spans numerous governments and quite a lot of law changes," he said.
Key again contested comments about negative publicity about New Zealand in the coverage over the Panama Papers.
"I am just saying that if you look at the international media we're not dominating the international media. There are a few references, I accept that, but as I said I had a bit of a scout around the international media - New Zealand wasn't a dominant name," Key said.
The Australian Financial Review, which has seen the Panama Papers, has been critical of New Zealand's defence of its overseas trusts and that it had been seen by Mossack Fonseca as a soft touch on disclosure and tax.
(Updated with detail on John Key's deposit with Antipodes Trust Group.)