Key says Govt looking at $3 bln tax cut, either in Budget 2017 or before 2017 election; still committed to cutting net debt to 20% of GDP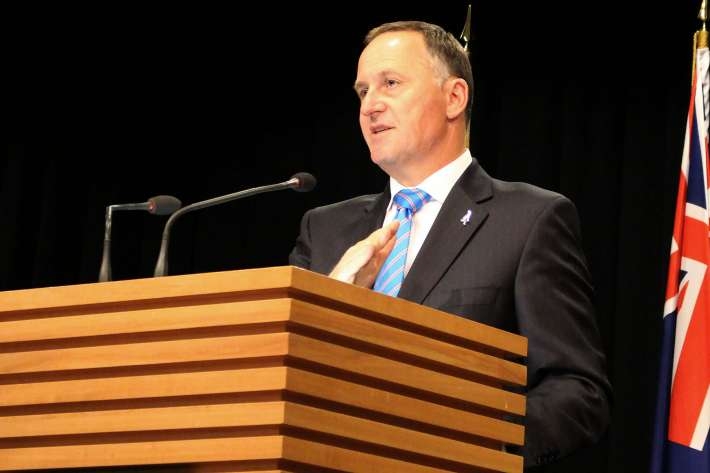 By Bernard Hickey
Prime Minister John Key has downplayed Finance Minister Bill English's comments about tax cuts being less likely in 2017, saying that the Government was still committed to announcing income tax cuts worth around NZ$3 billion before the next election, either to be announced in Budget 2017 or campaigned for in the lead-up to the late 2017 election.
"Philosophically there's quite a lot of support in our cabinet for tax cuts," Key told his weekly post-cabinet news conference.
He said rising average wages meant many were approaching the NZ$70,000 per annum threshold for the 33% top tax rate and the Government wanted to address the issue of bracket creep.
Key said the Government had considered introducing a tax package in Budget 2016 due on May 26, but that fiscal conditions would not allow it, given heavy health and education spending demands because of record high migration and the Government's commitment to reducing net debt from 25% of GDP to around 20% by 2020.
He said the conditions would have allowed tax reductions of around NZ$1 billion, but the Government wanted to announce something meaningful.
Key said current fiscal conditions probably justified the announcement of significant tax cuts in Budget 2017, but many factors would have to be taken into account before then.
English surprised a few people last Thursday when he said fiscal conditions meant a NZ$2.5 billion spending allowance for tax cuts in 2017 had been re-allocated for debt reduction and extra spending in 2016 to cope with population growth, although he had been careful not to rule out signalling a tax cut in 2017.
ACT Leader and Epsom MP David Seymour, who supports the Government on most Parliamentary votes, attacked Key's credibility on tax cuts earlier today, saying the Prime Minister should have announced tax cuts sooner to offset bracket creep.
"Even a NZ$3 billion tax cut in 2018 would barely cancel out the NZ$2.1 billion cost of bracket creep since the last round of tax reforms.  It would be more of a 'tax reset' than a tax cut," Seymour said.
""It's ridiculous that politicians can jump up and down every few years and claim to be cutting tax, when they're really just correcting for inflation pushing earnings into higher tax brackets," he said.
'Homelessness not new'
Key was asked again about reports of growing numbers of families living in the backs of cars, in mini-vans and in garages in Auckland.
"I don't think the issue of somebody living in a homeless situation is new. It's been there for a very long period of time. We are there to provide support as best we possibly can. All I can say to people is. If somebody is homeless, they should go and see Work and Income," he said.
Asked if he thought it was a growing problem, Key said he did not think the data was perfect.
"A lot of what we see is anecdotal. It doesn't mean there aren't bigger numbers. I accept there may well be, but no one has absolutely perfect information of that. We've been working as a Government with the people that provide support in this area -- the shelters, the Salvation Army -- and that's one of the reasons you saw the Government respond with the NZ$41 million for supplementary housing to help people in greatest need," he said.
(Updated with more detail)