PM says Arthur Grimes' call to build 150,000 new houses in Auckland to produce a 'supply shock' that drives prices down 40% is a 'crazy idea'; says home owners don't want equity values to fall; says it would hurt banks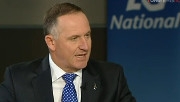 By Bernard Hickey
Prime Minister John Key has dismissed comments from a former Reserve Bank chairman that Auckland needs a 'supply shock' of tens of thousands of new houses to push house prices sharply lower.
Key said Auckland home owners did not want equity values to fall and the Government preferred to slow the rise in house values, rather than cause them to fall. He also suggested it could hurt banks, although Reserve Bank stress tests show they would have sufficient capital to deal with a 55% fall in Auckland house prices.
"Nah, I think it's crazy," Key told his Post-Cabinet news conference when asked about Arthur Grimes' view that the Auckland needed to be flooded with an extra 150,000 houses to cause a 40% fall in house prices.
"Go and ask the average Aucklander who has got a mortgage with the bank whether they want see 40% of their equity disappear on a sort of notion from an economist that you're gonna crash the market," he said.
"What Auckland needs, and what the rest of New Zealand needs where it's in high growth, is a sustainable supply of housing to meet the demand. Obviously making sure that prices don't go up too rapidly is an important part of what we're trying to achieve here. But actually destroying people's equity is not what this Government's all about."
Key was then asked if such a price fall would simply take prices down to where they were in mid 2012.
"Oh yeah. But it would also leave an enormous number of people who have just entered into the market with huge losses," he said.
"I suspect it would put enormous pressure on developers, that could put pressure on some of the banks. I don't see why that would be a good idea."
Key said Grimes' comments about building 150,000 homes were unrealistic, given consents were currently running at just over 9,000 a year and the Government aimed to get it up to over 13,000 a year.
"Where you'd get a 150,000 homes from overnight, I don't know," Key said.
25,000 new homes needed per year
Grimes, who is one of New Zealand's most senior and experienced economists, has chaired the Reserve Bank and was a member of the Government's 2009/10 Tax Working Group. He argued this week that a 30% increase in dwellings in Auckland over a six year period (25,000 houses a year) would lead to a 40% fall in house prices in Auckland.
Grimes is now a senior fellow at independent research group Motu, said it had published research that found that a 1% increase in the number of dwellings relative to the population would lead to a reduction in house prices of around 2.2%, given current interest rate and income levels.
"Thus a 40% fall in house prices means that the number of dwellings in Auckland would have to expand by around 18% relative to the current dwelling stock. On top of that, the stock has to increase to reflect population growth. So with, 2% population growth per annum, the stock of dwellings in Auckland would have to increase by roughly 30% if prices were to fall by 40% over the next 6 years," Grimes said.
He said the scale of the building required would mean Auckland would have to go both out and up. He proposed using the Public Works Act to allow Auckland Council to buy rural-zoned land on the fringes at a 50% premium over current rural land prices and then using the development profits to pay for infrastructure and services for the enlarged community.
'Why not build like the Gold Coast'
Grimes also proposed allowing high rise apartment blocks along Tamaki Drive and along the ridges on the Eastern Suburbs
"For instance, Tamaki Drive is ready made for high-rise apartments where tens of thousands of people would no doubt wish to purchase apartments. Of course climate change may make development on Tamaki Drive a risk, but a few blocks back from the sea – on the ridges overlooking the harbour – would work just as well," Grimes said.
"Lift the restrictions on the heights of new developments, and I expect that we would see an utter transformation in the intensity of housing from Orakei through to Glendowie."
Grimes also contested the idea that a big fall in house prices would hurt New Zealand's banks.
He pointed to stress tests done by the Reserve Bank which had found a 55% fall in Auckland house prices, along with a 13% unemployment rate and a 6% fall in GDP, would result in lower bank profits and a slight reduction in capital ratios, although not enough to breach minimum capital levels.
Here is the Reserve Bank stress test done in late 2015 that was reported in the May Financial Stability Report.