It is not home owners who suffer when banks divert OCR cuts to protect their profit margins, it is small business and farmers who pay the costs. We describe bank funding motivations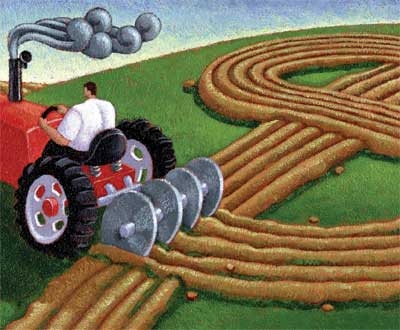 By David Chaston
In Australia, there is fierce pushback against the banks' refusals to pass on all of their recent official cash rate cut.
This is something that has been happening in New Zealand for the past two rate cuts.
And those same banks here are softening us up for a similar response on Thursday if the RBNZ cuts the OCR. Most observers expect it to do that.
But things are different here.
In Australia, the withholding of the full rate cut there affects almost all mortgage borrowers. Most of them are on a floating rate.
But in New Zealand, most are not; most home loan borrowers here are on a fixed rate.
And banks here have already decided not to pass on the reductions that have flowed into wholesale rates, which are now all at record lows.
Risk premiums too are now at their lowest in years.
So banks are enjoying lower costs while they hold back on fixed mortgage rate reductions.
However, the public conversation about floating rate reductions following an OCR cut is not really about mortgage rates.
It is really all about borrowing costs for SMEs. And that includes farmers.
If banks don't pass an OCR cut on in full, it is small business and farmers who are being penalised with rates higher than the RBNZ would want them to pay.
The banks' floating rate is a benchmark used to set revolving credit arrangements (used by many micro businesses who offer up their home as security for a credit line they use to fund their business) and farmers whose borrowing is tied to the same or a similar benchmark.
We have shown that wholesale rates and risk premiums are at lowest ever levels, so what is the basis of banks claims that "margins are under pressure"?
Part of that is just because rates are generally low.
And part is highly technical and relates to changes in the wholesale funding markets in the huge American financial sector.
Some new regulations for the enormous US money market funds have made it relatively more expensive for banks to raise funding in those American money markets.​
These regulations take effect in October and will require money market funds that invest in short-term debt securities, such as bank bills, to publish their net asset values (NAV) daily, rather than maintaining a fixed NAV of $1 a share.
This means that a fund's price will fluctuate depending on market conditions.​ ​In addition, if a fund's assets that can be liquidated within a week drop below a certain level, the fund can impose a fee on redemptions, or even stop redemptions altogether for up to 10 days. But while these new rules affect both institutional and retail money market funds that invest in "prime" corporate debt, they don't apply to funds that invest solely in cash and US government bonds.
As a result, an increasing number of US managers are following the lead of Fidelity Investments, which converted some of its prime funds to government funds that invest in cash and US government securities.
This means there is lower demand for bank securities and this affects how our banks raise offshore money. Banks say that it now costs around 25 bps more to borrow than it did a year ago in those US money markets.
Of course, they have been well aware for some time of these changing US rules and that their funding costs would be going up as a consequence.
But 'going up' is only a relative term; they are 'going up' relative to falling rates.
All this is complicated, but it does make it easier for banks to talk about 'higher costs' and base it on something.
However, the US money markets are not the only source of funding. European covered bonds are still a huge and very cheap source of funds and most big banks have considerable capacity to access these markets. Banks won't actually go to the US if the EU is cheaper.
And we sometimes overlook that the domestic term deposit and retail savings account market is another source of funds. Not all of the previous OCR cuts have been passed on to the TD market, although at-call savings accounts have had the full reduction imposed on them. The sad fact is, these savers are very loyal and banks take advantage of that. They intensely analyse their 'replicating portfolio' - their base of lazy money - and know exactly how much they can extract out of these savers. There is nothing 'fair' in how they are treated for their loyalty. If term deposit savers start to shift funds in significant volumes, banks will respond with higher rates to keep them.
Term deposit savers should shop around.