Little wants settings for work visas reviewed so low-skilled migrants are not taking jobs unemployed young locals could fill; attacks Key over comments workers 'on drugs and lazy'; wants lower residency target; Labour also wants export education inquiry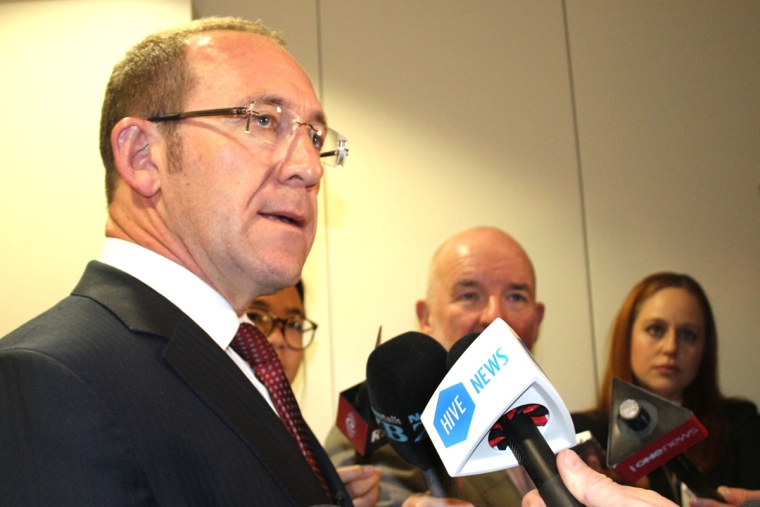 By Bernard Hickey
Labour Leader Andrew Little has called for a review of migration settings governing the arrival of temporary low skilled workers, pointing to the arrival of 6,500 labourers when there were 15,000 unemployed labourers in New Zealand and over 70,000 young people who were either not in work, education or training.
He also said Labour wanted the target for new permanent residents, which is currently set at around 45,000 to 50,000 per year, to be lowered. It is currently being reviewed by the Government, which has said it is unlikely to change.
Little also criticised Prime Minister John Key's comments yesterday that employers were saying they had to use foreign workers because local unemployed people had problems with drugs, health issues, poor skills or lived in the wrong place.
"I've been pretty clear for some time now that issuing work visas for categories of occupations where there are unemployed New Zealanders just doesn't add up and we want to review the immigration system so there is a better matching of genuine skills and needs, not just taking anybody when we have unemployed New Zealanders in many cateogories," Little said told reporters in Parliament.
His comments follows calls for a review of the migration settings, an in particular the skills mix of temporary migrants, from a range of business leaders, including the Reserve Bank, ANZ, Harcourts and the Auckland Chamber of Commerce.
"When you've got 15,000 New Zealanders saying that they are unemployed labourers and you've issued 6,500 work visas to people to come here to do labouring work, that is a mis-match that we have got to get right," he said.
Little, however, reaffirmed his support for the Recognised Seasonal Employer scheme, which allows certified employers to bring in up to 9,500 workers a year from the Pacific Islands to pick fruit and grapes. It was launched in April 2007 with a cap of 5,000 workers under the then Labour Government led by Helen Clark when unemployment was under 4%, but the cap was lifted to 8,000 in October 2008 and was lifted again in 2014 from 8,000 to 9,000, and then again from 9,000 to 9,500 in December last year.
'They're not drugged and lazy'
Little said he was more focused on permanent and secure work.
"The reality is we have got more than 70,000 young people not in education, employment or training. Actually what they are looking for is longer term, more secure work," Little said.
"I don't buy the argument that there are younger people who are out of work because they are drugged and lazy. Our social conscience dictates that we make it a priority to get young people into work and, for those who have got a few rough edges on them, we go the extra mile, make the extra effort to get them into work," he said.
"Let's not confuse what's happening there with what we also know is happening with a whole heap of young people who some employers and clearly the Government - Bill English and John Key now - have written off either as 'pretty damn hopeless' or 'drugged and lazy' as an excuse for them not making the extra effort for getting them into work."
Little referred to employers and institutions that were going the extra mile, picking up workers from their homes, making sure they were fed and building up work habits.
'And they're not paying enough'
"There is no question that, for some in the industry who are complaining they can't get the right New Zealander, they are actually not paying very much or they are not paying enough and that's not right either. And we have got to fix that as well," Little said.
He agreed that some employers were profiteering from cheap foreign labour.
"I think there are some employers who make a habit of taking labour they know they can get away with, paying a cheap rate of labour to, we know from the stories coming out of, for example, Marlborough and Blenheim in particular, that this is happening and it is wrong and it's got to stop," he said.
Little said he had yet to find a young person who did not want good, meaningful work.
"I don't accept the view that the dole is too much. No-one gets rich on the dole," he said.
He rejected the idea that work visas for less skilled workers could be cancelled.
"What I have said is, we need to review our immigration system to make sure we are not getting what, on the face of it, a massive mismatch. I would review the system to make sure there isn't that mismatch. When you look at the number of visas, you have to say how can you justify 6,500 work visas for labouring work when you have got 15,000 unemployed labourers in New Zealand. It's actually applying sensible immigration policy and practice and when you review it you see what's justified and what's not, and when it's not justified you don't issue those visas," he said.
Little said he would include categories such as chefs, tour guides, aged care workers, dairy farm workers in that review.
'Reduce the permanent residency target'
Little said the Government was right to review its permanent residency target of around 45,000 to 50,000 per year. 
"I notice Michael Woodhouse says he doesn't expect anything to change. I think, given the net inflow of people and particularly with the work visas that are being issued covering occupational classes of people unemployed in New Zealand, I would be surprised if that number didn't reduce. I would expect it to reduce," he said.
New Zealand First Leader Winston Peters has said he wants the target reduced to between 7,000 to 15,000 per year.
Little said he did not have a particular number in mind.
Inquiry into export education needed
Little also said an inquiry into fraud and migrant abuse associated with the export education industry was necessary.
"The reality is that many of those students are turning up to pretty shoddy jobs, often being paid less than the minimum hourly rate, often in a climate of fear, and therefore being exploited," he said.
"We cannot allow that to continue, and so we have got to look at that system to see whether or not, because we see solid gold at the end of the student visa rainbow, we have kind of over egged the pudding on that policy and whether we need to cut that back. It's not right that we have people coming here who are facing exploitative conditions in New Zealand."
Little said a Labour Government would also look at the numbers of overseas arriving, and the extent of their work rights.
"The numbers that come here: can we fulfil the promise that we effectively make that if you come here you can get the 20 hours a week and a pathway to residency? If we can't fulfil that promise, then we shouldn't be issuing the number of those sort of student visas that we presently are," he said.
"Given the stories that we are now hearing and even from the students now coming forward, and given the volume and rapid increase in the number of student visas being issued in the last two or three years, I think it is timely to do an inquiry, to review it to see whether the objectives are being met. When you hear stories of exploitation and students being ripped off and dodgy practices in their home countries, I then I would say we have a volume of student visas being issued where we can't manage the quality of them."
Here are the top 20 occupations for work visas in the year to June 30, 2016 year (with numbers in brackets):
Tour Guide (6,248)
Chef (4,218)
Dairy Cattle Farmer (2,253)
Retail Manager (General) (2,369)
Cafe or restaurant manager (2,045)
Carpenter (1,507)
Retail Supervisor (1,693)
Student (1,157)
Aged or disabled carer (1,005)
Deck hand (895)
Dairy Cattle Farm worker (876)
Software engineer (716)
University Lecturer (680)
Cook (543)
Registered Nurse (aged care) (509)
ICT Support Technicians (494)
Developer Programmer (489)
Entertainer or Variety artist (465)
Office Manager (456)
Waiter (452)