PM says migrants needed for low-wage jobs such as fruit picking, cafe work because NZers can't or won't do the work, or live elsewhere; says employers cite drug and health problems for locals; migration 'adds value' to country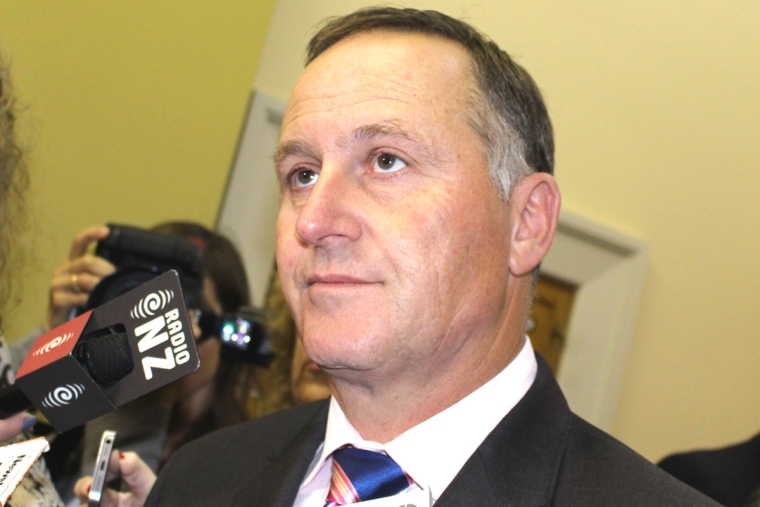 By Bernard Hickey
Prime Minister John Key has defended the use of temporary migrants to fill relatively low-wage jobs, pointing out employers say they struggle to find locals to do the work because of health and drug issues, poor skills or because workers live in the wrong location.
The Government has faced multiple calls for a review of its migration settings in recent monthss as MBIE, Treasury, ANZ and the Auckland Chamber of Commerce have queried whether workers with the right skills are being granted work visas, and particularly questioning whether the extra supply of temporary workers may be repressing wage inflation. Finance Minister Bill English has also expressed concern over whether the migrants were displacing beneficiaries that the Government would prefer to see in work.
See a full list below of the Top 20 occupations for temporary work visas granted by Immigration New Zealand in the year to June 30, 2016 to see the scale and type of temporary migration. This also does not include the workers employed under the Recognised Seasonal Employer (RSE) scheme in the horticulture and viticulture industries, which was increased to 9,500 workers in 2015/16 from 9,000 the previous year.
Key was challenged in this RNZ interview about whether high immigration was putting strains on resources, suppressing wages and substituting for New Zealanders wanting work. Statistics NZ reported last month that 342,000 New Zealanders saw themselves as under-utilised in the June quarter, either because they were unemployed or wanting more work.
Key was first asked asked why New Zealanders could not do these jobs.
"Either geographically, so they're a hairdresser in Queenstown and someone won't move there, or skills, people just lack the skills to do it," he said.
He was then asked whether the migrants were taking work off unemployed New Zealanders, particularly for hairdressers, truck drivers and bakers.
Key initially said relatively few people were coming in low skills areas such as those.
"They're usually at the margins. Very small amounts of people have come in under that category," he said.
Asked about migrants working in cafes, he said cafes often had large payrolls of 20 to 30 people.
"The bulk of them are not solely are in those categories," he said.
RSE scheme
He then referred to the Recognised Seasonal Employer scheme.
"We bring in people to pick fruit under the RSE (Recognised Seasonal Employer) scheme, and they come from the islands, and they do a fabulous job. And the government has been saying 'well okay, there are some unemployed people who live in the Hawke's Bay, and so why can't we get them to pick fruit', and we have been trialling a domestic RSE scheme," Key said.
"But go and ask the employers, and they will say some of these people won't pass a drug test, some of these people won't turn up for work, some of these people will claim they have health issues later on. So it's not to say there aren't great people who transition from Work and Income to work, they do, but it's equally true that they're also living in the wrong place, or they just can't muster what is required to actually work," he said.
'Migrants add a lot of value'
Key said higher migration did add pressure to infrastructure and to costs for education and health, but also added to economic growth.
"Migrants usually add quite a lot of value to our country. Not just in terms of culturally, but just generally they add a lot to the overall economic wealth of the country, so net on net they're positive," he said.
"There's no question a bigger population adds some pressure on the system, but it can also have a huge impact on helping alleviate that. If you're bringing in people who are working in the construction sector, they're part of the solution, not part of the problem."
The highest ranked temporary visa category in construction was carpenter at number 6. It is the only construction skill listed in the Top 20. See more below.
China may not be excluded from any stamp duty
Elswhere, Key was asked if the Government had ruled out a Vancouver-style land tax or stamp duty on foreign buyers. Key suggested in July and October last year a stamp duty on foreign buyers could be introduced.
Key said the best data he had showed just 1% of net sales were to foreign buyers,
"It's not the big driving factor. Broadly speaking, if you look at it, at the moment, if an Asian buyer turns up to an auction on the North Shore of Auckland, I'd strongly suggest they live in New Zealand. They may be second or third generation. They may be first generation," he said.
"We're not working on any tax on foreign buyers. We always look at these things," he said.
"But the one thing I will say to you is everybody's laws are a bit different and under some of our FTAs you might be able to do it, but you might have to, depending on the structure of the tax, exclude for instance China, because of the FTA that was signed with China."
Here are the top 20 occupations for work visas in the year to June 30, 2016 year (with numbers in brackets):
Tour Guide (6,248)
Chef (4,218)
Dairy Cattle Farmer (2,253)
Retail Manager (General) (2,369)
Cafe or restaurant manager (2,045)
Carpenter (1,507)
Retail Supervisor (1,693)
Student (1,157)
Aged or disabled carer (1,005)
Deck hand (895)
Dairy Cattle Farm worker (876)
Software engineer (716)
University Lecturer (680)
Cook (543)
Registered Nurse (aged care) (509)
ICT Support Technicians (494)
Developer Programmer (489)
Entertainer or Variety artist (465)
Office Manager (456)
Waiter (452)