Finance Minister signals significant ramping up of house building on Housing NZ Corp land in Auckland; says Govt will be major provider of "medium density, medium-priced" housing in Auckland; suggests Govt may spend on housing rather than tax cuts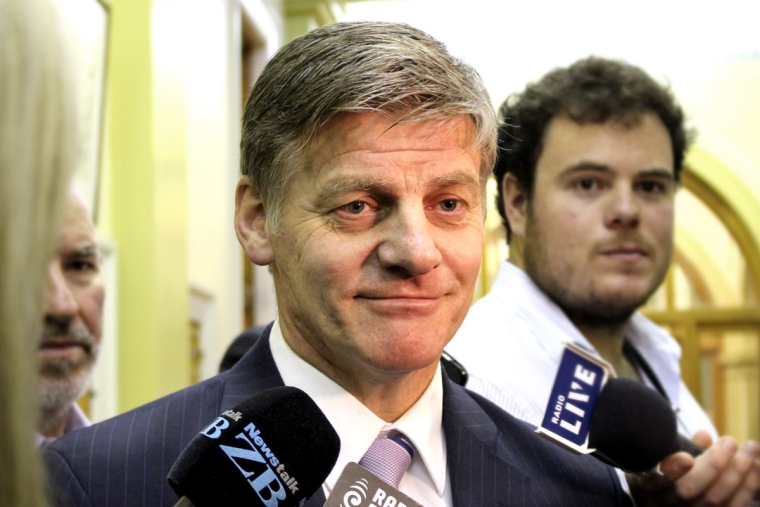 By Bernard Hickey
Finance Minister Bill English has signalled the Government is preparing to ramp its programme of building new houses on Housing New Zealand land in Auckland, suggesting up to 30,000 medium-density and medium-priced houses could be built in the coming decade.
Speaking on the eve of the release of a report from an Inquiry by Labour, Green and Maori Party MPs on homelessness, English told the NZ Herald the Government was on the verge of significant announcements about intervening in the private housing market in Auckland by building tens of thousands of new houses for on-sale to private buyers.
"The Government will be a provider for the next 10 years of significant numbers of medium-density, medium-priced housing into the Auckland market," English told Audrey Young in an interview.
"Over the next six months, you'll also see a growing understanding of the size of the Government building programme and that will have an effect on the market," he said, pointing out the Auckland Unitary Plan created room for up to 69,000 houses on Housing NZ land that currently has 30,000 houses.
"And we are going to do it," he was quoted as saying.
The building programme would renew existing Housing NZ state homes, "but it will generate an extra 30,000 houses."
English's comments are in tune with comments made in late September by new Housing NZ CEO Andrew McKenzie (reported here on Interest) that around 30,000 new homes could be built on Housing NZ land in Auckland.
McKenzie told a construction industry forum on September 22 Housing New Zealand land in Auckland could be used to add 30,000 homes to the housing supply as the Unitary Plan allowed more intensification.
"We've also been asked to look at availability and supply. We own a huge amount of land that tends to be under-utilised, so what can we get out of intensification? The Minister has already talked about the fact that there's now capacity for effectively another 30,000 homes on the land that we own in Auckland alone," he said then.
"So there is a role that we have around improving and increasing the level of supply, and obviously affordability is a really important element to that," he said, pointing out household incomes in Auckland of around NZ$82,000 per year meant there were currently few homes that were affordable.
"If you do the maths and work out how much you can put into housing you get a very small number you can afford, even with today's interest rates to service on a mortgage," he said.
"We've said we're going to be part of the thinking and the action that the Government takes around affordable housing."
English's comments are also in tune with the Government's September 22 announcement that Housing NZ's Hobsonville Land Company would redevelop land in Northcote that currently has 300 Housing NZ homes so that there were 400 Housing NZ homes and a further 600-800 homes to be sold as a mix of affordable and market housing. The first homes in the NZ$750 million project will be completed in June 2017 and the entire redevelopment is expected to be completed by 2021.
English suggests house building and debt reduction instead of tax cuts
Elsewhere, English told RNZ after visiting Washington last week for IMF meetings that he wanted to stick to the Government's plan of reducing debt and that economies globally could not rely anymore on central banks to generate growth.
"It confirms the importance of New Zealand sticking to the plan to get debt down," English told RNZ.
"Even if I'm a bit more optimistic about the risks in the global economy, there are still some quite significant risks there and if they eventuated we'd want to be in the position in the 3,5 or 7 years to be able to borrow more again if that was what was required, so we have to get debt down while the going is good," he said.
Asked if the Government was therefore still committed to plans for tax cuts before next year's election, he said: "We haven't made decisions about that."
"Before Christmas there'll be a new round of forecasts that will tell us whether there's much room in the Government Budget for tax cuts," he said.
"We do know that there are considerable expenses coming up, some related to growth like helping fund more housing and public transport in Auckland and some related to our intractable social problems like more money needed for more prison beds. So those are the things we have to do and we'll see what other room there is."
Political reaction
Labour Housing Spokesman Phil Twyford said the Government was again a "day late and a dollar short."
"The abject failure of their policy to deliver any kind of significant increase in houses that people can actually live in has dragged them kicking and screaming towards the idea of more Government intervention in building," Twyford was quoted as saying in the NZ Herald.
Green Co-Leader Metiria Turei questioned how affordable the homes would be.
"It looks like National may have finally discovered how to build houses, just in time for the election next year, but how many will actually be affordable?" Turei asked in a statement.
"When you look at what they did in places like Tamaki and Glen Innes, the Government sold state homes and replaced them with townhouses that cost over $1 million to buy," she said.
"Bill English needs to explain how affordable these homes will actually be, and how he plans to stop property speculators snapping them up. Affordable means three to four times a household's income and until the Government accepts that, anything they do about housing affordability won't have the substance to make an actual difference."
ACT Leader and Epsom MP David Seymour said the Government's plans would come at the cost of private housing developments.
"Bill English has stated how many houses the Government will build, but not how many will be built in total. Why? Because he knows that the Government's program will suck land and resources out of the private sector, making little net difference to housing supply.  Like all those National housing policies before it, this policy will have a bigger impact on the headlines than the housing market," said Seymour.
"Government home building would cause a substitution effect where potential private development would just instead be undertaken by the state. This would mean no increase in the actual number of houses built in New Zealand, while also transferring investment risk away from private companies and onto taxpayers," he said.
(Updated with political reaction)