Finance Minister says Treasury looking at whether annual net migration may have lifted from long-run average of 12,000 to around 30,000; says will have implications for infrastructure, Govt spending outlooks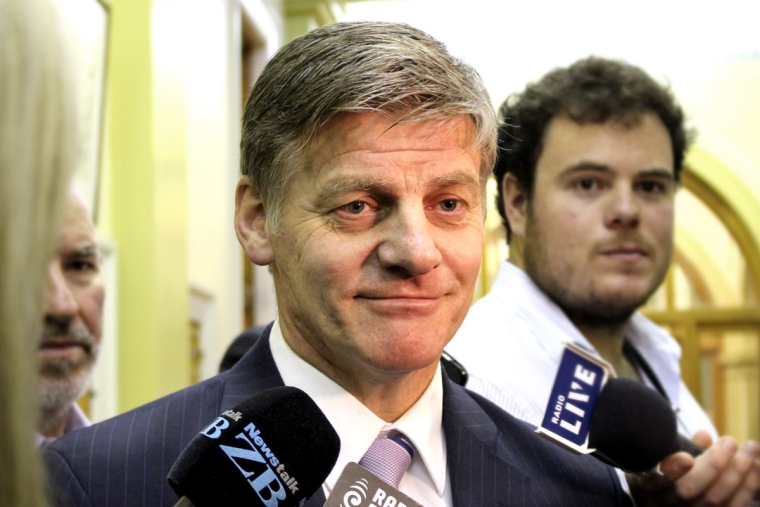 By Bernard Hickey
Net migration may have increased in a structural way that forces the Government to rethink its long-term plans for infrastructure and other spending, Finance Minister Bill English says.
The long run level of annual permanent net migration, which hit a record high 70,000 in the year to September, may have more than doubled from around 12,000 to 30,000, English said in an interview.
He was speaking after surprisingly strong figures for September and after a visit to Australia, where he said he was puzzled by weaker than expected employment growth that was a factor in turning around persistent outward migration of New Zealand citizens to Australia.
Treasury is re-doing its forecasts for migration ahead of its Half Year Economic and Fiscal Update due on December 8.
English agreed Treasury was looking at whether there had been a structural lift in Permanent Net Long Term (PLT) migration from its long-run average of 12,000.
Treasury forecast a fall in the May Budget to that level of 12,000 by 2019.
English said there were growing signs that structural migration levels may have lifted to around 30,000 a year from 12,000 a year.
"The normal pattern is for it to drop fairly sharply back towards the long run average for PLT of around 12,000. There seems to be accumulating evidence that the normal pattern isn't applying, but because we haven't been here before, no one knows quite what the pattern might be," English said.
"The possibilities range from a significant structural shift where you would expect that, in the next five or six years, to come back to some other number -- 20 or 30 thousand -- or even coming to 15,000 would be higher than the long-run average -- or there's some sort of structural shift in the way the world works and we're going to have 30 to 40 thousand levels for a while," he said.
Asked about what that would mean for the Government's infrastructure and growth plans, he said: "We've been thinking about that for a while -- that we've been building infrastructure for growth. It's just a matter of how much it is."
English pointed to recent investments in roading and education.
"It's just a question of how much that growth pressure is likely to be more than it has been in the past, and that's why the spend is picking up pretty quickly," he said.
Structural increase?
A variety of factors may have increased the structural level of net migration.
An extra 650 million people are set to join the middle class in China and India over the next decade, which is expected to increase the number of people looking to go on holiday to New Zealand and to educate their children at English language institutions. Both student visas and working holiday visas have been big factors driving net migration in the last two years.
Secondly, the easy movement and demand for New Zealanders to work in Australia and Britain is becoming more difficult.
Brexit and the continued refusal to allow New Zealanders to be first-class citizens in Australia has reduced some of the pull factor for New Zealanders to migrate to Australia or Britain. They are also forcing or encouraging many to return home to an economy where jobs growth is strong. Both flows sharply reduced net emigration of New Zealand citizens, which has been the biggest driving factor in the rise of net migration.
The relative economic performances of Europe, the UK, Australia and New Zealand are also a factor. New Zealand's economy is currently growing at around 4% per annum with the prospects for significant construction and tourism revenues for years to come, while Europe appears to be in politically-driven perma-recession and Britain's outlook is uncertain for at least 3 years because of Brexit.
Australia's future over the next couple of years is also uncertain because of the end of the mining investment boom, the death of its car manufacturing sector and further clampdowns on bank lending into housing. Australia has not had a recession in 25 years, which suggests one is due. These factors could reduce net emigration of New Zealanders to Australia in a structural way.