Treasury sees surpluses rising to NZ$8.5 bln by 2021; English increases capital spending allowance by NZ$5.4 bln over 4 years; Borrowing programme increased; Debt repayment and quake rebuild priority over tax cuts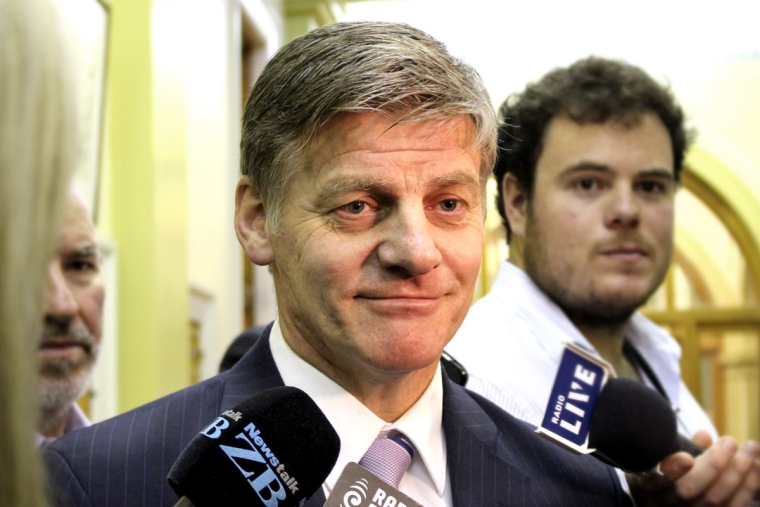 By Bernard Hickey
Finance Minister Bill English has unveiled an improved set of Budget surplus forecasts and plans to increase capital spending allowances by NZ$5.4 billion over the next four years.
Speaking on the eve of a National caucus leadership vote next Monday that is expected to make him Prime Minister, English said he was in active discussions with Housing New Zealand about its capital needs for ramping up its house building programme in Auckland. He also named Steven Joyce as his preferred Finance Minister.
Here are the key details from the release of the Half Yearly Economic and Fiscal Update (HYEFU):
1. Treasury forecast an Operating Balance Excluding Gains and Losses (OBEGAL) surplus of NZ$473 million in the current 2016/17 year. That was down from the Treasury's May 2016 forecast for a surplus forecast NZ$700 million because around NZ$1 billion worth of Kaikoura earthquake rebuild costs more than offset the effects of stronger than expected economic growth. Treasury forecast OBEGAL surpluses would build to NZ$8.5 billion by 2020/21.
2. Treasury ramped up its forecasts for economic growth and migration in the years ahead, which increased the expected nominal GDP by NZ$23.7 billion and expected tax revenues by NZ$6.6 billion from Treasury's May forecasts over the next four years.
3. English increased the Government's capital allowance to NZ$3 bln from NZ$900 million in 2016/17, and to NZ$2 billion a year in the following three years from NZ$900 million forecast in May. The total increase in the capital allowance for infrastructure spending was NZ$5.4 billion over the next four years.
4. Treasury forecast net Kaikoura earthquake costs of NZ$1 billion in 2016/17, with costs to the Government over the forecast period of NZ$2-3 billion.
5. The Government kept its operating allowances for ongoing new operating spending at NZ$1.5 billion.
6. English said in his Budget statement that quake repairs and debt repayment were a higher priority than tax cuts, and that any tax cuts would be aimed at low to middle income earners.
7. The New Zealand Debt Management Office (NZDMO) increased its gross bond issuance plans for 2016/17 by NZ$1 billion to NZ$8 billion, with plans for a 2040 bond that was inflation-linked before the end of 2016/17.
8. Treasury increased its net migration forecast increased to 20,000 a year by 2020/21 from 12,000 total in its May budget. The overall increase in net migration from the May Budget over the next four years was 65,000.
More soon.