We are keeping a close eye on how local wholesale rates are reacting to the Fed's rate hike and signals that more are to come in 2017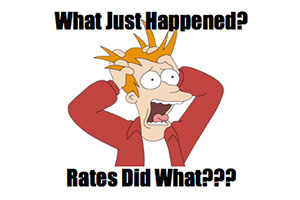 Today's interest rate hike by the US Federal Reserve is having a big impact on local interest rates.
The Fed raised its benchmark rate range by +25 basis points on Thursday morning to 0.50% to 0.75%. It's just the second Fed interest rate increase in 10 years.
The US central bank also signalled it will be raising rates faster in future than previously expected. The Fed plans three 2017 rises. You can read the Fed's decision and rationale here.
This is changing interest rate expectations in bond markets worldwide.
It is also changing the pricing of New Zealand wholesale interest rates, and these changes are being reflected in our swap markets.
The US Treasury yields have changed today like this:
 
Yesterday
12:00am
Today
12:00 pm
Today
11:59pm
 
%
%
%
1 year
0.87
0.92
0.90
2 years
1.17
1.27
1.27
5 years
1.91
2.04
2.09
10 years
2.47
2.57
2.59
30 years
3.13
3.18
3.15
The New Zealand wholesale swap rates have changed like this:
 
as at end of
yesterday
Today at
12:00 pm
Today at
3:30 pm
End of 
Day
 
%
%
%
%
1 year
2.14
2.16
2.17
2.17
2 years
2.32
2.38
2.40
2.39
3 years
2.53
2.60
2.63
2.62
4 years
2.73
2.81
2.85
2.83
5 years
2.91
2.99
3.04
3.01
7 years
3.19
3.29
3.34
3.31
10 years
3.46
3.57
3.62
3.59
The 1-5 curve is now out to +87 bps, its steepest since May 2014. The 2-10 curve is suddenly at +122 bps, its steepest since February 2014, and close to where some analysts thought it might max out at in 2017.
If you are a borrower, you should be aware that changes of this magnitude will probably affect how banks price their fixed rate mortgage offers. By the time you come back from holiday, there is the possibility that fixed mortgage rates could be noticeably higher.
If you are an investor in a managed fund that has substantial bond holdings, like in a KiwiSaver fund, the value of your fund might get knocked around a bit as yields rise (and consequently bond prices fall).
If you are a saver, you may not see much change from the very low rates being offered for short-term deposits. But it is possible that if you are prepared to lock in a deposit for a longer term, you will be offered higher rates soon.