Labour's new leader Jacinda Ardern mindful of intergenerational inequality; Promises to bring 'relentless positivity' and a 'clear vision' to the job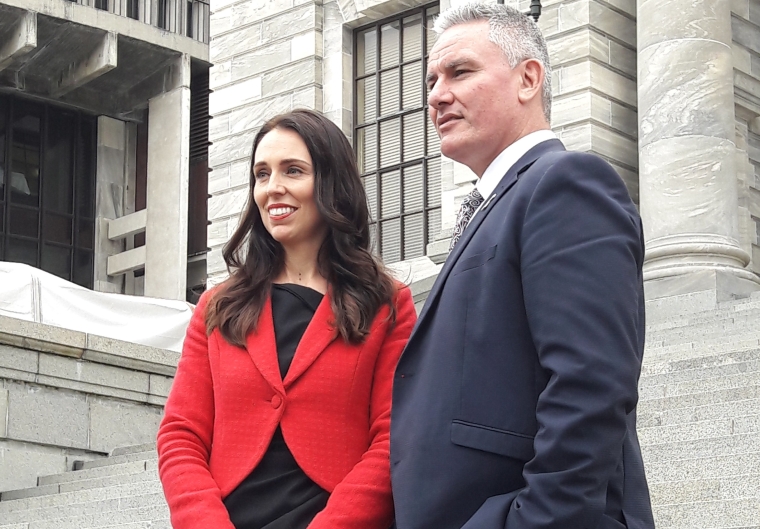 By Alex Tarrant and Jenée Tibshraeny
1430 - latest: Ardern's just finished taking on PM Bill English with her first question as leader in Parliament's Question Time. English before Question Time crossed the floor and shook Ardern's hand, and congratulated her on taking on the position.
The question in Parliament was very similar to one Andrew Little would have asked. "Does he stand by his statement on the housing crisis that "I wouldn't call it a crisis. We have strong demand, we have an uplift in prices – these are good problems to have actually"?"
But it could be said Ardern did bring something different to it, taking notes of English's answers, perhaps thinking on her feet a bit more – in response to English saying something was "last winter's problem," she came back with her next supplementary beginning with "If the issue is so last winter, then…". Small things, but slightly different.
Ardern in a press conference earlier said she would look to add to Labour's policy platform further to what Little has stood on – she wouldn't rule out a more substantial tax policy. In Parliament, it was made clear that existing housing policies would stay, with Ardern asking English if he would join her in promoting Labour policies including banning overseas house buyers and mandatory insulation in rental homes.
1407: Ardern (see video below) highlights NZ's intergenerational rift when asked about her vision:
I'm very mindful that the next generation is about to inherit a New Zealand that isn't better than what their parents experienced. So our focus will be about bringing fairness back into New Zealand. We'll have a focus on equality and inequality…
I want to take stock for a bit. What will be clear to people though - it is a generational difference.
1353: A look back at Ardern's press conference - she says she'll be reconsidering Labour's election policies. 
1343: Labour MP Grant Robertson on Twitter:

1300: Winston Peters' two cent:
He's fought the good fight, but at the end of the day he was a victim of the transience of the polls.
We can say what we like about polls, but at the moment the picture is bleak for a number of parties.
Jacinda and Kelvin will know that they have taken on a big job, some will say an insurmountable task, but we tender our congratulations.
1237:
Official statement from Ardern:
I want to start by giving my thanks to Andrew. His announcement today and the situation we have found ourselves in is not what anyone expected or wanted
In my time working with Andrew I know one thing to be true. He is first and foremost loyal to Labour, and I thank him for the support he gave me to work alongside him and for his incredible work over the last few years; a sentiment caucus expressed to him also. 
Following Andrew's announcement, I was nominated to be Leader of the Labour Party. My nomination was unanimously accepted. Kelvin Davis was nominated as deputy, and this too was unanimously accepted.
The circumstances may not be what Labour has planned for this campaign, but that has not weakened my resolve or focus. Or my team's. We are determined and steadfast, and I consider myself incredibly lucky to now call myself Leader, and equally fortunate to work alongside someone as committed and talented as Kelvin.
This team is about to run the campaign of our lives. Yes, we are an optimistic nation, but when you work at the coal face of politics, you have the chance to see every single day that as a country, we can do better than this. We can be better than this.
As a party, we have huge aspirations for New Zealand. A place where everyone has a roof over their head and meaningful work, where education is free and good ideas flourish, where children live surrounded by creativity not poverty, and where we build a reputation as world leaders on environmental issues.
At stake is the chance to build a New Zealand that is better than we found it. And to build a future to look forward to.
I will use the next 72 hours to reflect and take stock of the campaign plan, and additional policy announcements I would like to add to our programme. You will hear more from myself and the team on this in the future, but you will have no doubt over the agenda Labour is presenting this election. We will be positive, organised and ready.
I am privileged and honoured to be Leader of the Labour Party. I am looking forward to the challenge of the election campaign where I will get the opportunity to talk to New Zealanders about Labour's plan for a better and fairer New Zealand. This is what Labour has always stood for and under my leadership, will continue to stand for and fight for.
1231: Ardern jokes: "Everyone knows I have just accepted, with short notice, the worst job in politics."
She says she came in to Parliament when she was 28 and is "confident" and "competent".
1228: Kelvin Davis says Maori Party will need to up its game if it wants to work with Labour. 
1227: Political commentator Chris Trotter tells Newshub: "I think Grant [Robertson] will be looking upon the scene with a certain wry, amusement," having come so close to being leader himself.
1216: Ardern: "It's not what anyone expected or wanted... We will be positive, organised and ready."
MOU with the Greens is "absolutely in place".
"I will bring a different stamp to this campaign." Ardern vies she'll bring "relentless positivity" and "a clear vision for New Zealand".
1211: Ardern does press conference. Kelvin Davis stands to one side of her and Grant Robertson to the other side. 
1158: The Maori Party's announcement is huge. See this story Alex Tarrant did last month after catching up with the party's co-leader, Marama Fox. She said the party was ready to put aside "old-school" animosity towards Labour as it eyed the kingmaker role.
1145: Leadership change sparks change of tune from the Maori Party. This just in from them:
The Māori Party is calling on the new leader of the Labour Party Jacinda Ardern and new deputy leader Kelvin Davis to work with them in the best interests of Aotearoa.
"Māori people throughout the country are telling me they want our party to work with Labour if it's in a position to form a Government after September 23," said Māori Party president Tukoroirangi Morgan.
"We've always said we'd work with both sides, blue or red, but Andrew Little killed off any hope of that happening when he closed the door on us.
"We're hoping Jacinda and Kelvin won't be as closed minded and that they'll agree to work with kaupapa Māori.
"Like Labour our party is concerned about more than half the prison population being Māori, not enough Māori people owning their own homes, whānau ora not getting enough funding to make the difference we want it to and the shocking number of people sleeping in their cars and on the streets."
1137: Prime Minister Bill English has told Newsroom Labour is in disarray, but he has cautioned against complacency among his supporters.
"The basic problem is not really the leadership it's just that they don't have a positive view about what New Zealand can achieve," he said.
"But we've got a lot of hard work to do, because they will select a new leader. The polls indicate that we still don't have enough support to form a strong Government after the election, so it's going to be a tough competition."
Asked about the likely mood in the National caucus meeting, he said: "I think it will be a bit subdued. These are the consequences of making poor political judgments, not having policy, for the Labour party. It's got to deal with those consequences, but there will be no complacency in our caucus because we don't yet have the levels of support that we need to have to be an effective, positive sort of Government after this election."
1128: Ardern speaks out. 

1121: ACT Party Leader David Seymour has weighed in on Twitter: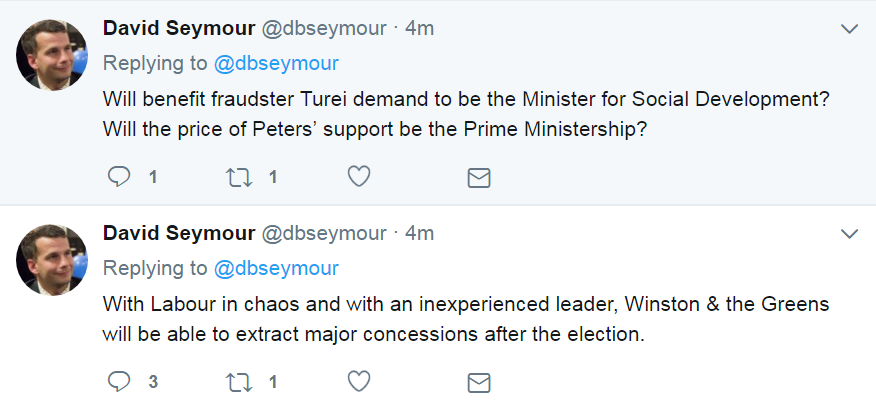 1113: Just in from Labour:
Jacinda Ardern, MP for Mt Albert, has been elected unopposed as the new Leader of the Labour Party.
Kelvin Davis, MP for Te Tai Tokerau, was elected to the position of Deputy Leader, also unopposed.
The decision was taken at the Labour Party Caucus meeting today, following Andrew Little's decision to step aside from the leadership.
1105: PR consultant Matthew Hooton has told Newstalk ZB he thinks Ardern will fail. "I think she's an absolute flake but obviously Labour Party caucus knows her better than I do and feels she's the right person to fill the shoes of Savage and Fraser and Lange and Clark." Hooton says Ardern may succeed in salvaging some popularity among voters, but he can't see her forming a government.
1059: Former Labour Party President Mike Williams has just told Newstalk ZB: "I think this could be the game changer that the Labour Party needs." He says Ardern is a "woman of great substance" and someone National "lives in fear" of. Williams says Little has a "strong and engaging personality", but lacks "cut through".
1051: Sounds like it will be Ardern, with a press conference earmarked for midday. At 2pm the new leader will lead Labour into the House for Question Time - Parliamentary business doesn't stop for leadership changes.
1049: Jacinda Ardern expected to make an announcement.
1034: United Future Leader Peter Dunne on Twitter:

1025: Green Party Co-Leader Metiria Turei one of the first MPs to tweet further to the announcement:

1015: Statement from Little:
Today I have announced that I will step down as leader of the Labour Party.
 I'm proud to have been leader of the Labour Party, and have given this position my absolute and unwavering dedication, just as I have done so for more than 25 years in the Labour movement.
While obviously this is a sad decision, I have been privileged to have led a united, talented team of Labour MPs, proud to have progressed the values and issues that New Zealanders care about and proud to stand with working New Zealanders.
I remain committed to the Labour cause of putting people first, lifting the rights of working New Zealanders and strengthening Kiwi families.
The Labour team of MPs and staff have worked incredibly hard during my leadership, however recent poll results have been disappointing.
As leader, I must take responsibility for these results. I do take responsibility and believe that Labour must have an opportunity to perform better under new leadership through to the election.
I am determined to make sure that Labour fights this campaign with the greatest of resolve, because far too much is at stake for far too many New Zealanders.
New Zealand needs a Labour-led Government, and in order to achieve this Labour must fight without questions over its leadership.
The campaign is on a good footing, Labour's caucus is united and the party is healthy.
My colleagues in the Labour Party caucus will elect a new leadership team this morning. I wish my successor all the very best in their new role, and offer my wholehearted support to them.
1013: Little says a new leader will be a "fresh face" and a "fresh voice" for the party. 
1009: Little: "It was my choice. It was my judgement."
1007: Little believes Jacinda Ardern will be nominated the next leader. He backs her. 
1005: Andrew Little is stepping aside as Leader. 
0945: Andrew Little has called a press conference at 1000 - before the Labour party caucus.
0925: Ardern, arriving at Parliament, reported as saying Andrew Little has had her full support the entire time. Other MPs making comments like 'it'll be an interesting caucus'. Well, they always are after polls like these.
0920: Three's Patrick Gower reporting Phil Twyford has ruled out running for the leadership himself but refused to say whether he'd vote for Little or not if that question comes up in caucus. Gower says relationship between Little and Twyford after this might be difficult. Twyford is Labour's campaign manager.
0915: Let's just remember that on current polling Little might still be able to form a government with the Greens and New Zealand First. That's if the Greens and NZF can work together somehow. I still think the option is attractive to Winston Peters as that gives him his best chance of a very nice title (PM for a year?) and a large policy platform. Peters might get even more control as Little is in serious danger of not being in Parliament himself. If Labour returns its current 27 electorate MPs then the party needs about 23% to start getting list MPs back in - Little is only on the list. A lot could rest on whether the Greens come in with a bigger vote than NZF on election day.
0855: RNZ again has spoken to Kelvin Davis, who reportedly said he was not aware of a challenge, but "who knows..."
0850: Fairfax reports Labour whip Kris Faafoi is running the numbers for support for Ardern and Davis. Meanwhile, political scientist Bryce Edwards - who has a number of connections on the Left - has tweeted that a Labour insider told him Little had changed his mind over stepping down, and decided to fight on. Reports are that Little held crisis meetings last night in Auckland with senior party members.
0840: RNZ is reporting Andrew Little told one of its Parliamentary reporters at Wellington airport that he was not going to resign as leader at caucus, nor call for a confidence vote in himself. Little did say, though, that he expects the matter of poor polling to come up in caucus. Three's Patrick Gower says Phil Twyford is one who wants to be the next leader of the Labour Party. Gower says Little appears to be holding out to see who leads the challenge as if he knows Ardern doesn't want the job.
0830: Here's something to watch: Maori Party co-leader Marama Fox has raised the prospect of new Labour Party leadership being more open to working with the Maori Party. For those interested in Fox's stance, read my interview with her from early July where she reckons the Maori Party support base is ready to put aside animosity towards Labour which largely sits within the 'old-school' wings of the party. Andrew Little is seen as a roadblock to the Maori Party getting into the tent on the Left. At a stretch, we could start talking about how possible a Labour-Greens-Maori Party government could be, leaving out New Zealand First, although on current polling that's certainly not possible. 
0820: RNZ's political editor Jane Patterson reports one of Labour's more centrist MPs, Stuart Nash, has turned up at Parliament this morning saying he didn't know what was going on. Stuart Nash was reported as saying yesterday as saying he backed Little 100% - it's certainly less equivocal now. Paterson said there won't necessarily be a challenge to Little - that the decision is more likely in his hands on whether to stand down. Housing spokesman Phil Twyford - a dark horse leadership contender if Ardern doesn't get the job - was a bit less clear, saying he backed the leader of the Labour Party, NZ Herald reports.
0810: Of course, it's not clear-cut. Others have suggested there is potential for Little to still walk out of the caucus meeting as leader. However, former party President Mike Williams told Radio NZ's morning report that he believes this will lead to a split in the caucus. Williams said his own view is that Little will stand down.
8am: Good morning. Labour Party leader Andrew Little will face his caucus just after 10am on the third floor of Parliament Buildings. Little cancelled all media appearances Tuesday morning. Newshub has reported Little will face a vote of no confidence during caucus. If any new leadership emerges, Fairfax was told Jacinda Ardern as leader and Kelvin Davis as deputy is the most likely ticket.
Some background:
Three polls made public over the last 48 hours have triggered the speculation. On Sunday, the 1 News Colmar Brunton poll showed Labour on 24% support, then on Monday a leaked UMR poll (Labour's own pollsters) showed the party on 23%. This poll was likely given to party leadership mid-last week, and appeared to be the trigger for Little approaching members of his front bench offering his resignation. That was reportedly turned down at the time. On Monday night, a Newshub Reid Research poll also showed Labour on 24%. For more background, and my thoughts on how the party could get out of the rut it's in, read my piece from Monday: Labour has a problem, but there are ways to fix it: A simple platform that would appease voters who left; Stay away from complex policies that attract negative reactions & scare National's swingers. And get a proper tax policy again.
Because we're within three months of an election, a new Labour Party leader can be elected just by the Parliamentary caucus, allowing the party to get around the drawn-out process of going through the membership and union aspect of the vote.