Labour and Greens could form govt together, 1 News Colmar Brunton poll shows; NZ First not in Kingmaker position any more; Greens couple of points above threshold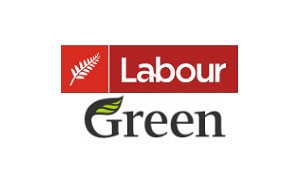 Labour could form a government with the Green Party alone, or still turn to New Zealand First, the latest 1 News Colmar Brunton poll shows.
Jacinda Ardern's lot was up one point at 44%, ahead of National, up one at 40%. The Greens were up two points to 7%, New Zealand First down three to 6%, TOP steady at 2%, the Maori Party down one to 1%, and ACT steady on 0.6%.
1 News reported the corresponding seats as: Labour: 55, National: 48, Greens: 8, NZF: 7, and the Maori Party and ACT one each, based on electorate seat wins. The Maori Party is, however, polling ahead of Labour in two of the seven Maori seats.
This means National would not be able to form a government with New Zealand First. Labour would have a choice of NZF or the Greens.
An interesting development was that the 'undecideds' were up four points this poll to 14% (the headline numbers above are ex-undecideds). In contrast, this week's Newshub poll had an undecided contingent of only 4%. 
Jacinda Ardern was down a point in the preferred PM stakes at 34%, while Bill English was up a point at 32%. Winston Peters was steady on 5%.
Bill English speaking to 1 News said National's internal polling had the party slightly higher than Labour. Party insiders reckon the likely figure is thought to be in-between this week's Newshub Reid Research poll, which showed them on 47.3%, and tonight's Colmar poll with them on 40%.
Ardern said she was not taking any of the numbers for granted. Labour's lead comes as attention turns to its coalition options, with some senior caucus members being reported as keener on a combination with New Zealand First over the Greens. However, younger members of the caucus - like Ardern - are thought to believe that a tie-up with the Greens would be the easier combination. Read Alex Tarrant's views on that here.